A Barbados luxury holiday offers many unforgettable experiences, and dining out is chief among them.
From fine dining to open-air fish fries, there really is something to suit every taste on the sunny island of Barbados.
So we thought we'd offer ten of our favourite Barbados restaurants and eateries to tempt your taste buds on the Caribbean island. These are:
The Lone Star
The Cliff
The Tides Restaurant
The Fish Pot
Oistins Fish Fry
Scarlet's Restaurant
Fusion Rooftop
Daphne's
The Cliff Beach Club
Lobster Alive and All That Jazz
---
How much do customers tip in Barbados restaurants?
Typically, restaurants will add a 10 – 15% service charge. Anything on top of this is at your discretion and service dependent. If a service charge is not added then a 10% tip is generally accepted
---
The 10 Best Restaurants in Barbados
1. The Lone Star
The Lone Star is an iconic restaurant and boutique hotel which was nicknamed "The Ivy of the Caribbean" by the late Michael Winner.
Upon entering this 1950s-chic West Coast Barbados restaurant you really do feel like a movie star, enjoying stellar service and views of the white sand beach just metres away.
The menu here largely comprises mouth-watering Italian favourites, including wood-fired pizza at lunchtime, alongside some 'Lone Star Classics' such as homemade shepherd's pie. Unusually for such an illustrious eatery, The Lone Star carries a 'Little Stars' menu for children, with sure-fire hits like fish fingers and chips!
We can't think of a better location for an extra special lunch when you are relaxing in Barbados and Sunday Lunch is a Lone Star speciality.
Where is it: Hwy 1b Mount Standfast, Mount Standfast, Barbados
Contact Number: +1 246-629-0600
2. The Cliff
This world-renowned restaurant has more than earned its legendary status over the years, with an exclusive Platinum Coast location and truly incredible food. For a special evening out on your luxury Barbados holiday, dinner here is a fantastic option.
What makes this one of the top restaurants in Barbados is that it not only serves incredible food, but boats an unbeateable view. It's set atop a cliff (hence the name) and overlooks the sea below. There is also underwater lighting which showcases the myriad of sea life.
Arrive early and sip signature cocktails in an open-air lounge on the top floor and enjoy the views.
On the menu is a wide selection of both Caribbean and worldwide favourites, from chargrilled mahi-mahi and The Cliff rum baba, to open ravioli of shrimp and warm bread and butter pudding.
Where is it: Derricks, St. James
Contact Number: +1 2464321922
3. The Tides Restaurant
Located in Holetown, and set in a coral stone and mahogany post-WW2 former Bajan home, The Tides Restaurant is a superb setting for a scenic West Coast lunch or dinner.
The restaurant itself has a décor of Bajan blues and crisp whites, with spectacular sea views showcased through the open frontage, easily making it one of the best restaurants in Barbados.
Delivered by a team with expert credentials, guests can indulge on the likes of pot roast chicken breast, The Tides seafood tower and roast pineapple. Younger guests meanwhile can tuck into chicken curry served in a coconut, followed by a traditional banana split!
Be sure to pop into the adjoining art gallery too, for stunning works by local artists. This restaurant has also been recently renovated, so is stylish and super comfortable.
Where is it: Holetown, St. James
Contact Number: +1 246-432-8356
4. The Fish Pot, Little Good Harbour
The charming family-run Barbados hotel, Little Good Harbour, and its celebrated restaurant are hidden away on the island's north-west coast, making it a tranquil spot to enjoy a meal. It's worth making a trip up here – perhaps combined with a visit to Speightstown – for lunch or dinner on the delightful terrace, right at the water's edge.
Additionally, it has recently been refurbished but still retains its charm within an 18th century waterfront fort.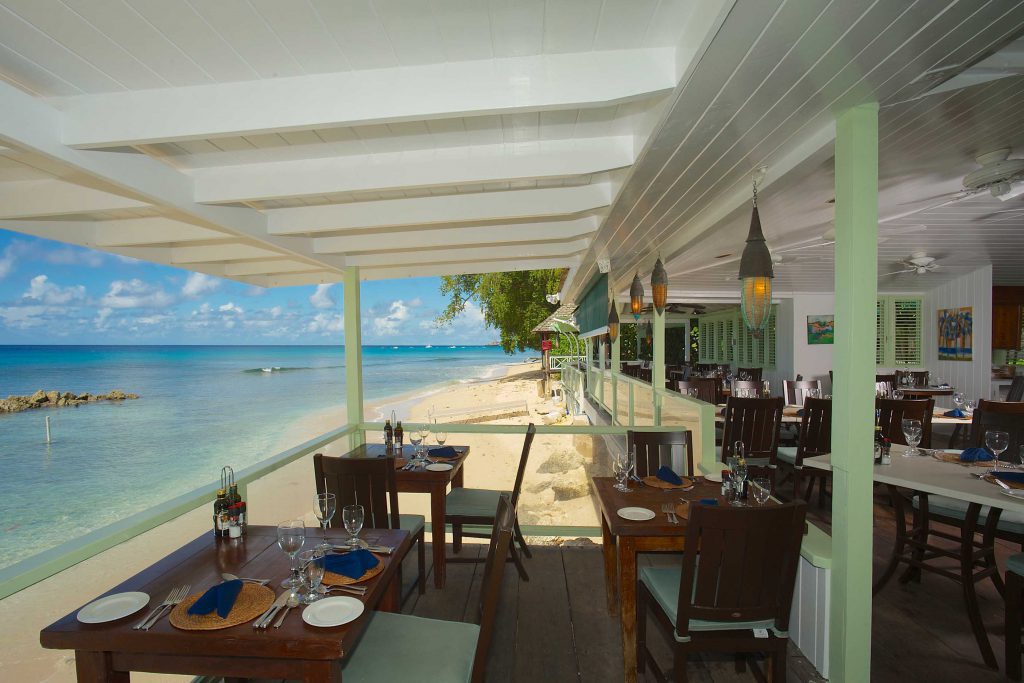 As you may guess from the name, fresh seafood features prominently, as do local ingredients in general. Simple yet exquisite flavours are always on the menu.
Think blue crab salad, lobster and guava cheesecake. The wines have been specially selected from Margaret River in Australia – the hometown of owner Andrew Warden.
We recommend the lobster ravioli!
Where is it: Shermans, St. Lucy, BB27190
Contact Number: +1 246-439-3000
5. Ostins Fish Fry
Though not technically a restaurant, you can't talk about dining in Barbados without mentioning Oistins Fish Fry. Oistins is a fishing town on the Bajan south coast and a fantastic place to visit on the weekend. Moreover, every Friday night, Oistins Bay Gardens hosts a 'fish fry'; an informal outdoor grill using the freshest of Bajan ingredients all cooked right in front of you.
Whether you prefer lobster, swordfish or even chicken, you'll find a vendor who'll pile your plate high with delicious fare. Then, just find a spot to eat your food whilst listening to live music and taking in the dynamic atmosphere.
Many hotels run shuttles or even boat transfers to Oistins; it really is a Barbados 'must-do'. Additionally, best of all, it will usually cost less than £10 per head!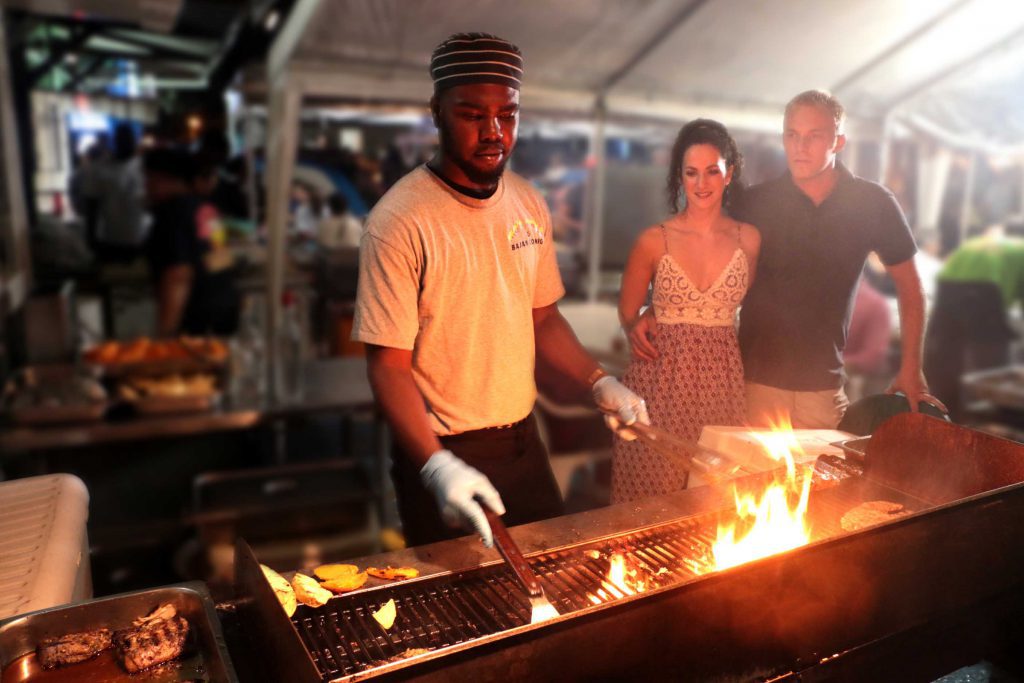 6. Scarlet's Restaurant
Back to the west coast in Payne's Bay, St James, this retro bistro is renowned for its cocktails and Caribbean classics with a twist.
Housed in a bright red building, the interiors are moody, with pictures of Hollywood greats on the walls and low-level lighting.
Why not begin with a Bajan iced tea and some mini poppadums and curry sauce, before being seated at your table for lemon and rosemary arancini followed by the belt-loosening 'Baxter's Road' fried chicken with mash, greens and Bajan gravy!
Where is it: Paynes Bay, St James
Contact Number: +1 246-432-3663
7. Fusion Rooftop
On the top floor of the Limegrove Lifestyle Complex, Fusion Rooftop is a 72-seat al fresco restaurant and trendy lounge with feng shui design and chilled out relaxation areas like the 'live wall', fire pits and water features.
The retractable roof means evenings here are spent under a blanket of stars.
The menu has been designed to suit all manner of tastes, with sushi and premium sake a speciality. After a day of shopping, why not round the day off with a visit here? Or, return later to dine under the stars? Either way, you'll love experiencing one of the top restaurants in Barbados.
In all, the Fusion Rooftop can accommodate up to 250 guests, making it a wonderful setting for a contemporary wedding reception.
Where is it: Limegrove Lifestyle Centre, Holetown, Barbados
Contact Number: +1 246-271-1258
8. Daphne's
Daphne's is an exceptional Platinum Coast stalwart. Patrons at this elegant west coast restaurant enjoy a refined setting and beachfront location. The food here is a fusion of modern Italian and island seafood flavours, proudly positioning it as one of the top restaurants in Barbados.
Those lucky enough to be enjoying a stay at The House by Elegant Hotels will be thrilled to learn that Daphne's caters for The House's famed themed nights. From the Bajan Dinner beach buffet to Fisherman's Night buffet, you won't be disappointed by these tantalising offerings from Chef Marco Festini Cromer.
Where is it: Highway 1, Paynes Bay Beach, Barbados
Contact Number: +1 246-432-2731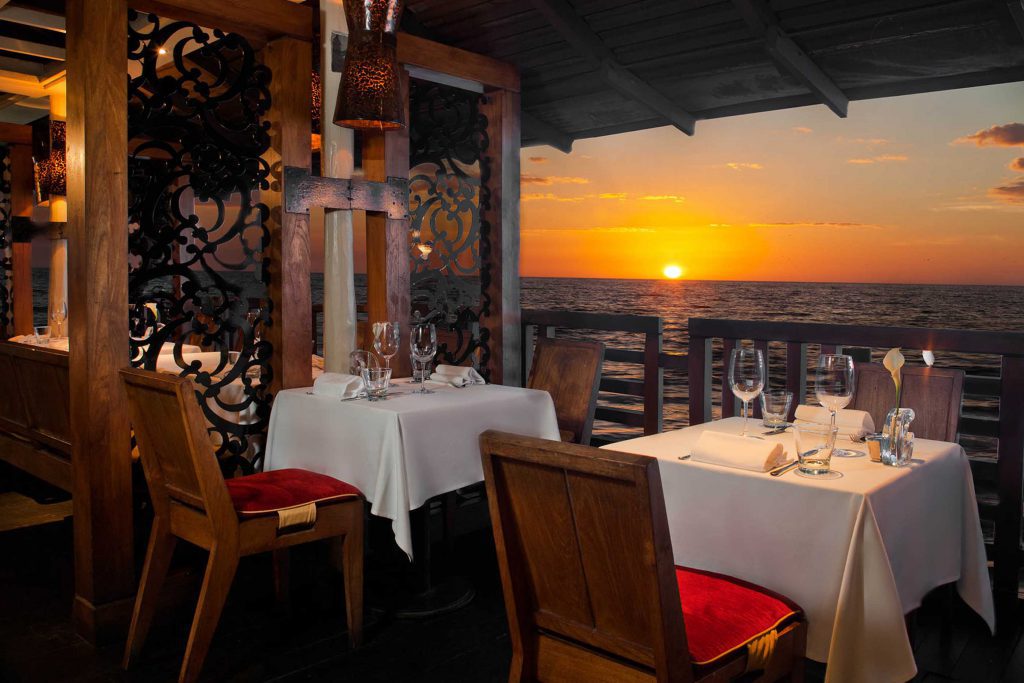 9. The Cliff Beach Club
If you're looking for the quality of The Cliff with a more informal feel, sister-property, The Beach Club by the Cliff, offers fine fare right on the sand. Experience laidback luxury with a view, cocktail in hand and a delicious lobster sandwich… yum!
Ideal for those lazy days on the sand, this is one of the best restaunts in Barbados for when you just want to take it easy and soak up the sun.
Head down at sunset for a Bajan garden punch, consisting of rum, ginger ale, apple juice, elderflower liqueur, marinated Bajan garden fruit, mint and marjoram.
Where is it: H'way 1 Derrick's St. James BB, BB24110
Contact Number: +1 246-432-0797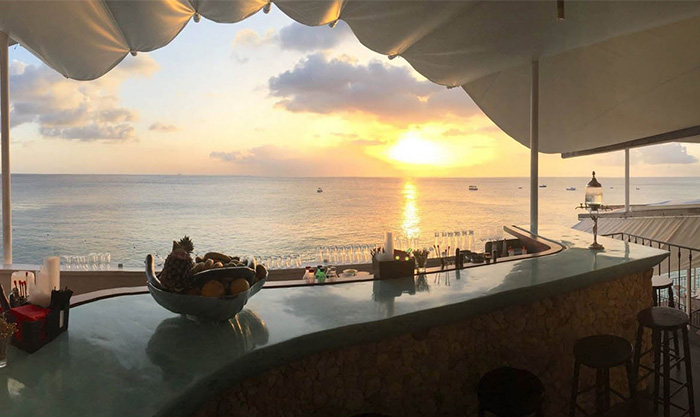 10. Lobster Alive and All That Jazz
This unique restaurant in Bridgetown will give you a new-found love for this scrumptious crustacean!
Caribbean spiny lobsters are caught by scuba divers – in the Grenadine Islands – and flown to Barbados alive by private plane… so they really are as fresh as you'll get!
The feet-in-the-sand dining is seriously laidback, and there is a "Lobster Man" who will jump in and out of the live lobster tank to retrieve your selected lobster!
Expect cold local beer, live jazz music and a menu that lets the namesake ingredient do the talking. This is a dining experience in Barbados like no other.
Where is it: Wesley House, Bay Street, Bridgetown, St. Michael
Contact Number: +1 246-435-0305
From fine dining to open-air fish fries, there really is something to suit every taste on this sunny Caribbean island. You really can't go wrong when dining at any of the top restaurants in Barbados as they all boast the highest of standards.
And with an excellent choice of restaurants, incredible beaches and top sights, a trip to Barbados will leave you wanting more. Just make sure you arrive hungry!
If you're looking to plan your next luxury holiday to Barbados, contact us at Inspiring Travel Company. As one of our clients, we can arrange your reservations at any of the best restaurants in Barbados.
Or, sign up to our mailing list to hear more luxury travel inspiration.