The Caribbean is a destination that is known for its beautiful beaches.
From the prettiest, clearest waters, to the softest of sands and beautiful tropical views, there really is a Caribbean beach to suit everyone.
But, with so many sandy stretches to choose from, how do you know where to go to find the best one?
We've done the hard work for you and have rounded up the best beaches in the Caribbean according to our Travel Specialists – plus, we pick out the best luxury hotels and resorts to stay at to experience them.
The Best Beaches in the Caribbean
Sugar Beach, St Lucia
Jumby Bay Beach, Antigua
Seven Mile Beach, Grand Cayman
Grand Anse Beach, Grenada
COMO Parrot Cay, Turks and Caicos
White Bay Beach, British Virgin Islands
Necker Island, British Virgin Islands
Shoal Bay, Anguilla
Englishman's Bay, Trinidad and Tobago
Carlisle Bay, Barbados
Pink Sands, Bahamas
Pinney's Beach, St Kitts & Nevis
Brownes Beach, Barbados
1. Sugar Beach, St. Lucia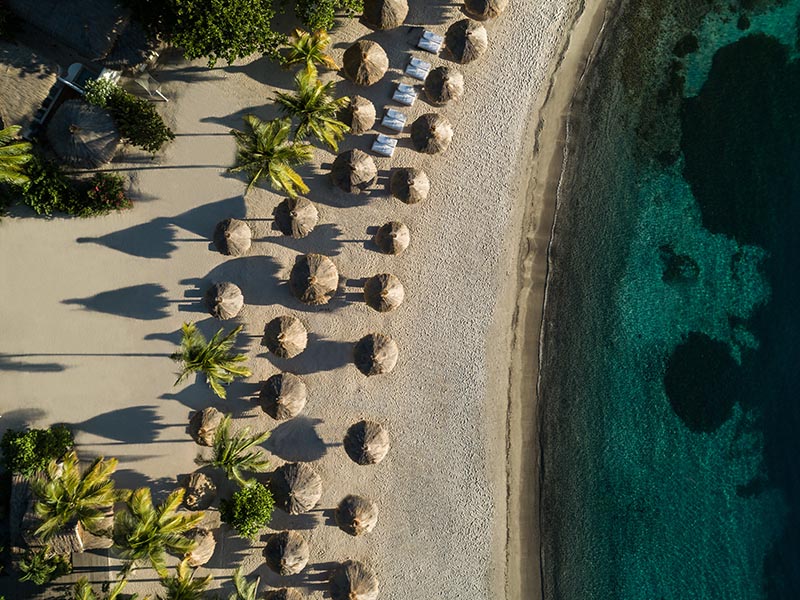 St. Lucia is home to many of the Caribbean's best beaches, but there is one that particularly stands out – the beautiful Sugar Beach.
From your sun lounger, you can enjoy views of not only St. Lucia's impeccably clear waters, but the magnificent Pitons, too. Gros Piton and Petit Piton are a designated UNESCO World Heritage Site and create one of the most stunning backdrops of any beach in the Caribbean.
If this sounds like paradise to you, then you will be glad to hear that you can wake up to it every morning if you stay at Sugar Beach, a Viceroy Resort. Set within a former 18th century sugar plantation and 100-acre rainforest, this luxury hotel gives you a front row seat to one of the Caribbean's best beaches.
---
2. Jumby Bay Beach, Antigua
If you are looking an idyllic, private beach in the Caribbean islands, the half-mile long Jumby Bay in Antigua should be on your radar.
Not just a spot of sand, Jumby Bay Island is actually an entire all-inclusive luxury retreat, so if you stay here, you will have free reign over one of the most peaceful and undisturbed beaches in the area.
Accessible only by boat, this is the perfect beach for embracing the beauty of nature. One of its biggest draws for animal lovers is the Jumby Bay Hawksbill Project which works tirelessly to protect the turtles that live off its coastline.
---
3. Seven Mile Beach, Grand Cayman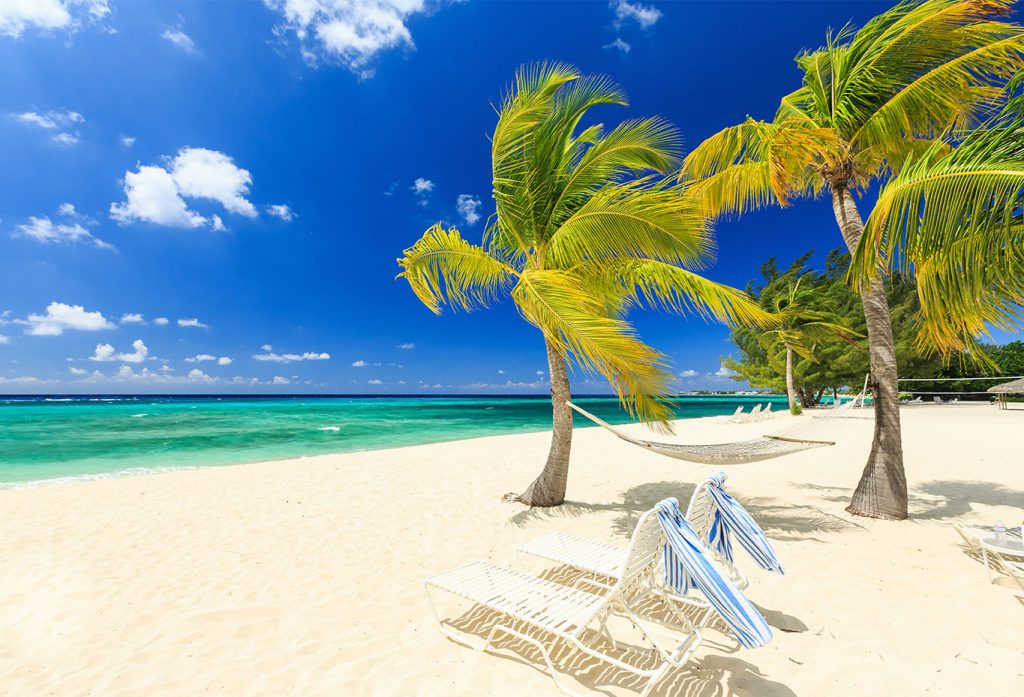 Want to visit the beach that's been certified as the region's best by Caribbean Travel and Life magazine? You'll find the winner of this accolade on the western coast of Grand Cayman, where it stretches for just over six miles (no, we don't know why they've exaggerated its name to seven either).
While the beach is public, its size means there really is plenty of room for everyone. It's also home to The Westin Grand Cayman Seven Mile Beach Resort & Spa. So, guests of this luxurious hotel can walk straight from their room to relax on one of the best beaches in the Caribbean.
Whether you want to walk the entire length, or just far enough to discover your new favourite beach bar in time for sunset, this west-facing beach is a highlight in the Caribbean.
---
4. Grande Anse Beach, Grenada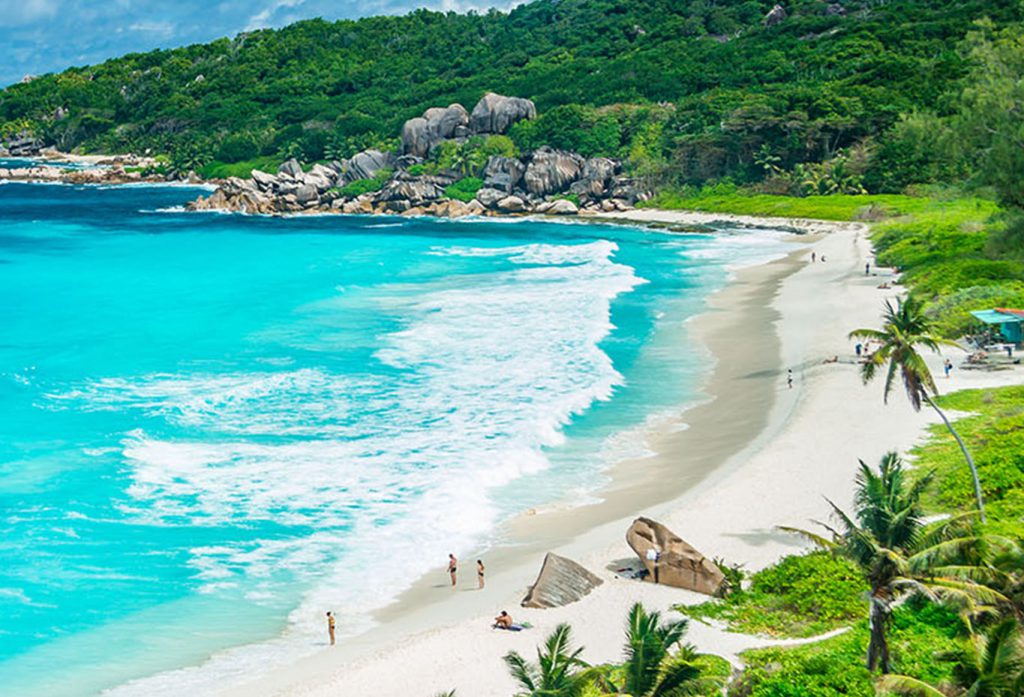 Out of Grenada's 45 beaches, there is one that certainly deserves a mention as one of the Caribbean's best. One of the most famed stretches of sand out of all the islands, it's a favourite for families thanks to its soft white sands and array of activities available on the calm waters.
Experienced divers will also find a brilliant spot to tick off their bucket list. Lying at the bottom of the sea, you can explore one of the Caribbean's largest shipwrecks off the coastline.
Grande Anse's beauty is undeniable too, with palm trees and blue waters creating a wonderfully tropical picture. To experience it at its best, stay at Spice Island Beach Resort and join the yoga sessions at the beachside pavilion.
---
5. Parrot Cay, Turks and Caicos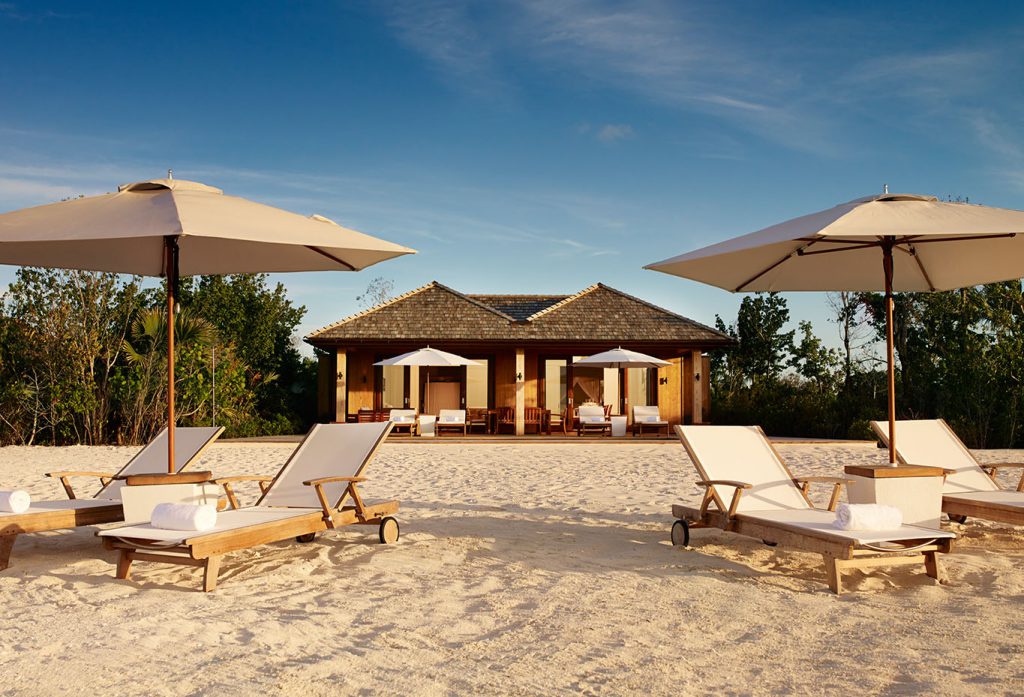 For seclusion, we have to mention Parrot Cay as one of the best beaches in the Caribbean. This private island is home to the luxurious COMO Parrot Cay resort, perhaps one of the most exclusive hideaways on offer.
Ideal if you are looking for a serene spot, you won't find yourself competing with many other guests for a place to lay your beach towel. Instead, you can explore the beach and beyond entirely on your own terms, whether you want to snorkel the clear waters, head out in a kayak or discover the wildlife that thrives on the island's unspoilt shores.
---
6. White Bay Beach, British Virgin Islands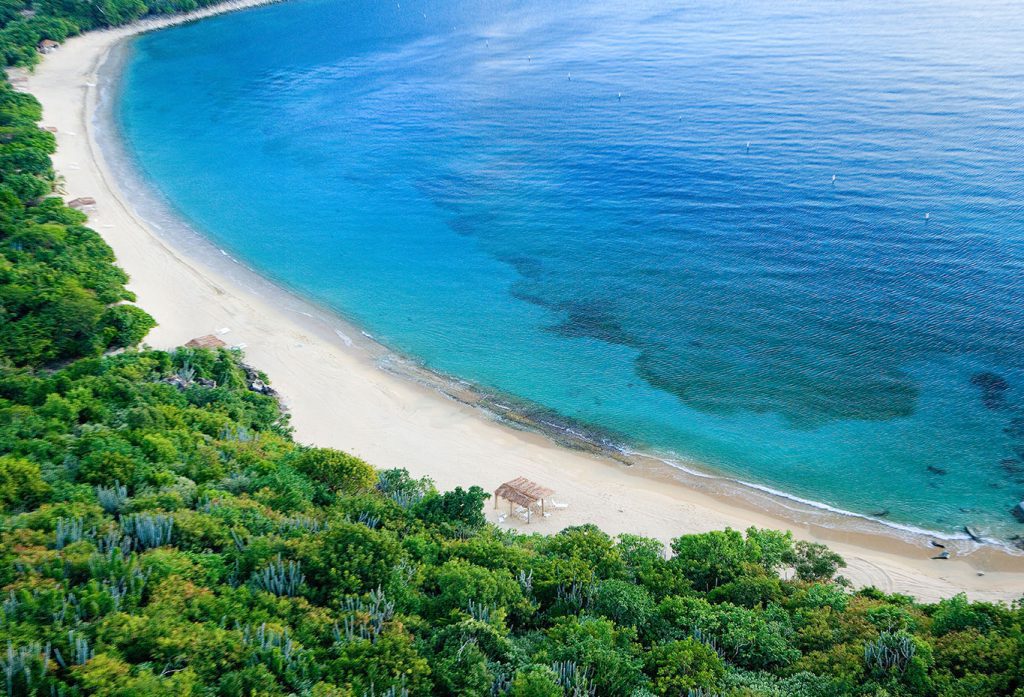 It's difficult to choose the best beach in the British Virgin Islands, as there are so many wonderful options. But one that we feel deserves noting is White Bay Beach. Rumoured to have inspired Robert Louis Stevenson's tale of Treasure Island, it really does conjure up the ultimate tropical escape.
If you stay at the truly wonderful Peter Island Resort & Spa, the concierge can reserve you a tiki hut on the beachfront, with a picnic waiting for you, so you can spend a full day exploring its sugary sands and turquoise waters. Whether you're kicking back at a beach bar, making the most of the world-class snorkelling spots or just watching the yachts glide by, you'll understand why this is one of the best beaches in the Caribbean.
---
7. Necker Island, British Virgin Islands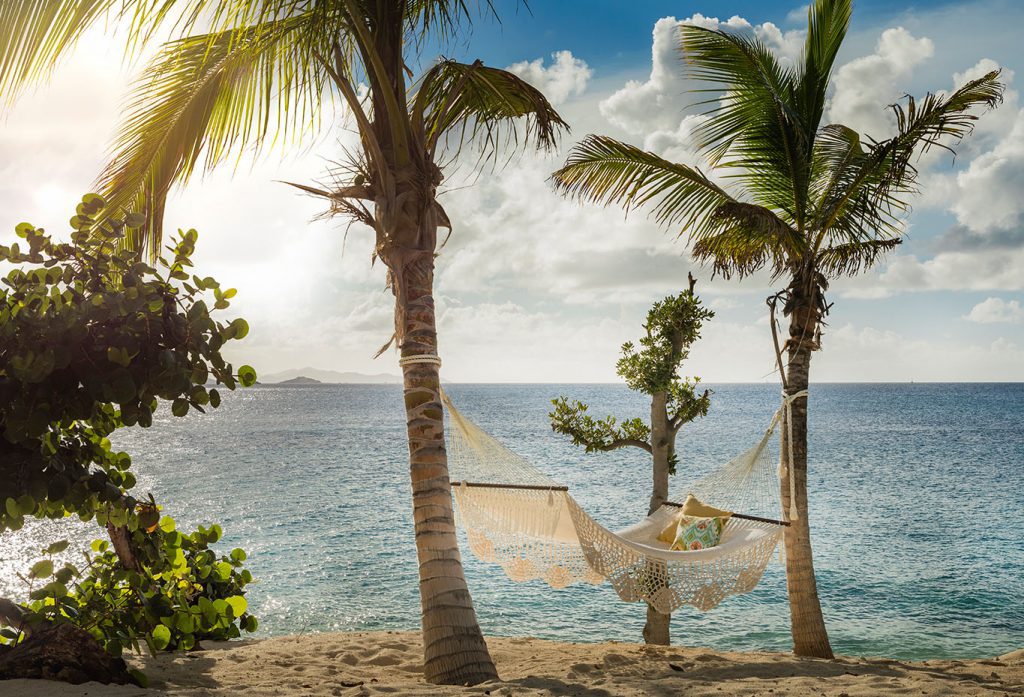 You probably know Necker Island as being the private paradise of Richard Branson. But, don't let this overshadow the fact that it also hosts some of the Caribbean's best beaches.
Of course, it goes without saying that the island is the ultimate in exclusivity. You can arrive by speedboat or helicopter, depending on how you prefer to make an entrance. You will also only have to share the 30-hectares with up to 28 guests – which can be just your friends and family if you hire the island yourself.
Now, onto the beaches. There are a few for you to pick from depending on your mood, whether you want to try water sports at the main beach, or relax in a hammock on Turtle Beach. You'll also want to meet the wildlife that lives around the sands, from flamingos and tortoises to lemurs and iguanas.
---
8. Shoal Bay, Anguilla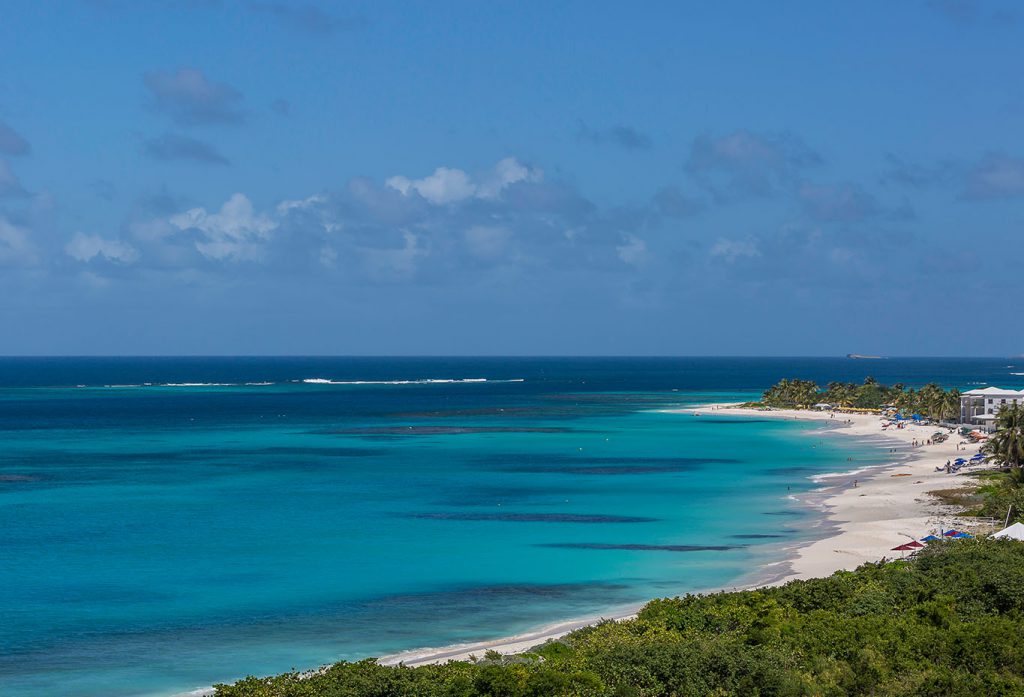 If you want to know where to find the bluest waters in the Caribbean, look to Shoal Bay in Anguilla. The sea appears vividly turquoise under the bright sunshine, contrasting magnificently with the soft white sands, tinged with pink, for a view of pure paradise.
Two miles in length, Shoal Bay has something of a lively character, unlike some of the more secluded beaches on this list. While it rarely feels overcrowded, there are plenty of restaurants and beach bars to create more of a social environment. You can also enjoy the more peaceful water sports such as kayaking and diving.
If you want to experience all Shoal Bay has to offer, we recommend staying at Zemi Beach House. Here, you will have a full view of those brilliantly blue waters and can easily stroll down the shore.
---
9. Pigeon Point, Trinidad and Tobago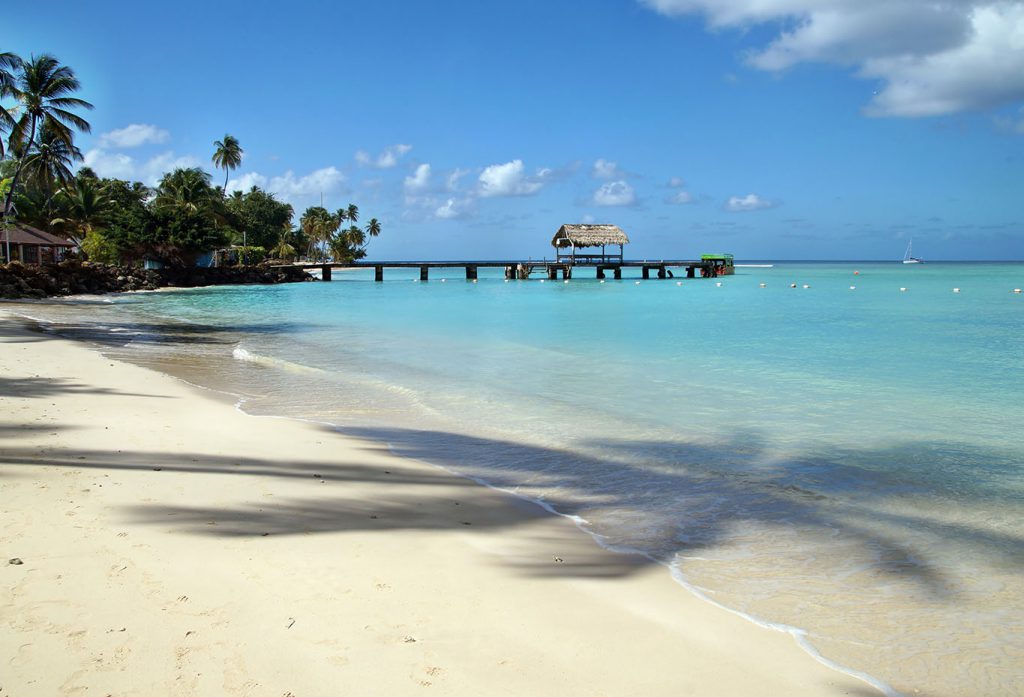 Pigeon Point is often declared not only the best beach in Trinidad and Tobago, but in the whole of the Caribbean.
An idyllic scene awaits you here, from the calm sea that is perfectly suited to families, to soft sands and shady palm trees. There are great amenities, with shops, showers, and restaurants nearby, plus a great choice of water sports.
You'll recognise Pigeon Point straight away by its trademark jetty, a true postcard scene to discover for yourself.
If you want to stay here, Coco Reef Resort is ideal. Again, this is an area that is great for families with younger children and this hotel will guarantee everyone has a great time.
---
10. Sandy Lane Beach, Barbados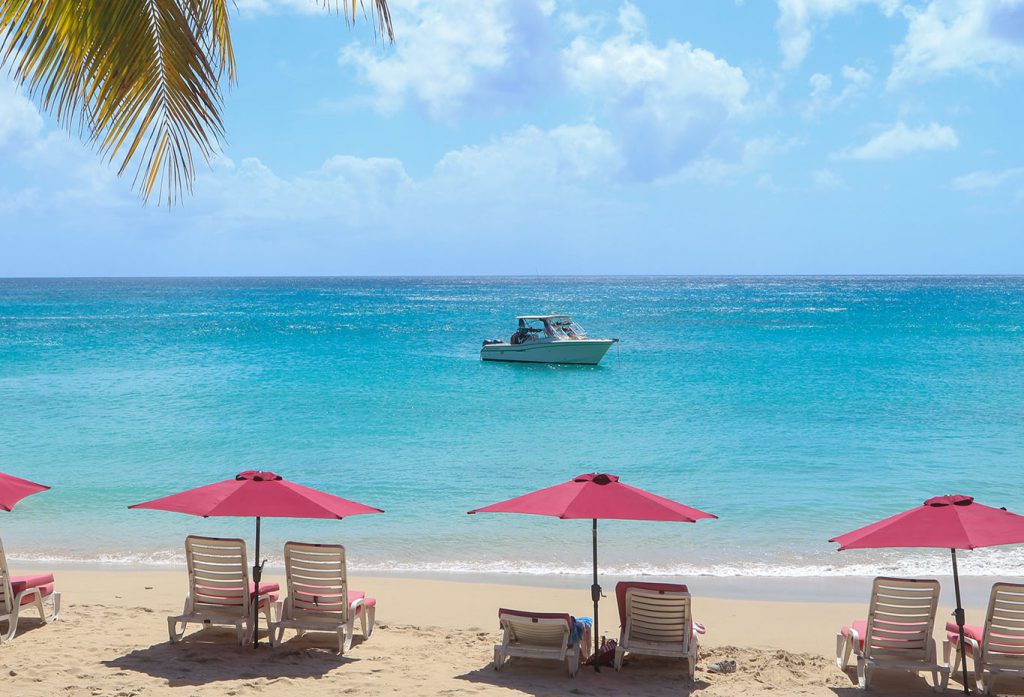 Along Barbados' west side, known as the 'Platinum Coast', you will have your pick of a number of the best beaches in the Caribbean. It really is difficult to narrow it down to just one, as each one has something different to offer. But, one beach that we can't not mention is Sandy Lane.
Synonymous with exclusivity and luxury, the beach at Sandy Lane is nothing short of iconic. The resort's signature pink sun beds and parasols are available for the use of hotel guests, who will also of course enjoy the ultimate in hospitality while lounging down on the sands. If you want to experience the Caribbean and its beaches in true luxury, this is the spot for you.
---
11. Pink Sands, Bahamas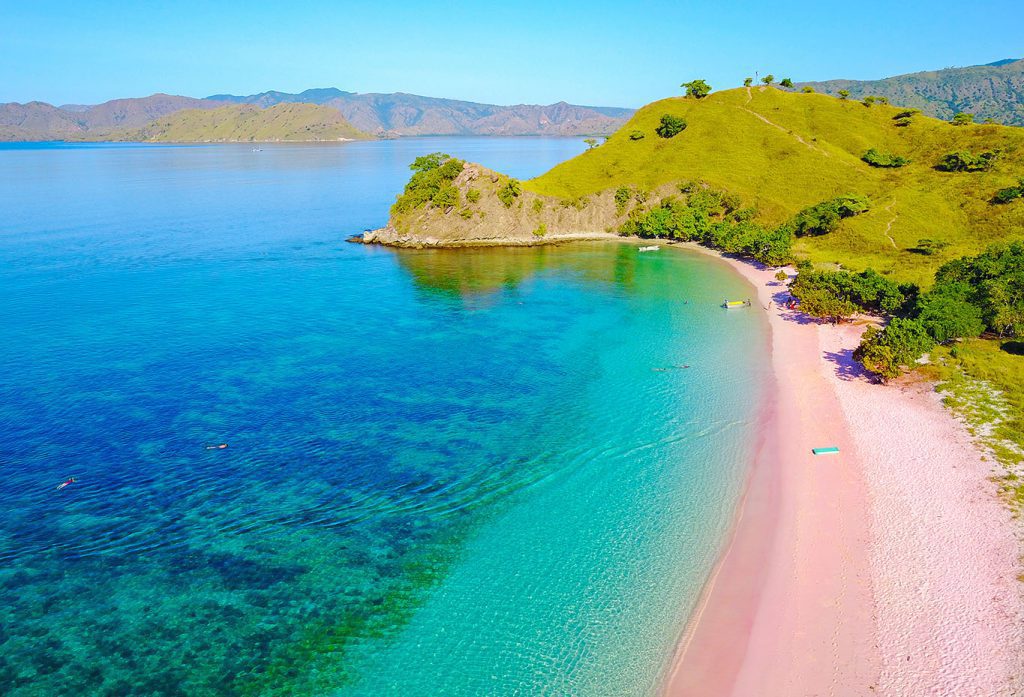 If there is one beach in the Caribbean with a unique appearance, it has to be Pink Sands in the Bahamas!
Just as its name suggests, this beach is renowned for it's pink tinged sands. The shore is hued this way because of the tiny marine creatures that make their homes in the coral reefs that surround the bay.
It's not the unusual colours that make this one of the best beaches in the Caribbean, though. It's also framed by tropical forest, which only adds to the appeal, as does its swimmable waters and excellent restaurants nearby.
If this sounds like your next perfect holiday, we suggest staying at The Cove Atlantis on the neighbouring island of Nassau. They can arrange a private charter boat to take you straight to Pink Sands.
---
12. Pinney's Beach, St Kitts and Nevis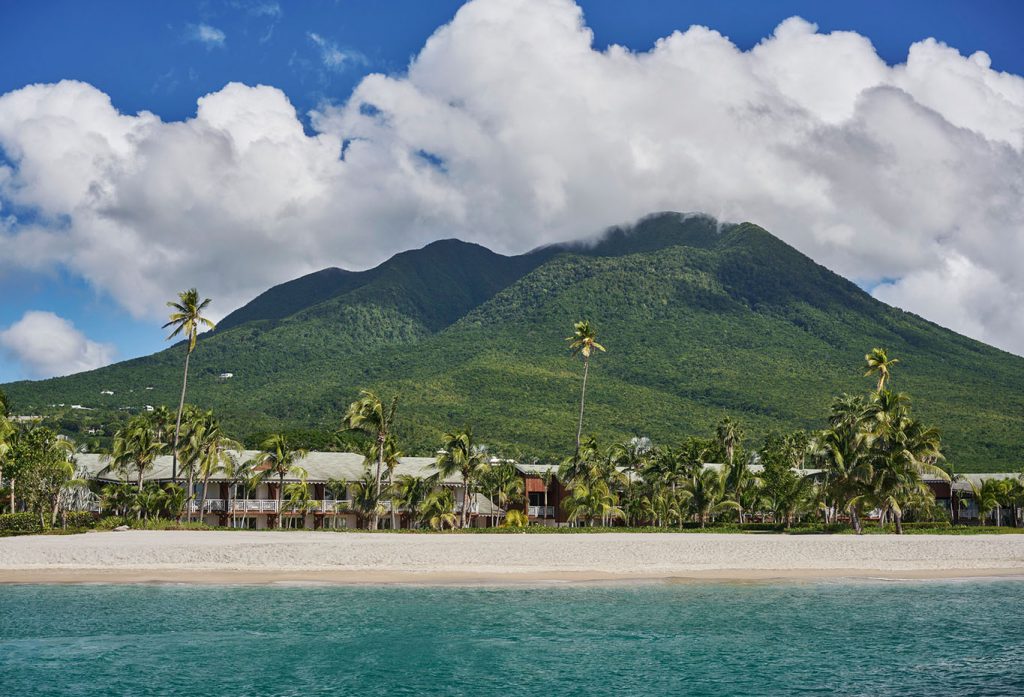 Rarely crowded yet just a stone's throw away from Nevis's capital of Charlestown, Pinney's Beach is our last stop on our tour of the Caribbean's best beaches.
Last certainly does not mean least though. Pinney's beach boasts three miles of golden sand and clear waters that make it a real highlight of the island. For those staying at Four Season's Resort Nevis, it's just a few steps away, making it an ideal base for a beach holiday. To make their day at the beach even more special, guests of the hotel can reserve a luxury cabana, complete with a fridge, television and dining space.
---
Are you dreaming of a beach holiday in the Caribbean? Leave us a comment if you have any questions about where you would like to go.
Don't forget to subscribe to our mailing list to see more of our luxury travel guides and see our latest offers.