Family and travel have both become even more important than ever, recently.
So, you might be one of the many people starting to plan a big family holiday for when travel is back on again. Because of all the pandemic's many stresses and worries, we all want to reconnect and get back to making memories as soon as we're able to.
Worried about the teenager getting bored? Covered.
Want a romantic dinner without the kids? Sorted.
What about giving your children experiences they'll remember forever? No problem.
Does that sound like you? Problem solved then, because here's our list of the best family holiday destinations to consider when you're planning your big post-lockdown getaway. Well, problem not quite solved, because now you have to narrow it down…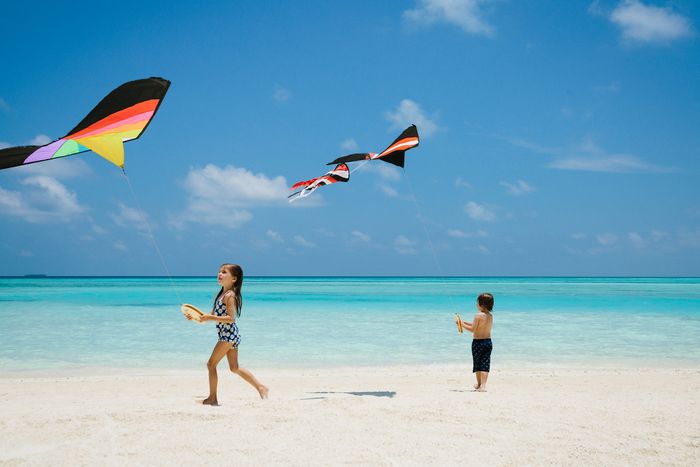 ---
For short-haul family holidays in Europe, we suggest…
Tenerife
The Algarve, Portugal
Italy
Cyprus
Greece
Or, if you're looking for a long-haul family holiday abroad, our top tips are:
Dubai
St Lucia
Mauritius
The Maldives
Barbados
Antigua
Orlando, Florida
If you're specifically travelling with very young children, discover our 9 Best Worldwide Holidays Destinations for Visiting with Babies and Toddlers.
---
Tenerife, Spain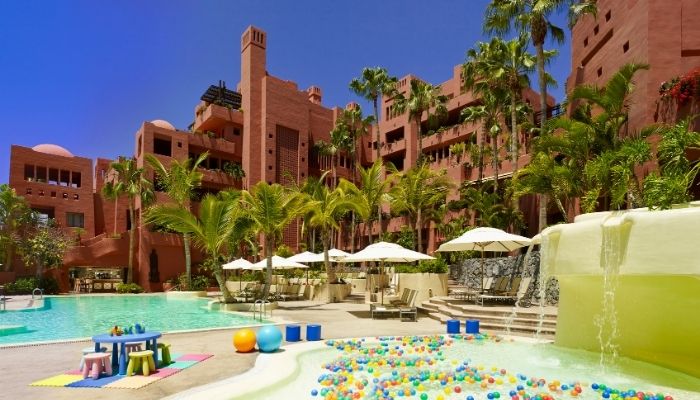 Year-round warmth, fantastic beaches and stunning volcanic mountains. It's no wonder that Tenerife is such a popular family holiday destination.
What's more, since the island runs on GMT there's no disruption to your little ones' sleeping patterns.
They'll have all the more energy, then, to enjoy Ritz Kids club at Ritz-Carlton, Abama. The resort is second to none for its programme of engaging children's activities.
There's also a great selection of family accommodation, including one/two-bedroom suites or interconnecting room combinations. So, whether it's space for teenagers or somewhere to keep little ones close, you'll find it on a family holiday to Tenerife.
---
The Algarve, Portugal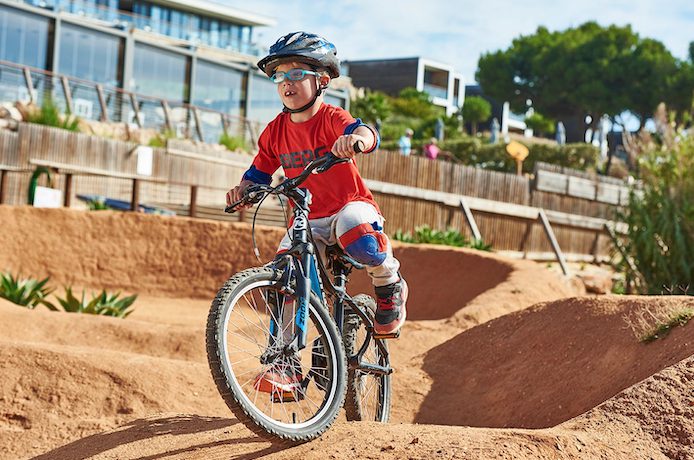 Right at the southern tip of Portugal, the Algarve is a sparkling jewel at the edge of the Mediterranean. The region's combination of historic Moorish architecture, stunning cuisine and 3,000 hours of sunshine a year ensure there's something for everyone.
Vila Vita Parc certainly ticks all the boxes for a multi-generational family holiday. There won't be any fights over who gets 'the best' room here. Why? Because all 180 rooms and suites enjoy a private terrace and ocean view!
Meanwhile, the 18-hole golf course, tennis courts, spa and plethora of kids' activities mean it'll be very hard to get bored, whatever your age!
This family holiday destination is especially good for those with newborns. At the Martinhal Sagres Beach Family Resort, they really have thought of everything in their 'Baby's First Beach Holiday' package. This carefully thought-out deal includes a stay in a Beach room or one-bedroom Garden House with breakfast included, plus a baby welcome pack including:
Nappies
Wipes and cream
A bottle warmer
Sterilizer and changing mat
Two hours' childcare at Raposinhos Crèche per day.
What's more, your child will receive a special gift and a 'First Water Experience'. So, you and your other half can enjoy a spa treatment for two and a romantic dinner, knowing the kids are taken care of. They really have thought of everything.
---
Florence, Italy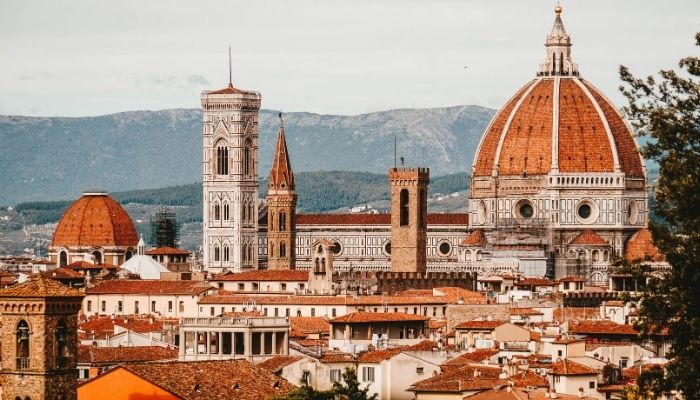 A city break may not be your first thought for a luxury family holiday. However, be prepared to be surprised by Florence, the birthplace of the Renaissance and Italy's best family holiday destination.
The city is a constant visual and cultural treat. From riding the antique carousel in Piazza Della Repubblica to climbing the 463 steps to the top of Il Duomo; children will come home with new ideas and lasting memories!
Hotel Savoy retains a sophisticated atmosphere alongside its strong commitment to catering to the needs of youngsters. From the RKids and RTeens programmes, to the Teddy Turndown service, children are attended to with warmth and impressive attention to detail.
---
Sardinia, Italy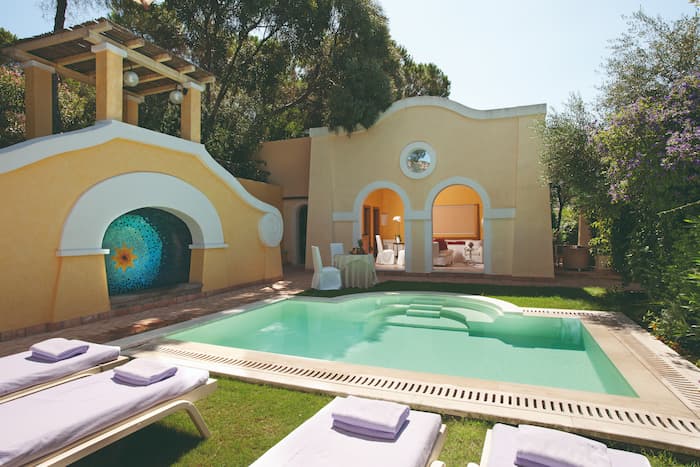 We love Italy as a family-friendly destination so much that it features on this list twice. With the short flight time and the fantastic weather, there is no way we could forget about Sardinia.
Let us introduce you to this luxury and award-winning resort – Forte Village, Le Dune. The resort is set on a white sandy beach and comprises 5* quality bungalows that allow for privacy and home comforts.
This is a fantastic option for families with children with a Children's Wonderland on-site, as well as an Aquapark that will keep you all entertained for hours. Take some time out and enjoy the rooftop infinity pool whilst your little ones participate in the Chelsea FC football school or rowing academy.
The list of activities at the Forte Village, Le Dune is endless, and the kids even have their own restaurant. If you're looking for an action-packed holiday with your family, then definitely add Sardinia to your holiday plans.
---
Cyprus
There are so many reasons why Cyprus is a brilliant destination for a family holiday. It's less than five hours' flight away, and is also brimming with stunning scenery, captivating history and culture. Plus, the country offers year-round warm weather and plentiful clean beaches.
For a daytrip away from your resort, try Limassol's Municipal Park, which is great for family days out. Furthermore, exploring Paphos means getting stuck into a city so rich in culture, it's literally a UNESCO World Heritage Site.
Parklane Resort near Limassol is perfectly suited as a family holiday destination with a range of family suites. Park Suites can accommodate even larger families with three bedrooms and a private pool. The 3,000 square metre Park Kidz area has plenty of room for kids to run about.
Plus, the resort's football academy is perfect for families with budding Premier League stars. They can brush shoulders with football royalty (such as Rio Ferdinand or Dimitar Berbatov) and receive world-class coaching.
---
Greece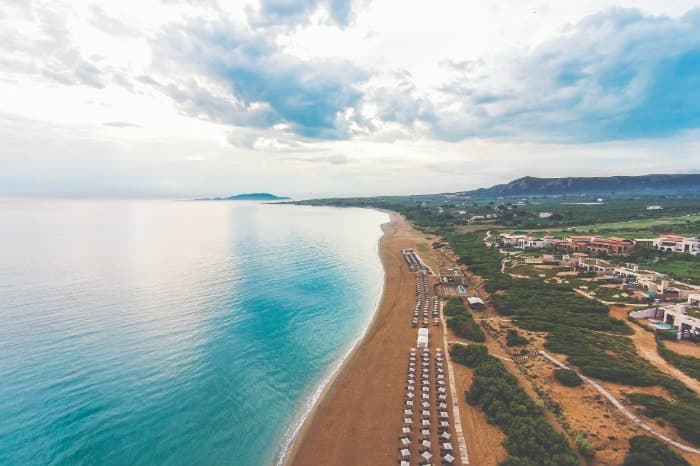 Greece is one of those typical places that you might think of for a family-fun holiday in the sun, and you'd be right. Many of the top holiday spots for families in Greece are on the islands, but we've got a superb pick for you on the mainland – The Peloponnese!
The weather in Greece is perfect for a summertime getaway, and there's something for everyone in this beautiful part of the world. Keeping your kids entertained isn't always easy, especially if they are of different ages and have different capabilities, but The Romanos, a Luxury Collection Resort, will keep them entertained from dusk till dawn.
The hotel offers a vast array of activities that might suit teenagers, including diving, mountain biking and climbing. All ages can receive coaching in tennis at the Mouratoglou Tennis Centre and swimming at the hotel pools.
The Romanos has an on-site Aqua Park with slides, and there is an excellent go-karting park nearby for an exciting afternoon out. If you fancy going farther afield, The Peloponnese has some brilliant beaches and is close to many significant archaeological sites dating back to Ancient Greece.
---
Dubai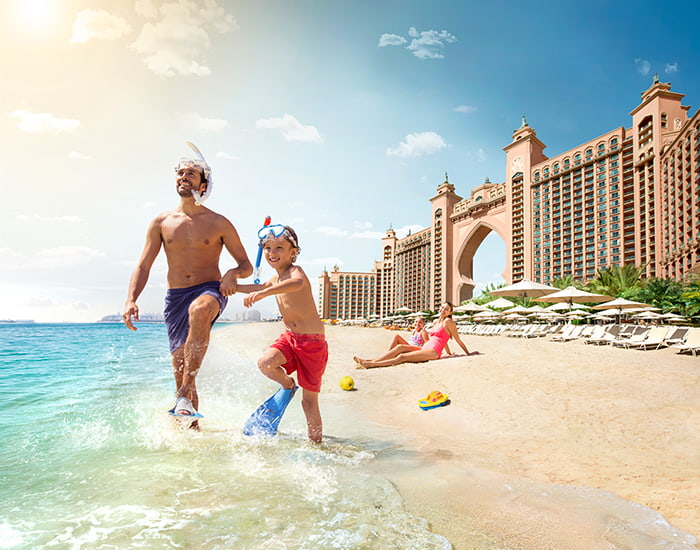 More and more families every year are realising just how well-suited a holiday to Dubai is for everyone – from tots to teens, parents to grandparents. World-class theme parks, Ski Dubai, safe beaches, warm seas, and direct flights from many UK airports are just part of the appeal.
This really is a year-round destination too, so it's a great choice whenever you wish to visit.
Add to that fantastic hotels and resorts with private villas or interconnecting rooms, as well as children's clubs, and you've got yourself a superb family destination.
Teenagers will go mad for the Dubai Mall. It's the largest shopping centre in the world, with over 1,200 retail outlets and a colossal aquarium. After shopping 'til you drop, why not take time to relax on the soft sandy beaches of a waterfront resort? The Aquaventure water park is a great day out for the family too!
If you're staying at Atlantis the Palm entrance to Aquaventure is complimentary, and water babies will be bowled over by the 17 hectares of aquatic amusements there, as well as The Ambassador Lagoon filled with 65,000 marine animals!
---
St Lucia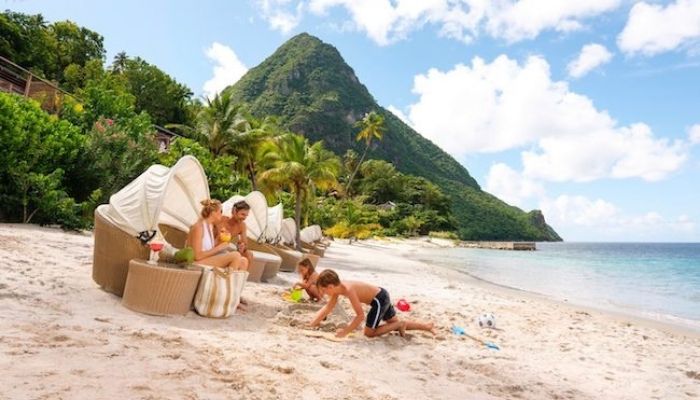 When you think of St Lucia, what comes to mind? Lush landscapes, glistening seas next to white sandy beaches? Well, you're not wrong.
From its vibrant nightlife to leisurely restaurants, beautiful beaches to stunning mountain scenery… St Lucia has it all.
At Sugar Beach, A Viceroy Resort, the whole family – parents and children alike – are well catered for. Irrespective of the age of your children, you'll find a range of suitable activities to keep the little ones occupied.
The Sugar Club (for ages 4 – 12) offers treasure hunts, coconut bowling and archery to keep them entertained. Alternatively, Spice Club (for teens and tweens) ups the adventure ante. Here, your teenagers can get involved in kayaking, paddle boarding and even learn the basics of sailing.
And when the little ones are tired out from a day of fun at the children's village, leave them in the capable hands of the babysitting service while you enjoy a romantic dinner at the Great Room restaurant. Bliss.
More more inspiration, discover The Best Luxury Family Resorts in the Caribbean.
---
Mauritius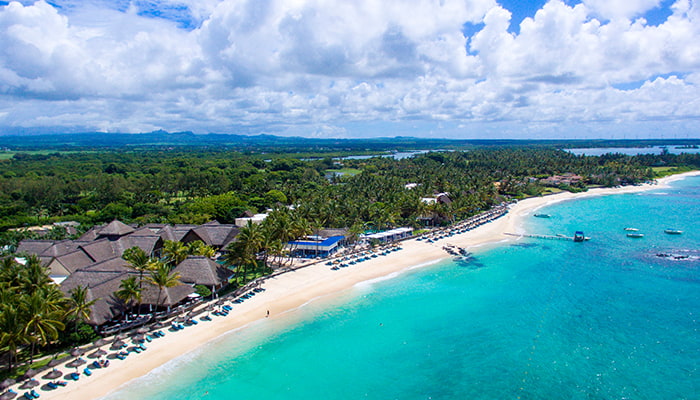 Marooned in the Indian Ocean, Mauritius is a melting pot of culture and cuisine. This island may be small, but with the bustling capital of Port Louis alongside breathtaking mountain ranges and virgin forests, you won't have any trouble finding family adventures to remember.
The powdery white sands, warm calm waters and superb kids' clubs ensure Mauritius makes for the ultimate luxury family holiday destination. Surrounding coral reefs mean that the island is a great destination for watersports, diving and snorkelling.
Mauritians are renowned for their accommodating and welcoming manner. This is reflected in the many family-friendly touches provided at the island's luxury resorts. The Constance Belle Mare Plage – situated on a two-mile-long beach to die for – provides children's dressing gowns and strollers for the little ones, as well as plenty of fun at the Constance Kids' Club.
---
The Maldives
Secluded and spectacular, the 1,200 islands of the Maldives stretch out across the Indian Ocean in clusters of pure white sand. But if the remoteness that makes this place so special seems off-putting for young families, rest assured that the Inspiring Travel Concierge Team will arrange everything to make your journey as seamless as possible, from children's in-flight meals to entertainment and making sure your room is packed with family-essentials.
This destination has so much to offer children. At Niyama, the incredible kids' activities on offer here include sports coaching, snorkelling safaris and performances on the Children's Club's own amphitheatre stage! Meanwhile, older teens or parents wanting a bit of 'me time' will love hanging out in the ultra-cool surrounds of CHILL island; home to the decadent LIME Spa and sublime underwater bar, SUBSIX.
---
Barbados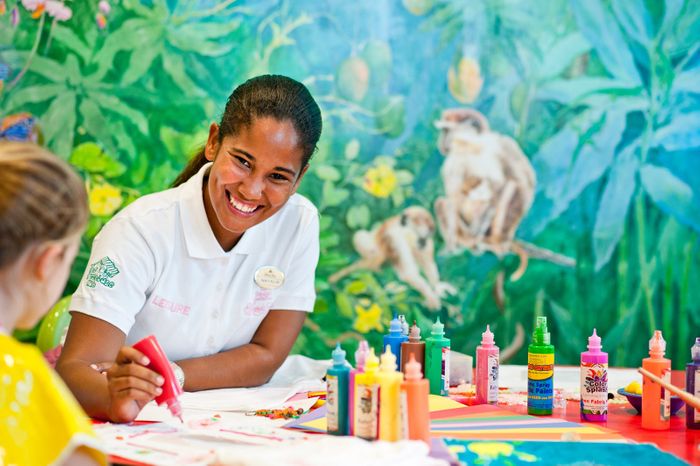 Famous for cricket and its easy-going outlook on life, its name alone conjures up visions of unspoilt sands and sparkling azure waters. However, Barbados offers vibrant entertainment as well as luxury, making it an ideal destination for families. The Crop Over Festival brings a carnival atmosphere to the streets for five weeks and it begins just in time for the summer holidays!
Entertainment and indulgence come on tap at Sandy Lane. Their Tree House Club will keep your 3-12-year-olds busy, while more discerning teenagers will be charmed by The Den, a social space offering pool tables, computers and a jukebox. And for something a little more grown-up, try the Romanesque spa, or hit a round of golf on one of Sandy Lane's three championship-style courses.
---
Antigua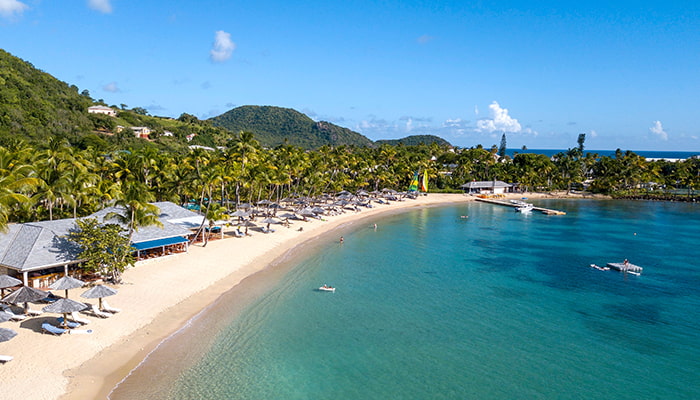 On Antigua the trade winds blow a gentle breeze throughout the year, taking the edge off the almost constant sunshine – a real bonus when travelling with children. For adventurous families, taking the children on a rainforest tour is a must.
For a family holiday full of adventure, discover the best adventure holidays for families with teenagers.
The island may only be 108 square miles in size, but it's home to 365 beaches (one for every day of the year).
And as if 365 beaches weren't already enough, you can stay at Jumby Bay Island, a car-free private island paradise. Younger guests will love the kids' club, Hawksbill Turtle Programme, watersports, bikes and tennis clinics. Meanwhile, grownups can leave little ones under the safe care of a babysitter while they head to the resort's recently refurbished Estate House for an evening of fine dining and cocktails.
A huge variety of accommodation sizes are available, from intimate one-bedroom suites to vast, spacious villas. Compared to the bustle of daily life this place will feel like a haven where your children can roam free, exploring the four and a half miles of pristine coastline on resort bicycles. Where better to teach them to ride a bike than on their family holiday in beautiful Antigua?
One to try: At Curtain Bluff, you're unlikely to see your children for most of your holiday, with so many activities to keep them busy including organised excursions and lessons to teach them how to sail or waterski!
---
Orlando, USA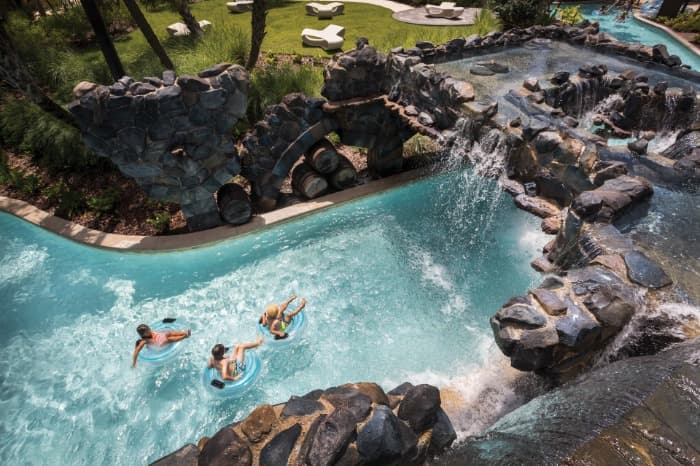 We couldn't finish this list without mentioning the king of family-fun holidays. Disney World, Florida, is such a fun holiday for families of all ages.
The Four Seasons Resort Orlando At Walt Disney World is set over 26 acres of land, meaning there's plenty of space to enjoy some quiet downtime after your long day in the parks. The hotel even has its own five-acre water park with splash zones, water slides and interactive fountains that will keep your family entertained for hours.
Save time by having Disney Character Breakfasts at the Ravello restaurant and watching the brilliant nightly fireworks from the hotel's rooftop bar. If that wasn't enough, The Four Seasons offers many other activities, including beach volleyball, climbing walls and a kids' club.
The hotel is located close to the main entrances of the Disney theme parks, and it's easy for you to reach them via the motor coaches and private luxury sedans that transfer to and from the theme parks.
---
Are you planning a family holiday this year? Let us know if you fancy any of the destinations above, or leave a comment below to arrange a consultation with a Travel Specialist to find the perfect destination.

For more luxury holiday inspiration and to hear about our hottest new offers, subscribe to our newsletter below.