With over 7,000 to chose from, you might wonder which Caribbean island is best to visit.
Of course, many of them are small, uninhabited, or otherwise not quite geared up for a relaxing holiday in the sun.
But, there is still great diversity on offer between those that do attract discerning visitors.
From secluded hideaways to glamourous retreats and all-out adventures, each Caribbean island offers its visitors something distinct from its neighbours.
---
Click here to skip straight to our top 10 Caribbean islands
---
What is the best Caribbean Island to visit?
So, how do you decide which Caribbean island you should visit?
This entirely depends on what you want.
For example, if you're travelling with young children, you'll likely want to find an island with calm, safe beaches for paddling in, plus plenty of amenities close by and fun things to do. In this case, Barbados is one of the best Caribbean islands to choose, especially along the white sands of the west coast, where waters are calm and gentle.
Antigua would also be a fabulous option for families, especially if your children are old enough to enjoy a boat trip around the coast.
There is, of course, adventure on offer in the Caribbean, too.
Jamaica is one of the best islands for fun-loving holidaymakers, a highlight being Dunn's River Falls. There's also rafting opportunities and some stunning hiking routes beyond the pristine waters, where all kinds of watersports can be found. Immerse yourself in the colourful culture – this is the home of Bob Marley, jerk chicken, Jamaican rum and even inspired Ian Fleming to create James Bond himself!
The Caribbean islands can also be undeniably romantic. So, if you are looking for a couple's holiday or a honeymoon destination, seek out the more secluded spots. St. Lucia is one of the best islands for honeymoons, thanks to its beautiful rainforest setting, though you might prefer your own private hideaway somewhere in the British Virgin Islands or St Kitts & Nevis.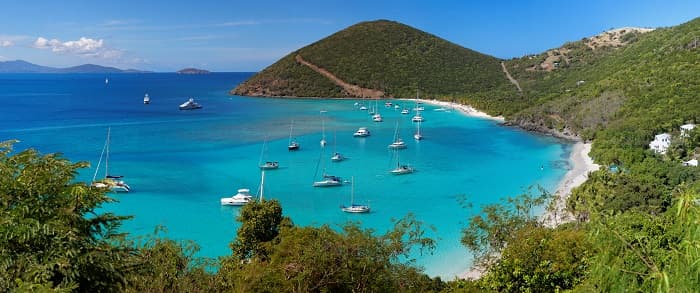 ---
Which is the most beautiful Caribbean Island?
Beauty really is in the eye of the beholder. Every Caribbean island has its own appeal, and, wherever you go, you'll find picture-perfect scenes of swaying palms, sweeping beaches and vibrant sunsets. We mean it when we say there is no such thing as an ugly Caribbean island!
But, it's true that some of the islands are particularly admired for their beauty.
The Pitons in St.Lucia are perhaps what makes this stunning island so distinct. Beyond these landmarks, you can also explore a volcanic landscape characterised by lush rainforests and hidden waterfalls.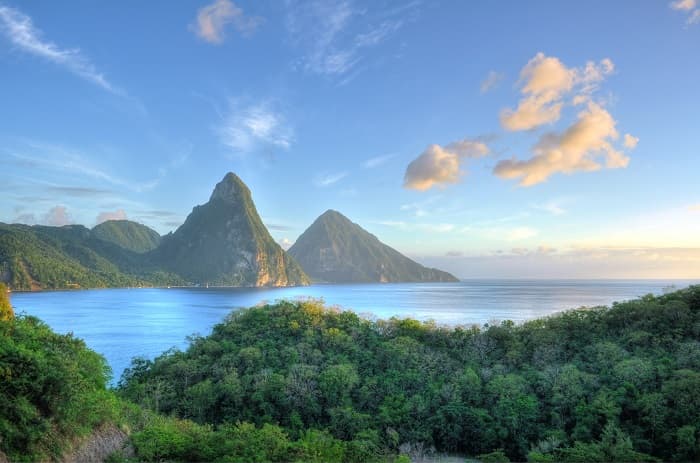 Antigua has its own charm, too. Most visitors make the journey up to Shirley Heights, where you can enjoy the best view over the historic English Harbour and watch yachts glide across the blue waters between the many coves and inlets.
If your idea of beauty is a classic beach scene, you really will be spoiled for choice in the Caribbean! The Bahamas are among the best islands for beaches, often described as not only among the prettiest islands in the Caribbean, but the world. You'll find uninterrupted swathes of pink tinged sands, while brightly coloured buildings add even more character to the mix.
For some of the clearest waters, you could head to the Cayman Islands. The coast here is absolutely pristine, offering some of the best diving opportunities in the Caribbean Sea.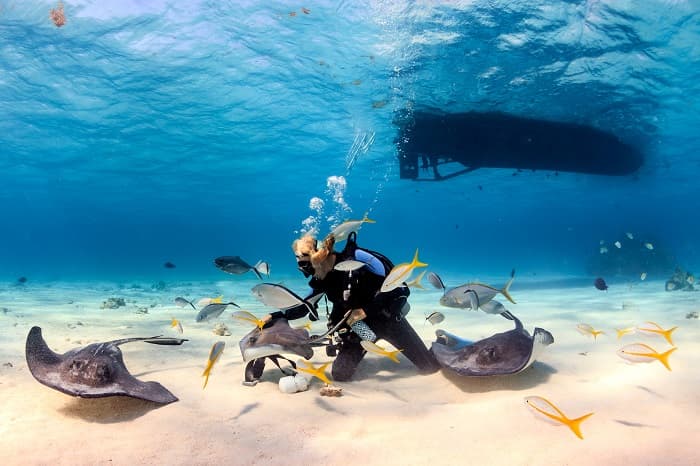 ---
Inspiring Insight
If you can't choose which Caribbean island is best to visit, taking a luxury cruise is a wonderful way to see a number of them at once. With excellent restaurants and 5-star suites on board, you can stop off to explore beautiful beaches and snorkel the crystal waters.
---
Should you choose a big or small Caribbean island?
When it comes to size, the Caribbean offers everything from tiny castaway islands to bustling towns and expansive landscapes.
So, it goes without saying that the size of the island you are visiting has a huge impact on the experience you have.
For instance, Jamaica is one of the largest islands in the Caribbean, as well as being one of the liveliest. It has three main 'resorts' that many visitors choose between; Montego Bay, Negril and Ochos Rios. These areas offer plenty of things to do, while further afield you can explore Kingston, the Blue Mountains or stay at the famous GoldenEye, the former home of Ian Fleming.
If you were to visit one of the small islands, such as Nevis, you'll find a more intimate experience. Beaches here are less visited and you can spot peaceful birds flitting between the hillsides. With fewer resorts, bars and restaurants rarely feel busy.
St Barths, on the other hand, is small but can be busier. With a sophisticated French influence, it's known as one of the Caribbean's most glamourous islands. Resorts here are highly sought-after and it's a popular stopover for yacht crowds.
---
What's the most luxurious Caribbean island?
The Caribbean island of Canouan in St Vincent & the Grenadines is one of the best for exclusive luxury. Here, you'll find the Mandarin Oriental, Canouan, a renowned 5-star hotel with just 26 secluded suites and villas set steps away from the white sand beach.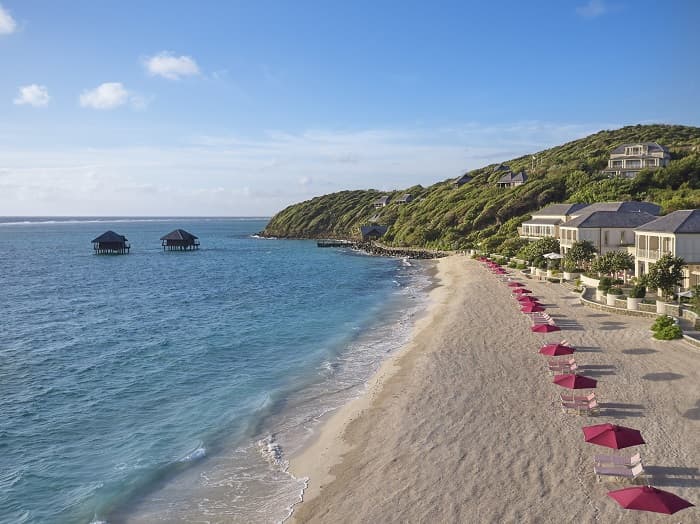 Then, of course, there's the famed Necker Island in the British Virgin Islands, owned by Richard Branson. One of the most elite experiences in the Caribbean, this is a pure playground for up to just 28 guests. Just across the water is Necker's more recently developed sister island, Moskito Island – with four sprawling estates, these resorts are truly one of a kind.
Turks & Caicos are also among the best Caribbean islands for luxury and exclusivity. With 32 of the 40 cays uninhabited, you'll find a wealth of beautiful beaches to discover. There are also some exceptional private island resorts, such as COMO Parrot Cay, where you can totally escape.
---
Our Top 10 Most-Visited Caribbean Islands…
Still not sure which island to visit? Take a look at our top 10 most visited Caribbean islands at Inspiring Travel Company…
1. Barbados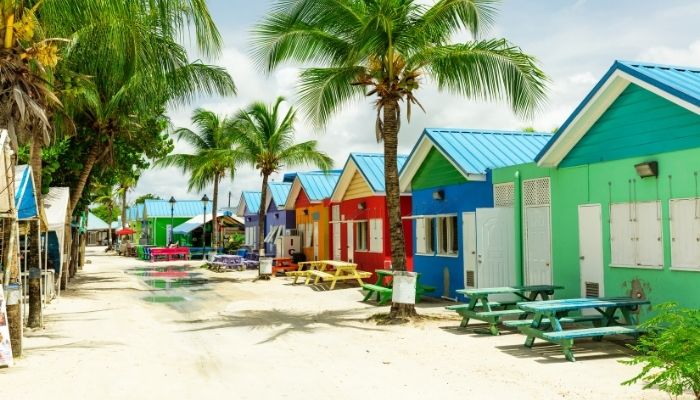 Best for: A luxury beach holiday for all ages, find some of the best hotels in the Caribbean, fantastic restaurants and fun activities.
Highlights: The 'platinum coast' of Barbados, which refers to the west side of the island, is where you will find beautiful beaches – think white sands, turtles frolicking in crystal waters and cocktails at sunset. It also has some of the Caribbean's best restaurants. See our 10 Best Restaurants in Barbados more.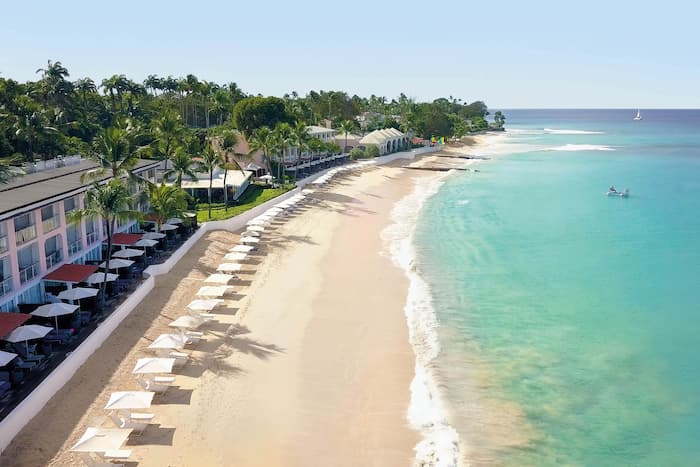 Where to stay?
For a luxurious beachside stay, why not visit the iconic Fairmont Royal Pavilion. Step onto the soft sands from your suite and breathe in the fresh air of your seafront setting. Fairmont has exceptional service and old-world charm that will leave you feeling completely relaxed, thought you could also enjoy the complimentary yoga or the array of watersports on offer.
If you're travelling with a family there's plenty on offer here too with the Kids' Activity Programme, including treasure hunts and swimming with friendly turtles. Food lovers also shouldn't miss out on the exquisite dining experience at Palm Terrace and Cafe Taboras, where delectable flavours are served over incredible views.
---
2. Antigua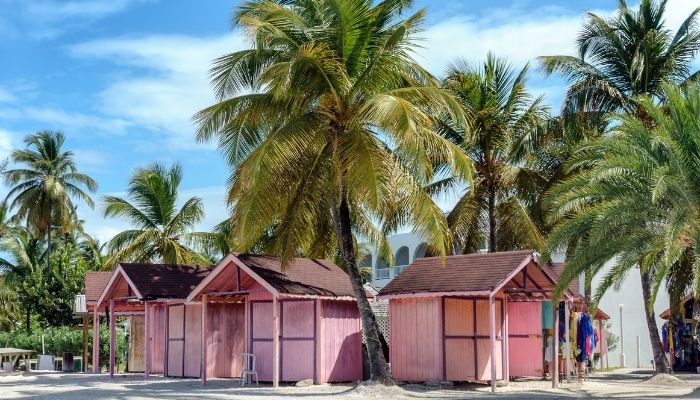 Best for: A taste of island life, there is something for everyone in Antigua. This welcoming island paints a pretty picture with the colourful town of St Johns, beautiful beaches and a historic harbour.
Highlights: Antigua boasts perfect conditions for sailing and holds its own world-recognised annual regatta. Visitors love this island for its laidback atmosphere, its 365 immaculate beaches and its maritime hub, Nelson's Dockyard.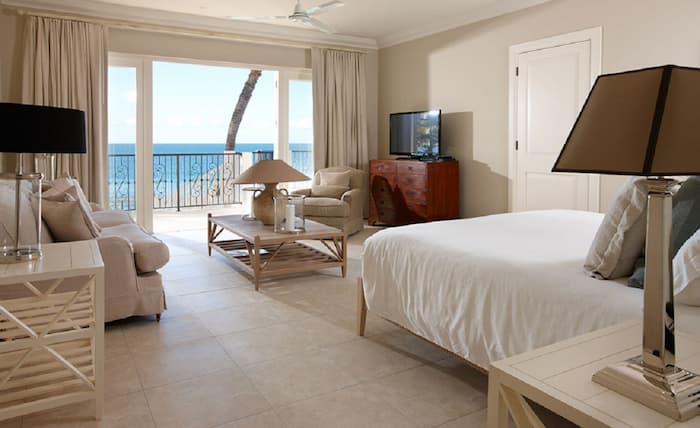 Where to stay?
Perfect for a family getaway or a secluded couple's break, Blue Waters is set in a beautiful location with three beach coves and landscaped gardens. Do as much or as little as you feel like whilst letting the relaxing island vibes recharge you.
Here, you can enjoy complimentary watersports to your heart's content, though you can also lounge by one of the pools, if you prefer. There's a secluded adults-only pool if you're looking for some peace and quiet, while families can splash around at the beachfront pool.
Blue Waters is also perfectly placed for enjoying Antigua's only PGA-rated par 69 golf course, Cedar Valley Golf Club, which is just three miles away.
---
3. St Barths & St. Martin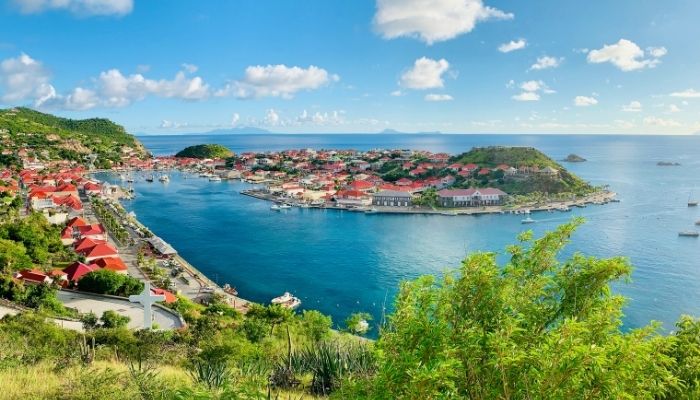 Best for: This French-speaking island is a celebrity favourite, with a hint of St Tropez mixed in with typical Caribbean delights. There are plenty of uber-luxurious hotels to hide away in, placing you just steps away from soft sandy beaches and chic beach bars.
Highlights: Along with stunning beaches, St Barths also offers luxury shopping, fine-dining and a buzzing nightlife scene with top DJs providing the soundtrack. Naturally, the island is a favourite among yachting crowds, and there are two annual events that are ideal for sailing enthusiasts.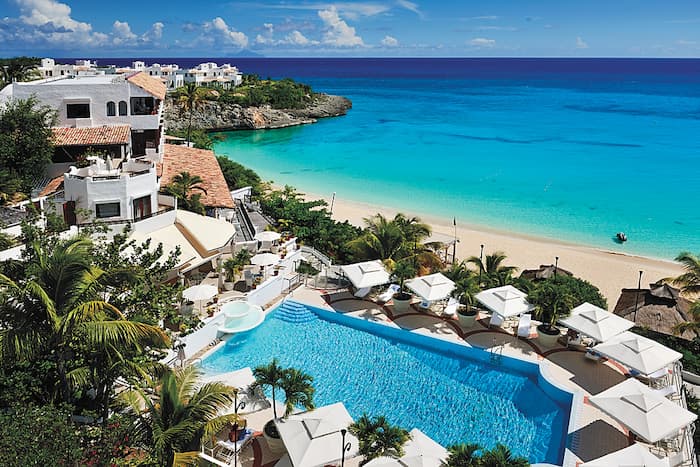 Where to stay?
Fancy a bit of seclusion and beach energy? La Samanna, A Belmond Hotel has plenty. The stylish seafront resort is nestled on Baie Lounge beach with chic guestrooms and suites that are perfect for outdoor living. Choose one with a Jacuzzi or direct beach access to take your stay up a notch.
Dining here is a real treat. You can sample French delights in the Caribbean breeze as you watch the sun set over the sea. Pair your food with your chosen bottle of wine from the resort's acclaimed cellar to toast to a special occasion. For a nightcap, head to the Baie Longue Bar and choose a cocktail to round off a day in paradise.
---
4. St Lucia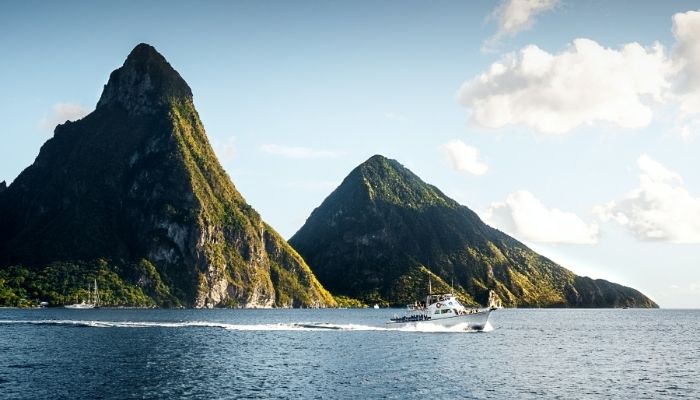 Best for: Adventurers and romantics. Explore the Pitons, go snorkelling and admire the beautiful flora and fauna at the Botanical gardens before reclining on the sugary sands.
Highlights: Aside from the standout UNESCO Work Heritage Pitons, you can hike the rainforest nature trails, go ziplining and see bubbling volcanic springs. You can also tour the cocoa plantation of Hotel Chocolat.
---
5. Bahamas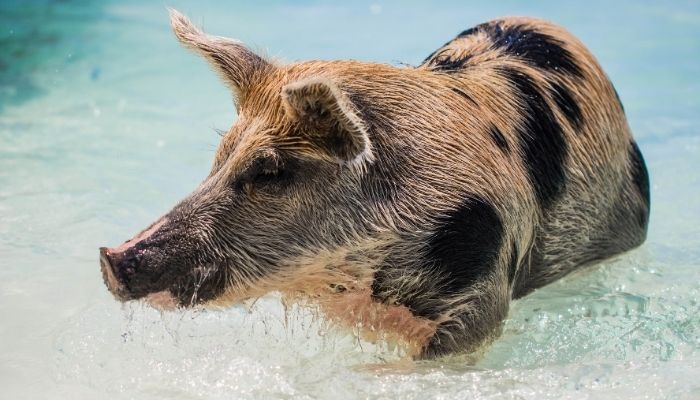 Best for: Some of the finest beaches, including the famed pink sands and Pig Beach. You can wander the sleek marinas, discover the bustle of Nassau or head out by boat to visit the more secluded cays.
Highlights: There are 16 islands in the Bahamas, so island hopping is a must to experience the true diversity. The clear waters are ideal for snorkelling and fly fishing, while dining at the local fish fry and catching a live Junkanoo band will reveal the Bahamas' colourful character.
---
6. Jamaica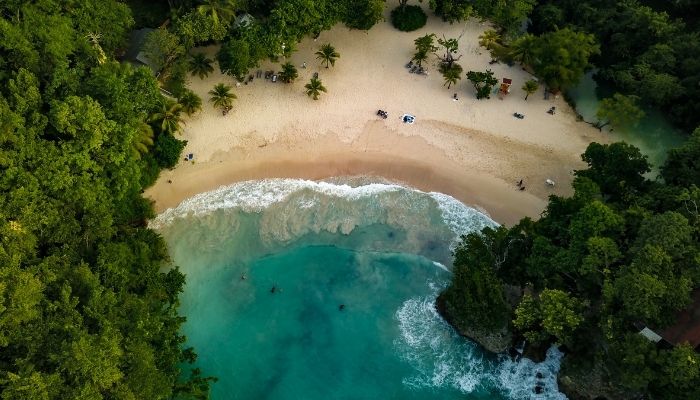 Best for: Culture and those looking for fun. Listen to reggae rhythms and sip rum on the white sands, or head out for some adrenaline-fuelled adventures in the rainforest or sea.
Highlights: Jamaica is one of the liveliest Caribbean islands, filled with music, flavours and history. Of course, it's the birthplace of Bob Marley, but you will also find more peaceful beaches, fantastic surf spots and cascading waterfalls.
---
7. Guadeloupe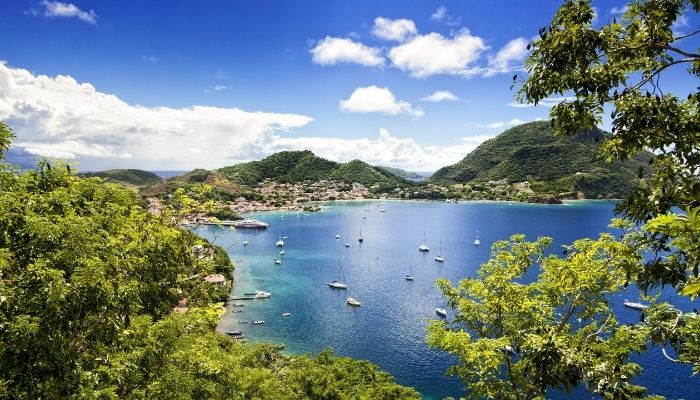 Best for: A classic tropical escape with French-Caribbean charm, this island has a lush interior comparable to St Lucia. Less 'touristy' than many Caribbean islands, you can relax, soak up the culture and admire the natural beauty.
Highlights: Kick back in the sands while surrounded by tropical beauty. Great for a classic beach holiday, you can wander quaint villages, relax on sun-kissed shores or head out for a rainforest adventure on this diverse island.
---
8. St Vincent & the Grenadines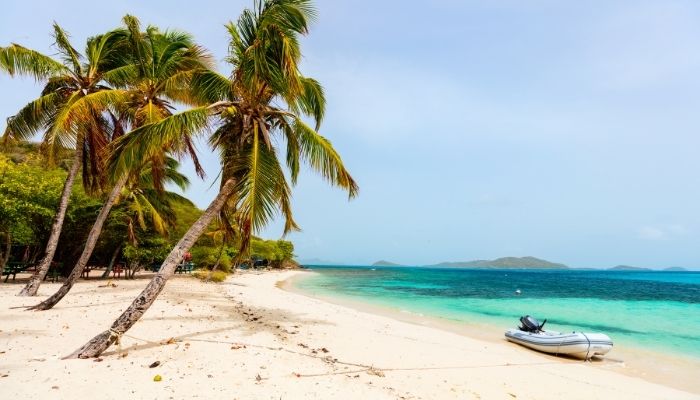 Best for: A secluded hideaway, these islands are a favourite for honeymooners. There are plenty of untouched beaches to discover, plus private islands for those who really want to get away from it all.
Highlights: You can completely relax in total peace and quiet when staying in St Vincent & the Grenadines. This quintessential island paradise is untouched by over-the-top tourist attractions, so you can snooze in your hammock and snorkel the pristine waters, undisturbed.
---
9. British Virgin Islands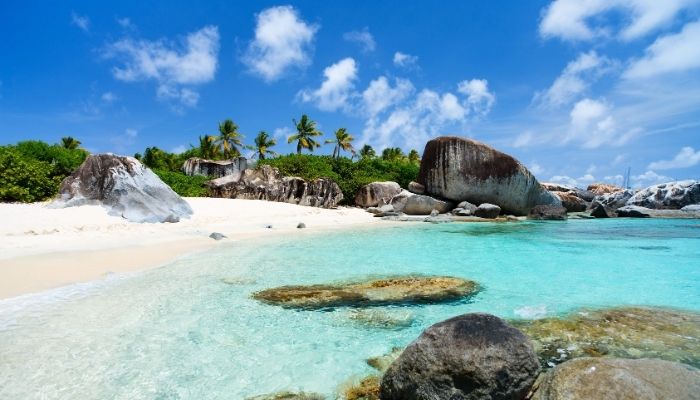 Best for: The British Virgin Islands are bursting with natural beauty and perfect if you want to fill your days with white sand beaches, scenic hikes, boat trips and world class snorkelling. It's here you will find the renowned Necker Island.
Highlights: These Caribbean islands offer the ultimate luxury beach break. While the capital of Tortola is vibrant, you will find unspoiled and serene sands wherever you go. Watersports are very popular here and sailing conditions are almost perfect from November to May.
---
10. Grenada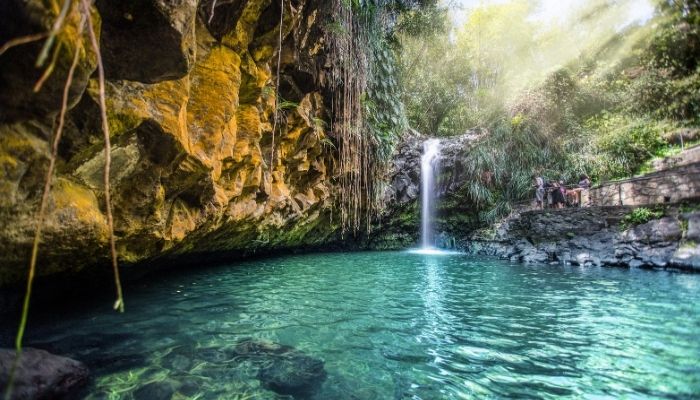 Best for: Tranquil yet full of life, the 'Spice Island' is bursting with flavour. You can visit spice and chocolate plantations and chow down on fresh seafood, when you are done exploring one of the Caribbean's best beaches, Grand Anse.
Highlights: Excellent beaches aside, there is plenty to do in Grenada. There is amazing wildlife to marvel at, plus there are numerous festivals throughout the year that really brings this Caribbean island to life.
---
The best way to decide which Caribbean island is best to visit is to speak to someone who knows them best.
If you'd like some expert advice, contact us at Inspiring Travel Company to chat to one of our Travel Specialists.
Looking for the type of holiday in the Caribbean where you can relax with your loved one and not worry about a thing. Visit our article on the best adult-only all-inclusive resorts.

For more advice and to hear about our latest offers, subscribe to our newsletter below.