From oversized beach hats and designer kaftans, to high-factor sunscreen and fun-in-the-sand games for a beach trip with the kids; if you're wondering what to take to the beach during your next luxury holiday as a family or a couple, we've got you covered.
We've made your life easier by compiling savvy packing tips from our team of experts into one quick read. Imparting their travel wisdom, they outline tried and tested ways to pack your suitcase and hand luggage with essential items to take to the beach, and highlight the most important things to consider when choosing one of our luxury beach holidays depending on location.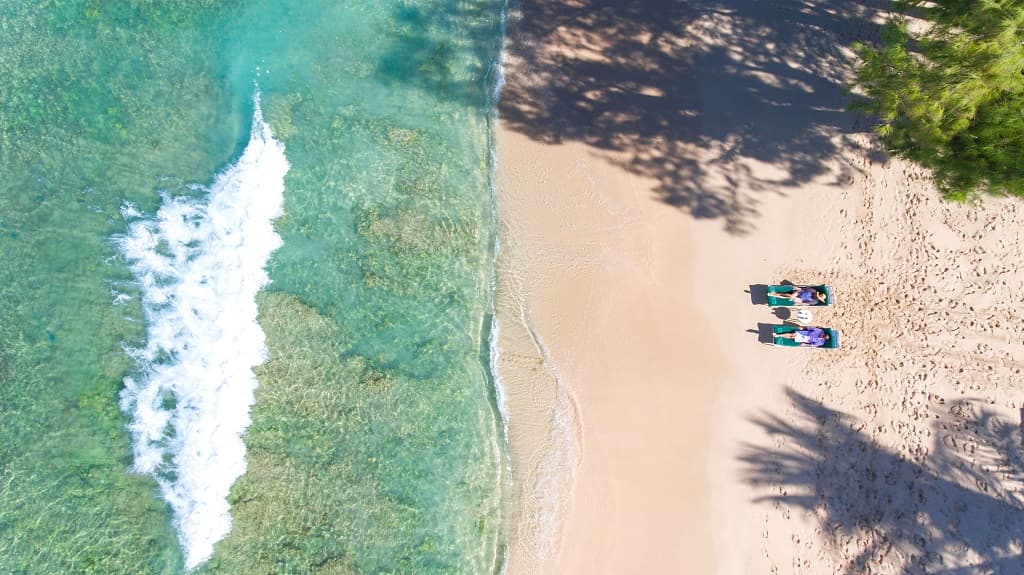 Before we start, it's important to remember that with every Inspiring Travel Company luxury holiday, it's best to travel light when you're packing for the beach. You'll be surprised at how much we can arrange for you in the resort so you don't have to take everything with you. From flamingo inflatables in your private pool in Barbados to all the necessary gear (fins, goggles and snorkels) to swim with dolphins in the Maldives, nothing is too much trouble for us.
Some of our best resorts for a holiday with babies and toddlers can even provide essential amenities for you, so be sure to check before weighing yourself down with bottler warmers and booster seats!
And of course, all of our luxury hotels provide beach bags, water bottles, beach towels and so much more, so you don't need to sweat the small stuff when it comes to your beach day packing list.
---
What to pack in your carry on?
Whether your preference is a glamorous tote that doubles up as a beach bag, a practical backpack, or an extra suitcase (if you struggle to travel light!), it's always a good idea to bring a half-full carry on whilst navigating airports and planes.
You'll feel more comfortable at the airport, plus you'll have space for all of those duty free purchases! What's more, you can pick up some souvenirs without having to worry about excess baggage costs on your return.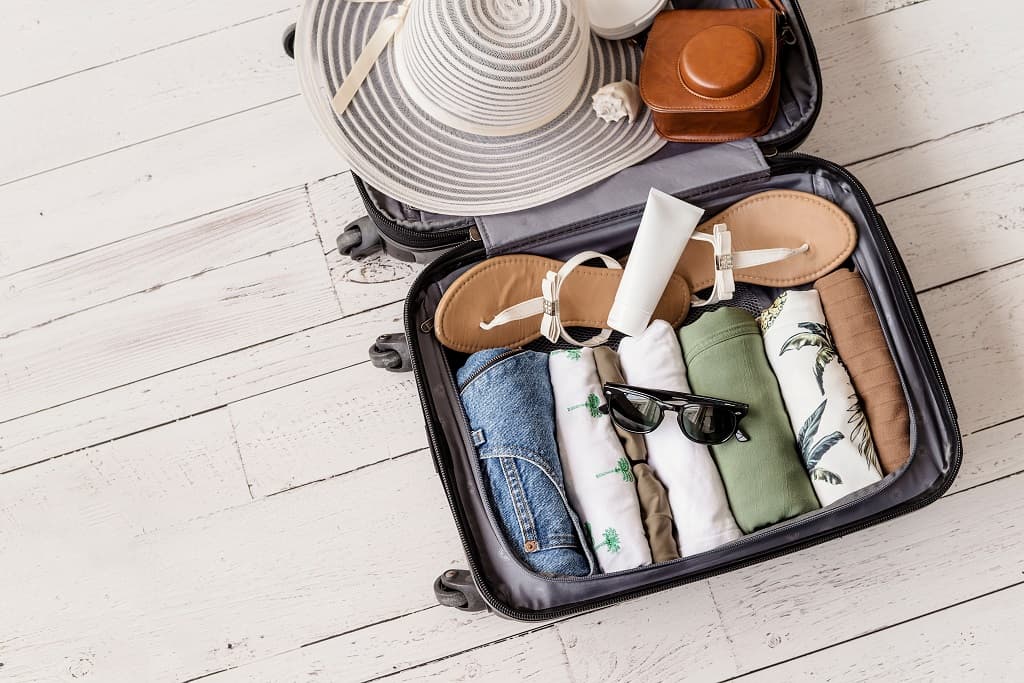 "Pack a change of clothes and some swimwear in your hand luggage just in case, especially if you're making a connecting flight – I've been caught out before where I have made the flight but my bag didn't!" – Holly, Sales Manager
We advise packing a change of clothes, some swimwear and a beach coverup in your hand luggage, so if you can't access your room straight away on arrival, you can make the most of the hotel facilities and hit the pool or beach. Save room by rolling these clothes instead of folding — even the most "crease-able" items come out ready to wear.
Of course, don't forget to buy a bottle of water at the airport. It's important to keep hydrated on your plane journey!
Being avid jet-setters, we're fully aware of the dreaded 100 ml liquid limit. That's where reusable travel bottles come in. Forget stressing that you'll be in a pressurised cabin without your jumbo face mist and luxury moisturiser that you 'can't just pick up from Boots' — simply transfer your full size products into smaller silicone containers and mini spray bottles pre-flight to get through airport security, so you can maintain your entire beauty regime on the go.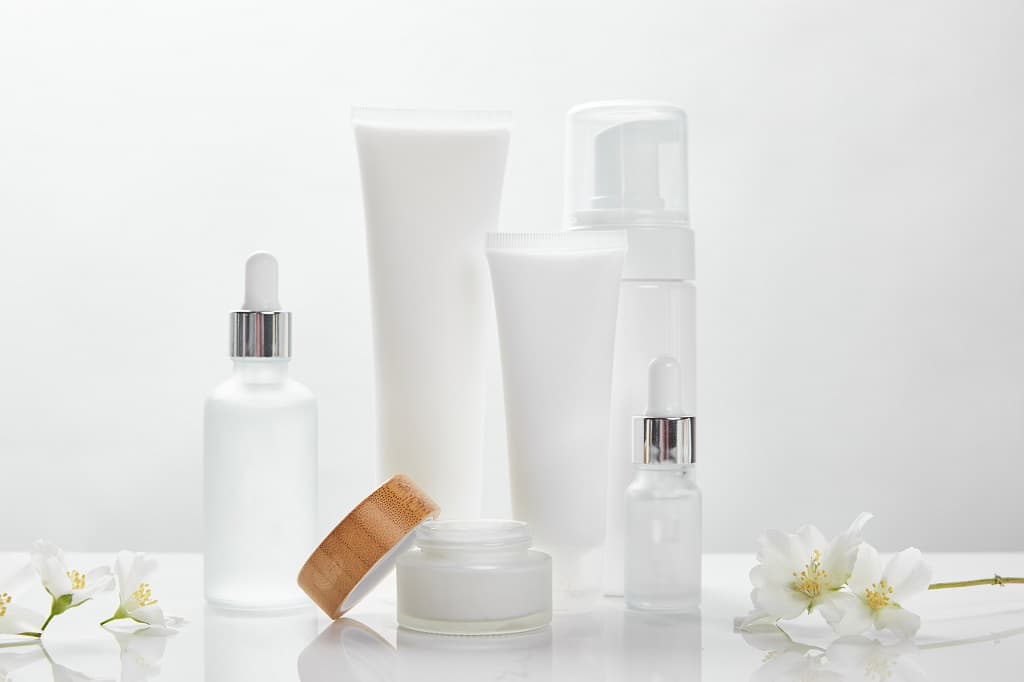 "I always pop a mini moisturiser in my hand luggage so my skin isn't too dehydrated by the time I land." – Steph, Relationship Manager
---
Toiletries and Cosmetics Checklist
Using different toiletries and cosmetics, especially low-quality brands, can take a toll on you whilst travelling. Our hotels and resorts have a whole host of luxury toiletries in your room, from skincare brands like Elemis and Laboratoire Remède, to GHD straighteners and Dyson hairdryers which, let's face it, are reason enough to book a trip!
It's a great way to discover new toiletries and cosmetics ranges, however it's always worth packing some of your favourite products in your suitcase if you have specific needs, such as deep conditioners for coloured hair, high factor sun creams and UV defence hair mist to help protect from sun-frazzled locks.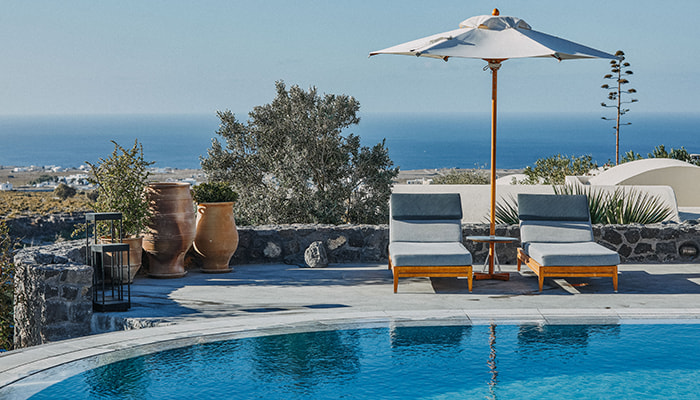 "Always pack well in advance so you can get to the airport nice and early. I've seen too many people miss their flights for various reasons, so don't let a disorganised suitcase be one of them!" – Peter, Travel Specialist
---
Beach and Poolside Must-Haves
Our experts have travelled to the world's best beaches so are no strangers to packing beach and poolside essentials. A few weeks before your holiday is the perfect time to do a beach checklist, especially if you're travelling with kids who need entertainment and more importantly, plenty of sun protection for their delicate skin.
Finding a swimsuit or rash guard that offers a UPF (a standard to measure sun-protective fabrics) of 50+ will provide both UVA and UVB protection. A pair of water shoes for playing on the beach or snorkelling the coral reefs is also a good idea, along with a pair of sunnies and plenty of sunscreen.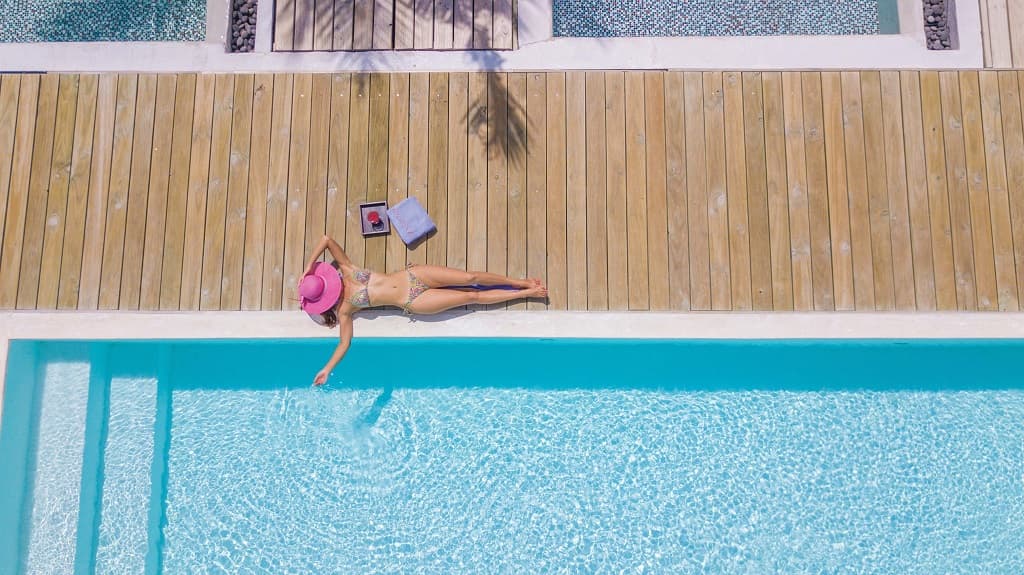 Many of our luxury hotels have a team of lifeguards and attendants at the pool and beach, who can advise on what to take to the beach and will ensure all safety aspects are covered, such as incoming weather and any strong currents to be aware of. What's more, a beach butler service ensures every whim is catered to, providing everything from ice blocks and fresh water to cool down, to aloe vera gel to calm any red skin.
"Take time to relax while you're away, whether it be in the spa, on the beach or just lazing on your terrace – I always pack a few new books to make the most of that precious holiday time." – Lucy, Travel Specialist
---
Clothing Checklist
Our experts believe that packing cubes are travel essentials. They help to compress clothes and keep them in their rolled up position, and organise everything from swimsuits to suit jackets in separate colour coded zipped bags. You can even pack an empty one ready for dirty laundry for your trip back.
For Women
Aside from the obvious dresses, sandals and sunglasses, there are certain parts of the world that require a little more modesty. Take the Middle East for example; you may pack a bikini but that will only be your go-to at the hotel's private beach. It's important to know a little beach etiquette of your destination before you travel, so bring plenty of coverups and outfits that cover the knees and shoulders. Of course, our Travel Specialists will be able to help if you have any questions on what to pack for your destination or hotel, as many of them will have been there themselves.
Finally, don't forget UV-protective sunglasses – the sun's rays are extremely strong.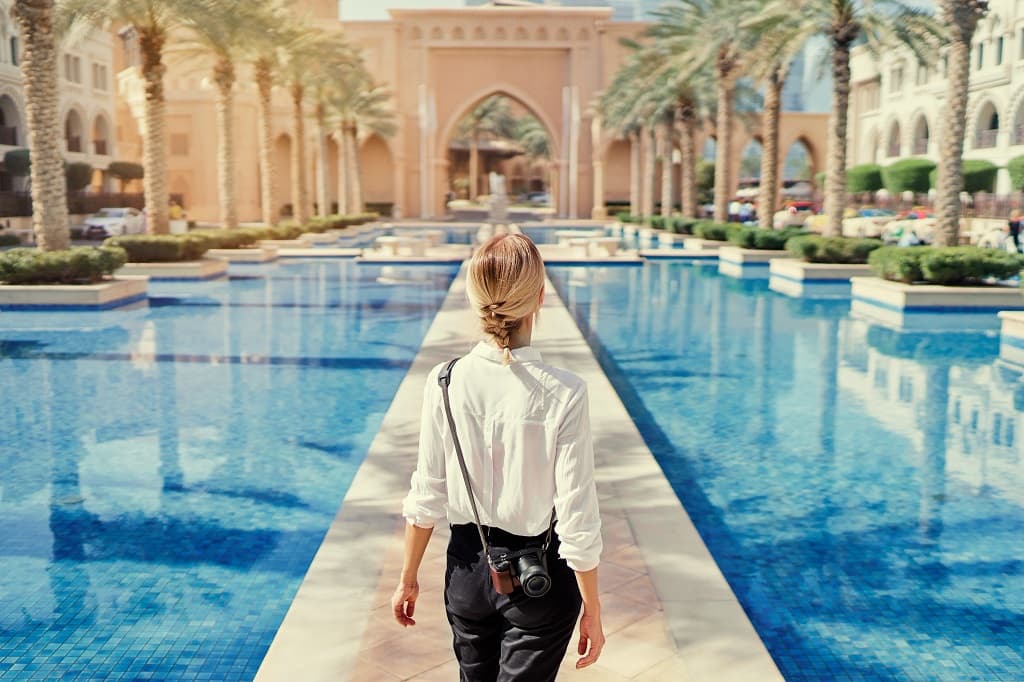 "Take a thin scarf or pashmina with you. It'll be handy for the flight and also if you need to cover up in some countries where you need to be mindful of the culture. I realised this on a trip to Thailand whilst visiting the many temples." – Kim, Travel Specialist
For Men
In more conservative destinations, it's probably not a good idea to only wear your swimming trunks en-route to the hotel beach. For the sake of being respectful to the local culture, remember to pack plenty of tee-shirts and button-down shirts when you're not soaking up the rays. In the evening, smart jeans or trousers work well. In places like Dubai, many of the high end restaurants and hotels have a no open-toe shoes policy for men, meaning flip flops are a no no.
---
Electronics Checklist
Universal adapters, portable chargers and your favourite e-book reader: these are just a few of the must-have travel gadgets you'll want on your next luxury holiday. Even if you're a frequent traveller, it's a good idea to make an electronics checklist as every destination is different. Then you can take off feeling prepared and most of all, excited!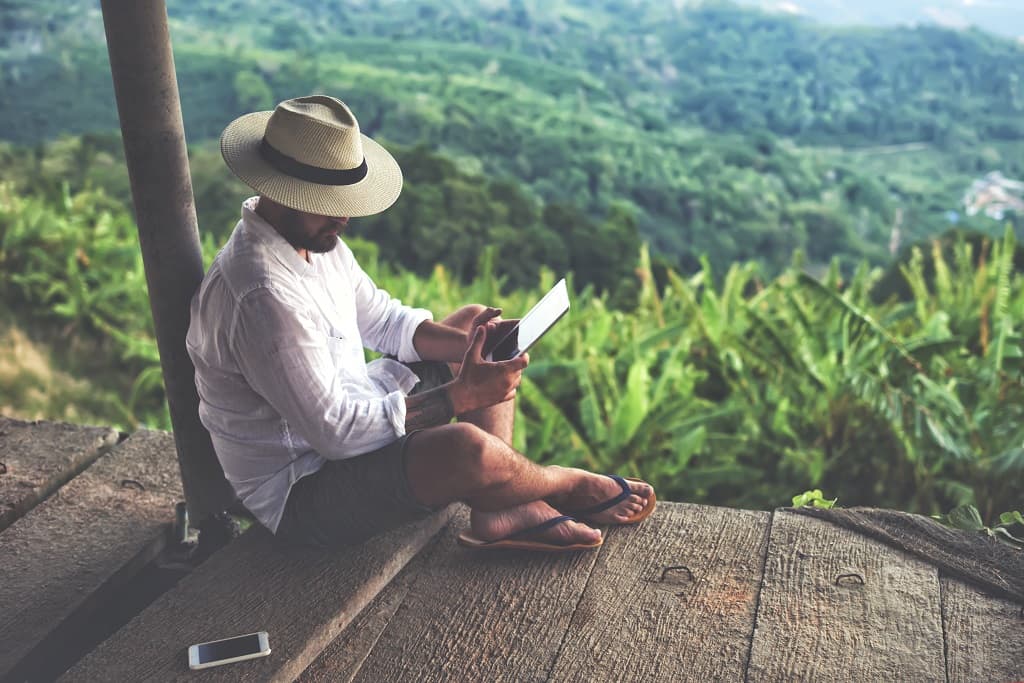 Whether you use a camera or phone, make sure to take lots of pictures so you can re-visit your memories. A useful pre-travel tip is to transfer your existing iPhone photos onto your home computer then delete them from your phone — there's nothing worse than prepping for your insta-worthy sunset shot, then realising you have no storage space.
Remember all your normal chargers too, phone, tablet, camera, headphones, toothbrush etc. Check they're packed back in your bag before you leave, so you don't get home with a dead-battery dilemma!
"A good length extension lead with multiple sockets can be handy– it's surprisingly common to find the plug sockets in hotel rooms a very long way from anywhere useful!" Sharon – Travel Specialist
---
Medical Kit
There is no one-fail-safe medical kit packing list, but our travel experts do advise that you contact your local doctors regarding their travel clinic services, and for up to date vaccination information prior to travel. Don't leave it till the last minute!
Going to the beach is one of the best things about holidays, so to ensure you can completely relax and be prepared for anything, we do recommend packing a waterproof pouch of essentials just in case, especially if you've got a crew of energetic kids in tow.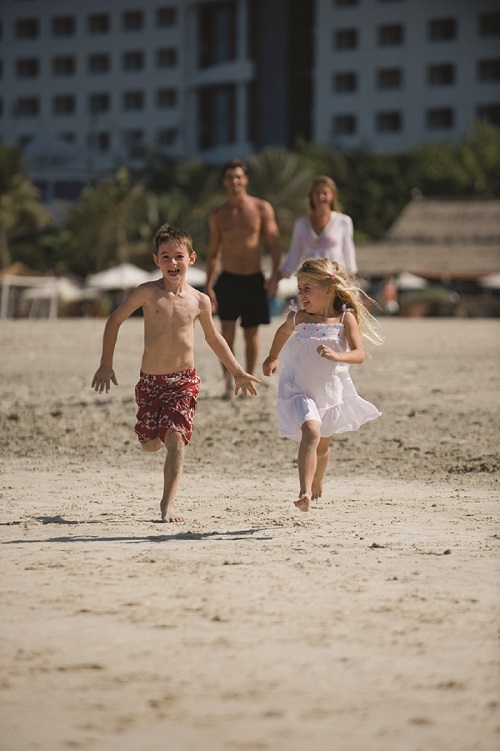 Most of our luxury beach holidays involve exceptional 5-star hotels and resorts in easily accessible locations. However, if you're planning on visiting a mountain hideaway or embarking on a safari, your kit will be impacted on where you venture to. If you're travelling to Africa, you'll want to take plenty of mosquito repellent and bite cream. If you're planning on visiting a remote wilderness, then you will want to have a mini pharmacy in your bag at all times, and so on.
"Always take mosquito bite cream. Even if you don't get bitten normally, different climates and countries may catch you out, so save in advance on expensive pharmacy visits!" – Vicky, Travel Specialist
---
Some final tips from our experts…
"Make a copy of your passport and important documents. You'll be thankful if anything ever gets lost." – Myra, Client Services Executive
"Invest in a camera. Phones have great cameras these days, but I always find I get distracted by texts or social media. Try to digital detox, even for a day whilst away and capture memories the old-fashioned way." Vicky – Travel Specialist
"Create a soundtrack of the songs you hear on holiday. Every time you hear it, it will bring your holiday memories back to you." – Becky, Client Relations Executive
"When flying long haul, change your watch to local time as soon as you board, helping you to adjust to that time zone and lessening the jet lag." – Claire, Sales Manager
"If you can, get smaller denominations in local currency. It always helps for tips or for bottles of water in smaller airports that may not have card machines or big shops." – Vicky, Travel Specialist
"I always keep a travel journal, which is a great way of keeping your holiday memories. Pack one in your case and note down things like the names of your favourite restaurants and places you've visited." – Mari, Travel Specialist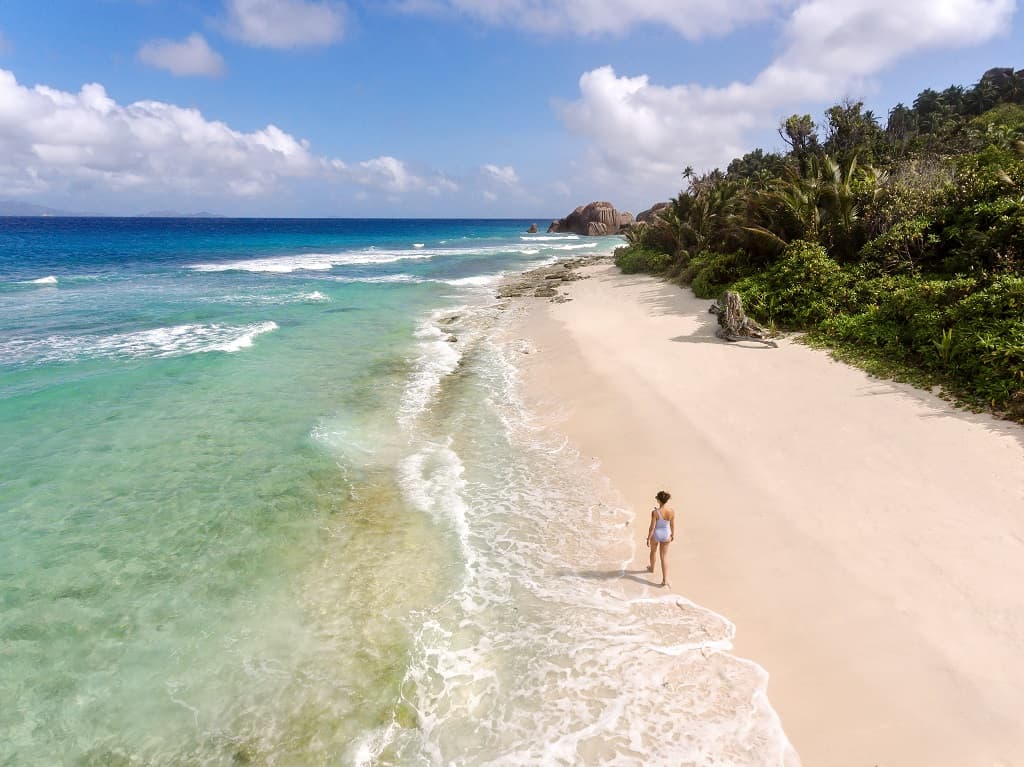 If you have any further questions about your luxury holiday, or are looking to book your next escape, contact us to speak to our Travel Specialist.