It's not just extraordinary destinations that compel us to travel, but also the incredible facilities at resorts across the globe. There's simply nothing better than taking in your surroundings with an unobstructed view, which is exactly what hotels with the best infinity pools in the world have to offer.
From high-altitude infinity pools overlooking the lush Fijian jungle, to beachfront pools buried in the earth next to the Indian Ocean, this design savvy style of pool invites you to immerse yourself in whatever landscape surrounds you. Bliss!
Discover our experts' list of the top ten most luxurious hotels with infinity pools, and the places you'll find them.
---
1. Mystique, Santorini
Set in the dramatic Caldera cliffs and wrapped around a crescent bay, the spectacular infinity pools (yes, plural) at adults-only hotel, Mystique, are the stuff of Greek mythology.
Honouring the property's neutral aesthetic and soft-edge design, the pools at this outstanding resort replicate the natural beauty of the surrounding landscape.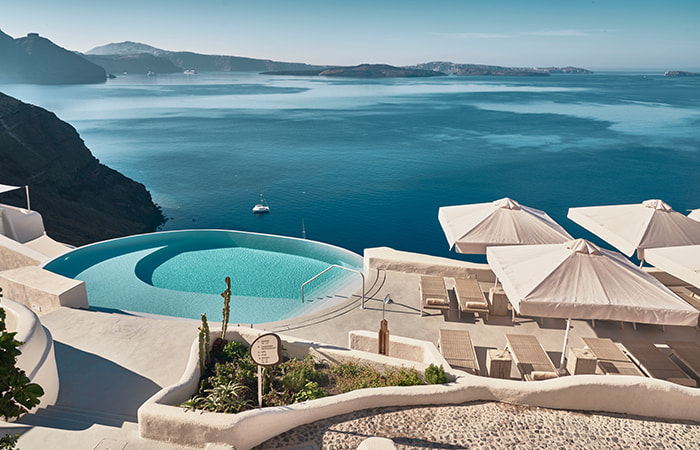 Cool off in the resort's main, freshwater infinity pool and enjoy endless vistas over the southern Aegean Sea with the volcano in the distance.
Or, splash out on one of Mystique's ultra-exclusive private villas and have an infinity pool all to yourself – a favourite option amongst honeymooners and couples looking for a romantic retreat.
Order a delicious Sgroppino cocktail from the hotel's chic poolside venue, the Aura Bar, before soaking up the Mediterranean sun on a plush, cushioned lounger.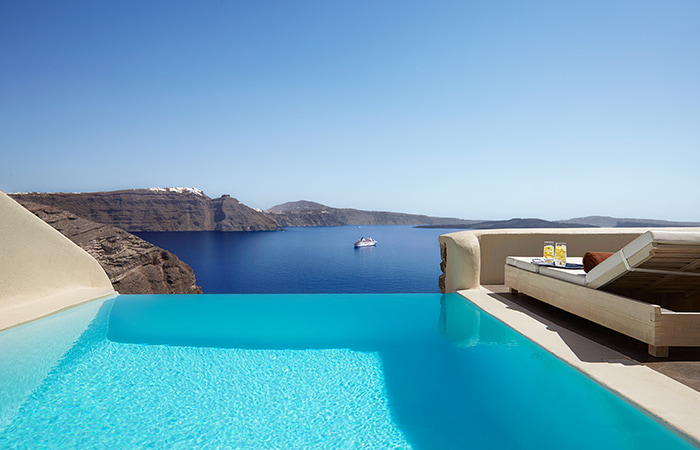 As an 'ode to Santorini's soul', the amazing infinity pools at Mystique encourage you to imagine yourself floating off into the deep sapphire blue waters that envelop this exquisite Greek island.
See the most luxurious hotels with private pools in Greece.
---
2. Grand Hotel Tremezzo, Lake Como, Italy
Overlooking picturesque Lake Como in the Lombardy region of northern Italy, the indoor infinity pool at the Grand Hotel Tremezzo boasts stunning panoramic views of the Grigne mountains.
Featuring two parallel strips of azure water, connected by an arched passageway, this pool has seated coves where guests can experience the healing effects of hydro-massage through the pool's powerful jets.
Perhaps the most spectacular feature of this infinity pool, though, is the optical illusion built into its design; water cascades over its edges giving swimmers the impression of the pool flowing ceaselessly into the lake beyond. Chic and magical!
While the Grand Hotel Tremezzo is generally a great spot for families, the infinity pool has a decidedly mature aesthetic, which is reinforced by its proximity to the hotel's opulent spa.
And finally, we can't talk about pools at the Grand Hotel Tremezzo without at least mentioning its lido on the lake. While not technically an infinity pool, 'Water-On-The-Water' (or 'WOW') juts out into Lake Como, giving the surreal feeling of swimming in the middle of the reservoir.
---
3. Jade Mountain, St Lucia
Floating in the eastern Caribbean Sea, St Lucia is a treasure trove of natural wonders, from gold sandy beaches to jungle-cloaked mountains.
The iconic Jade Mountain resort, set high up in the island's hillsides, plays host to several sanctuaries, each complete with their own stunning infinity pool.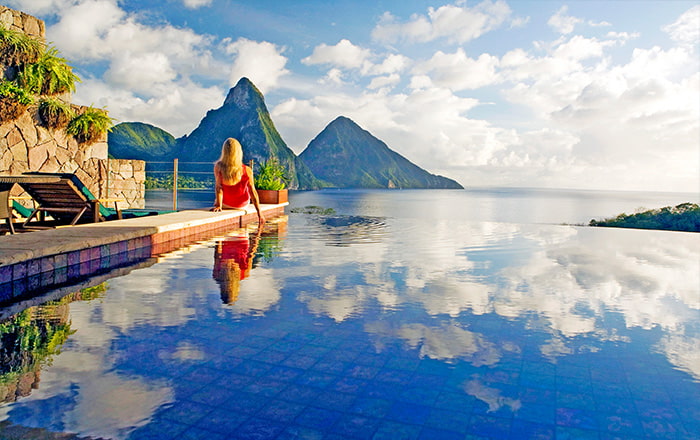 It must not be understated how much detail has gone into the design of these incredible infinity pools, ranging in sizes from 400 to 900 sq. ft. Each one is totally unique, lined with individually designed, textured glass tiles to give each aquatic sanctuary a truly personalised feel.
A hot spot for honeymooners, at Jade Mountain you can select mood lighting for your outdoor swimming pool, all of which feature built-in fibre optics to illuminate them at night.
Take in sweeping views of both the Petit and Gros Piton mountains, while you listen to the lapping water falling over the sides of your private pool.
---
4. One&Only Mandarina, Mexico
For suspense, the hillside infinity pool at this luxury resort is hard to beat.
Located on Mexico's rugged Pacific coast, One&Only Mandarina is perched atop idyllic cliffs in the heart of Riviera Nayarit, where the rainforest meets the Pacific Ocean.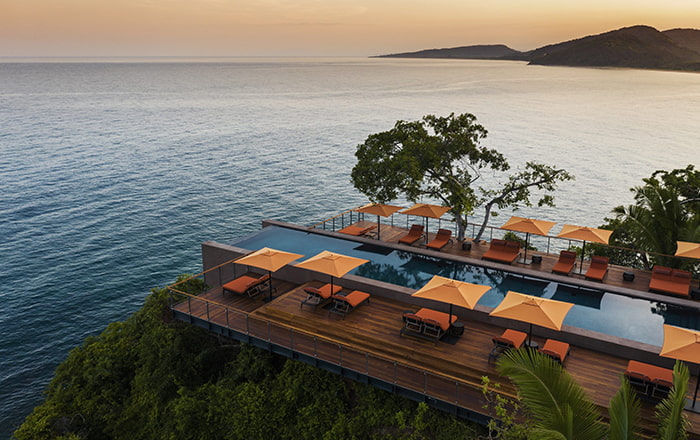 This stunning luxury hotel boasts not one, but two ultra-cool infinity pools that jut out into the sky, offering dramatic drops, where the water flows over the front edge.
For a sophisticated swimming experience, couples can enjoy taking a dip in the adult-only infinity pool, Caroa, which is accompanied by a restaurant serving authentic Mexican cuisine curated by celebrity chef, Enrique Olvera.
Equally, families will enjoy the resort's Alma pool, which also offers exceptional poolside lounging and dining, serving a menu of pan-American and Mediterranean cuisine.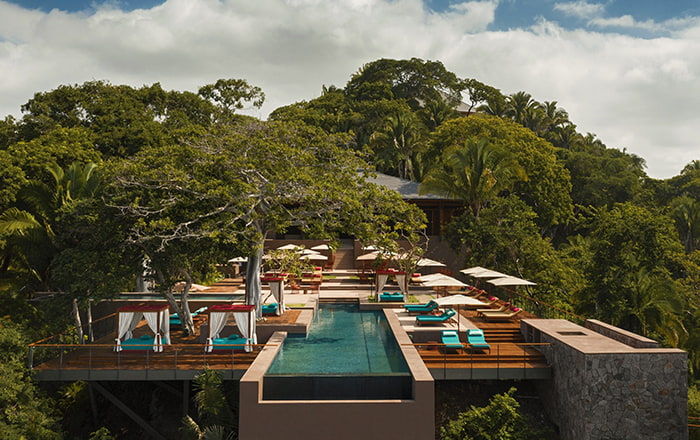 Laze on one of the resort's draped cabanas before cooling off in deep and tranquil waters, suspended in the orange Mexican sky.
---
5. COMO Laucala Island, Fiji
A paradise on earth, COMO Laucala Island is the brainchild of billionaire Red Bull co-founder, Dietrich Mateschitz, and encapsulates everything you'd expect from a private island resort in the South Pacific.
With just 25 ultra-exclusive residences to choose from, privacy is central to your experience here and the resort's statement infinity lap pool echoes this, tucked away amongst tall palms and leafy foliage.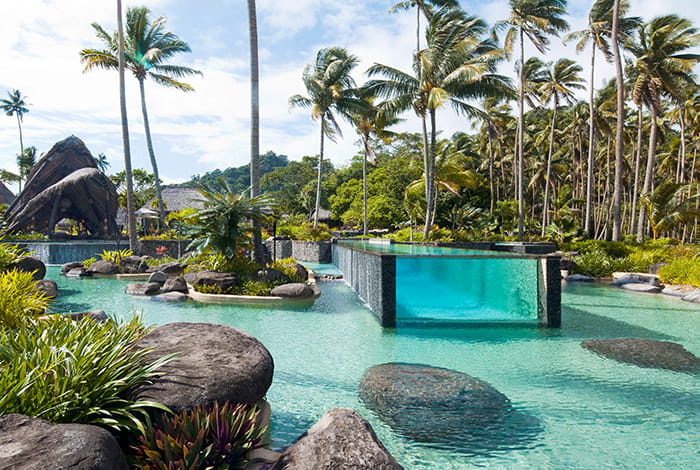 The pool takes the shape of a deep rectangular cuboid with a glass frontage for cool underwater views. This show-stopping infinity pool is set within the resort's expansive shallow lagoon pool, designed to emulate the stunning natural beauty of the Fijian landscape.
With water spilling over three sides, enjoy the pool's waterfall aesthetic as you take in the charismatic wildlife that inhabits the surrounding rainforest.
Not only an impressive architectural feat, the amazing swimming pools at COMO Laucala Island are also within a stone's throw of a pristine white-sand beach. Dreamy.
---
6. Orpheus Island Lodge, Australia
Situated just off the coast of North Queensland, Australia, Orpheus Island Lodge is a 5-star luxury hotel that plays host to just a few lucky guests… 28 guests to be exact. With 14 sea-facing suites on offer, you'll be ideally positioned to uncover the secrets of the Great Barrier Reef.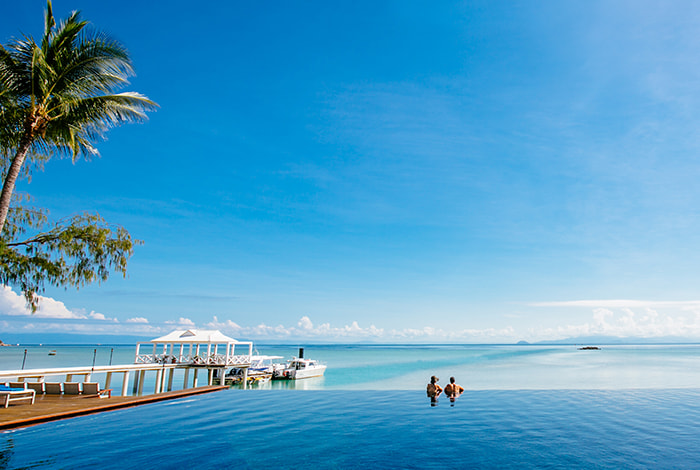 The resort's beachfront infinity pool can most aptly be described as a piece of modern art, with its chic minimalist aesthetic and cool low positioning in the earth. It's a 13m-long lap pool, the surface of the water mirroring the Coral Sea in the distance, drawing its vast turquoise waters into the resort.
Just adjacent to the infinity pool, you'll find the resort's charming main pavilion – a social space where you can enjoy a complimentary cocktail while gazing into the pool's mirror image of the Coral Sea beyond.
---
7. Six Senses Yao Noi, Thailand
Become one with nature at Six Senses Yao Noi and stay in one of its 56 treehouse-style villas, tucked into the hillsides of Phang Nga Bay in southern Thailand. You can unwind in total seclusion, with each residence containing its own private pool.
The amazing infinity pools are dotted around this high-altitude luxury hotel, offering stunning views of rock formations in the distance that rise triumphantly out of the Andaman Sea.
The water in these ensuite pools mirrors the region's natural resources, emulating the green-hued waters of Thailand's elephant-frequented lagoons. This is carried through to poolside areas, which feature private balconies and terraces made from natural wood, and are surrounded by swathes of lush vegetation.
Ponder the meditative teachings of this spiritual land and listen to the sounds of Thailand's rich and diverse wildlife, while floating weightlessly on the surface of your very own jungle lagoon.
---
8. Mandarin Oriental Kuala Lumpur, Malaysia
Sat right in the middle of Malaysia's bustling capital city, the Mandarin Oriental Kuala Lumpur sits between the neatly manicured gardens of KLCC park and the sky-high Petronas Twin Towers.
This 5-star hotel's extraordinary rooftop infinity pool is lined with chic poolside cabanas and accented by beautiful tropical flowers – a continuation of the park below.
Undoubtedly, the most spectacular thing about this gorgeous infinity pool is the views of the city skyline you can enjoy while plunging its cooling depths. Nothing parallels the brilliance of the pool at night, though, when the city's lights are reflected in the surface of the water, creating a kaleidoscope of colours that illuminate the hotel's patio area.
The Mandarin Oriental Kuala Lumpur is also equipped with a shaded kids pool just off from the main infinity pool, making it perfect for families.
Work up an appetite practicing your breaststroke and then order some global tapas or a delicious woodfired pizza from the hotel's pool bar and restaurant: AQUA.
Is this the coolest rooftop infinity pool in existence? Probably.
See more hotels with stunning rooftop pools
---
9. Four Seasons Resort Bali at Jimbaran Bay, Bali
Welcome to the temple-laden land of Bali, where you can reconnect your mind, body and soul by traversing tiered rice fields or practicing yoga at one of its dedicated retreats.
Located on the southwestern tip of this spiritual mecca, the Four Seasons Resort Bali at Jimbaran Bay features a staggering 57m outdoor pool that runs along the sands of a calm bay. Its prime beachfront position grants guests amazing views of the Indian Ocean, while surrounding palms provide ample shade.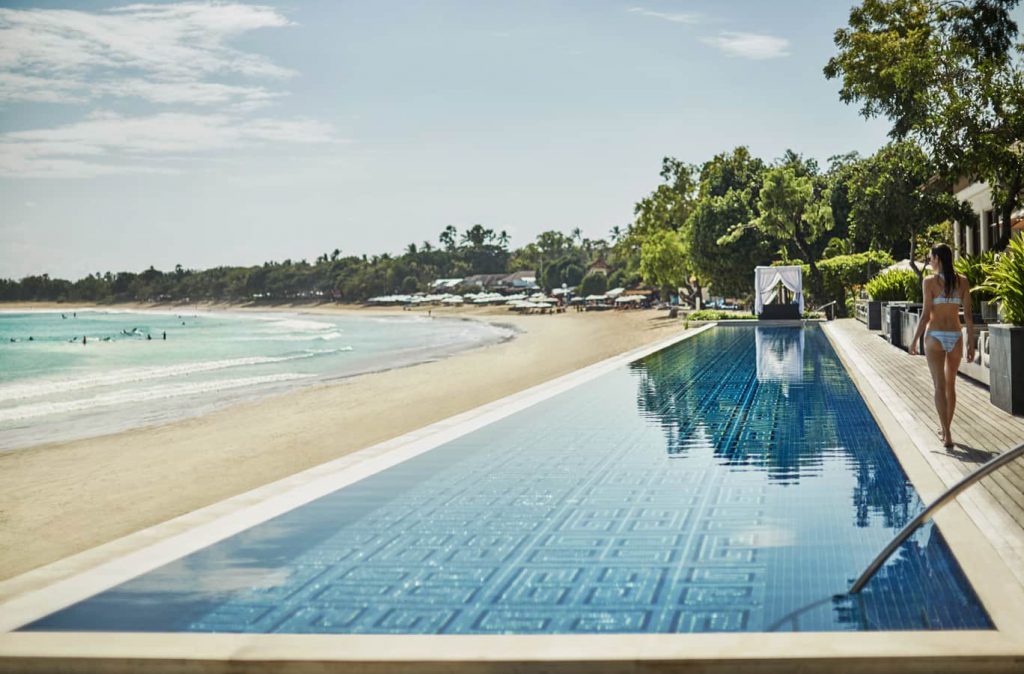 Design aficionados will love this chic rectangular infinity pool, with its intricately-patterned floor tiles, while luxury lovers will rejoice in the adjoining beach club with its plush day beds and indulgent brunches.
Be sure to take a dip in this outdoor infinity pool during sunset, where you can watch local fishermen as they voyage out to sea to secure their nightly catch.
---
10. Regent Seven Seas Explorer, Everywhere
If you love a stunning infinity pool, but you also love to explore multiple destinations at a time, then the Regent Seven Seas Explorer has got you covered.
Board this majestic vessel and make your way to the rear of the ship where you'll find an infinity-edge plunge pool boasting endless views of whatever ocean you happen to be cruising.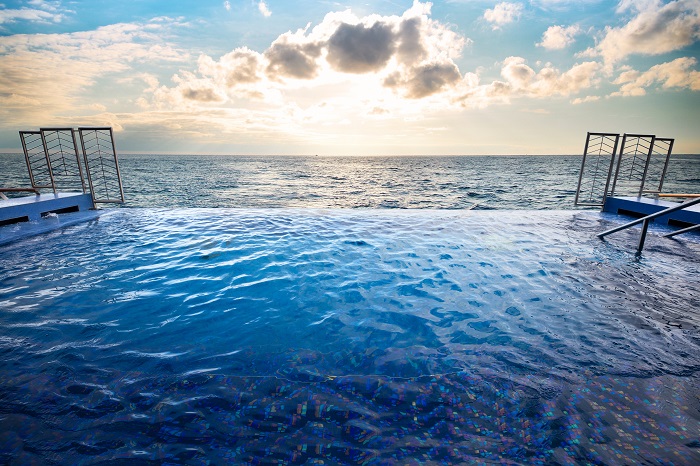 Complete with partially covered poolside loungers and surrounded by immaculate teak decking, the plunge pool is ideally situated just outside Serene Spa and Wellness™, where you can indulge in a sumptuous treatment during a day at sea.
Leave no corner of the world unexplored on one of its carefully crafted itineraries and imagine yourself drifting into the horizon from this ship's spectacular infinity pool.
---
Visit the infinity pool hotel of your dreams
From the hidden hillsides of St Lucia to the volcanic vistas of Santorini, no destination is out of reach for our expert team. Let the travel specialists at Inspiring Travel plan your seamless trip to swim in best infinity pools in the world.
Contact us today for a tailor-made quote.