If you love Ibiza's peaceful side, where you can truly chill out and soak up the island's sun-kissed beauty, the new Six Senses Ibiza is a dream come true.
The latest offering from the sustainability-focussed Six Senses brand, this opening makes perfect sense. Ibiza has long held its own sense of spirituality, giving this seafront retreat has everything it needs to offer a soul-soothing escape.
Our Product Manager, Gabrielle, has just got back from seeing it for herself. So, we asked her for a quick-fire round of questions to get the lowdown on Ibiza's hottest new opening…
Firstly, how was the testing and departure process getting to Ibiza?
Getting to Ibiza went very smoothly for me!
I booked my PCR test at my local Boots store and my results came through the next day, along with my QR code for the airport. I then filled in a passenger locator form online.
The airport was quiet when I arrived and felt very safe. Before boarding, my test certificate and form were checked. We were seated in sections on the plane and asked to refrain from queuing for the toilets or gathering in the aisles.
At Ibiza airport, my test result and passenger locator form were checked again, then I was free to carry on to my hotel without any need for quarantine.
First impressions of the hotel?
Six Senses Ibiza is beautiful! As it's just opened, I was expecting it to feel new. However, I was surprised by how established it already feels. The view from reception is simply amazing, with impressive floor-to-ceiling doors which open-up to panoramic vistas of the sea.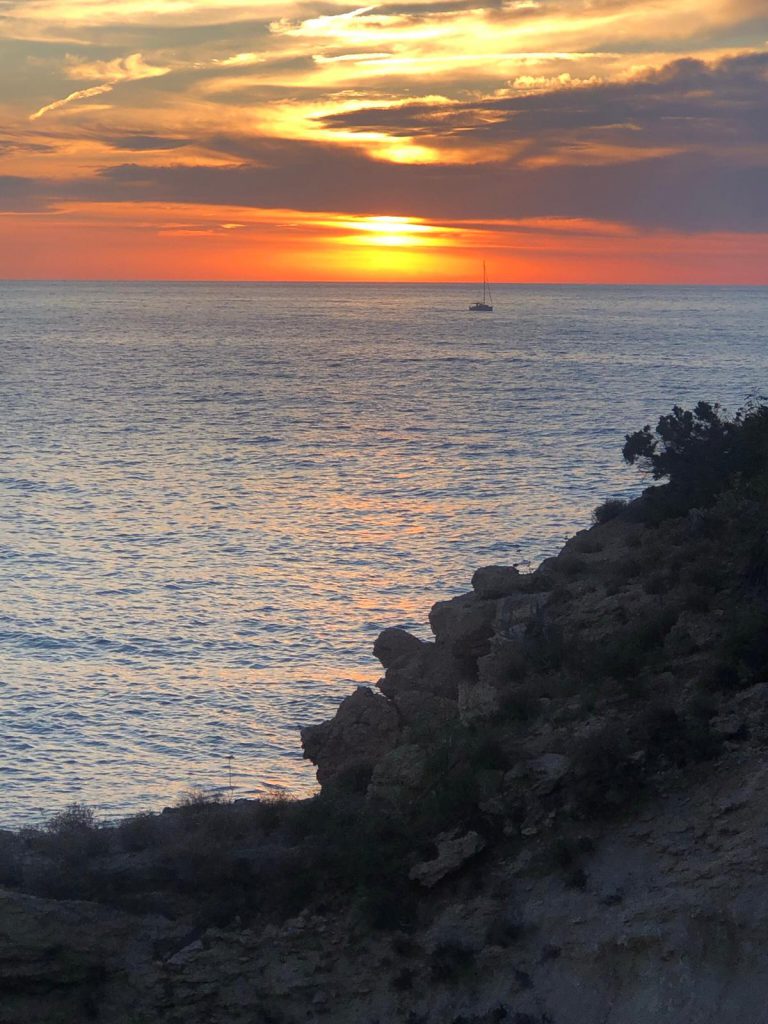 What was the surrounding area like?
Six Senses Ibiza is located on the north of the island which is so beautiful and feels really private. It's slightly hidden away on Xarraca Bay, which is very green and peaceful with the best views over the sea.
The village of Portinatx is just a stone's throw away, where there're plenty of restaurants and shops, along with lovely beaches. You can find watersport facilities that make the most of the calm, shallow waters, too. It's also quite a hilly area with verdant pine forests, so is the best part of the island for taking scenic coastal walks.
---
Hidden Gem
A lot of people don't realise there are some beautiful walking trails in Ibiza, particularly the north. One of the best is the walk from Portinatx to the Moscarter Lighthouse, which boasts wonderful views from the clifftop.
---
Top three highlights of your stay?
The rooftop morning yoga. This is held every day at the hotel and is the perfect way to wake up. The sessions are an hour long and boast incredible sea views. It's true relaxation and really gets you into the chilled-out spirit of Ibiza.
Sunset drinks. If you've been to Ibiza before, you'll already know how gorgeous the sunsets are! Sipping a cocktail on the pool terrace, as the sky put on its spectacular display over the sea, was just what I needed.
Our boat trip to Es Vedra. This is one of the ultimate experiences in Ibiza. The hotel makes it so special, too. We anchored down to swim in the sea, relaxed in the sun and enjoyed lunch on board. It was the most perfect afternoon.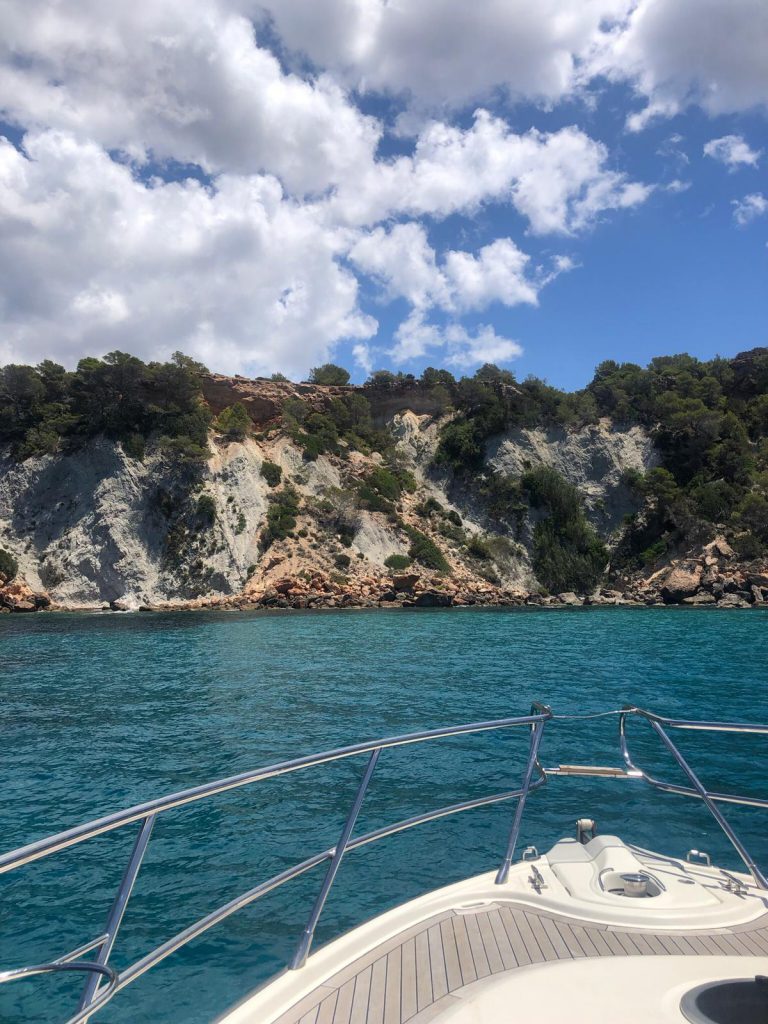 ---
The Magic of Es Vedra
If you haven't taken a boat trip to Es Vedra, we highly reccomend doing so. Quiet and undeniably mystic, it's said to be the third most magnetic point on the planet, the home of lunar goddess, Tanit, and a source of positive energy. Whether you believe it or not, it's still a beautiful sight to see.
---
Favourite part of the resort?
It's got to be the infinity pool which overlooks the sea. It's so calming and the views over the bay really are beautiful. The perfect place to unwind with a book and order a cocktail. Bliss.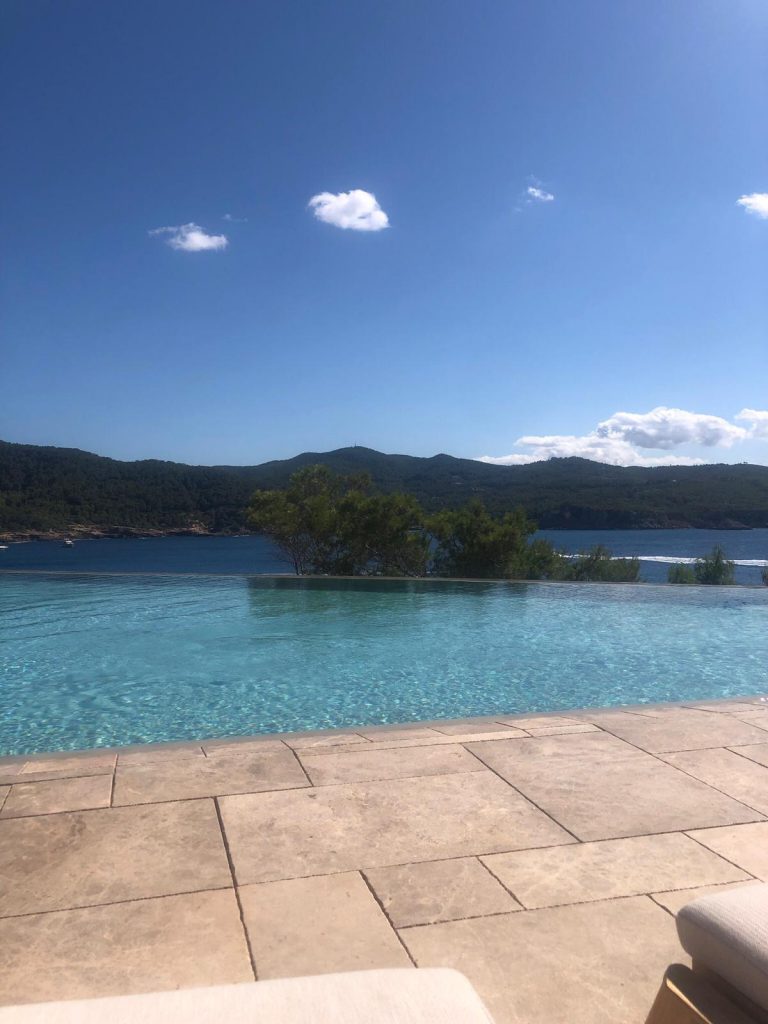 Best meal during your stay?
Dinner at HaSalon Ibiza. Completely al fresco, it's located outside in the centre of the resort, nestled amongst the olive trees. Almost all the produce used there is sourced locally, with a farm 15 minutes from the hotel, which is actually a 400-year old olive press. Next year, there are plans to start a summer club for kids to spend the day there!
We had a typical Spanish dinner, loaded with fresh seafood and vegetables. The atmosphere was fantastic, with families, couples and friends all gathered to enjoy the food. It felt like we were at a local restaurant.
---
Gourmet Heaven
Six Senses Ibiza will be the first European outpost of renowned Israeli chef and restauranteur, Eyal Shani. You can also visit the farm that supplies him with ingredients, where guest chefs are set to drop in for cooking lessons and pop-up events.
---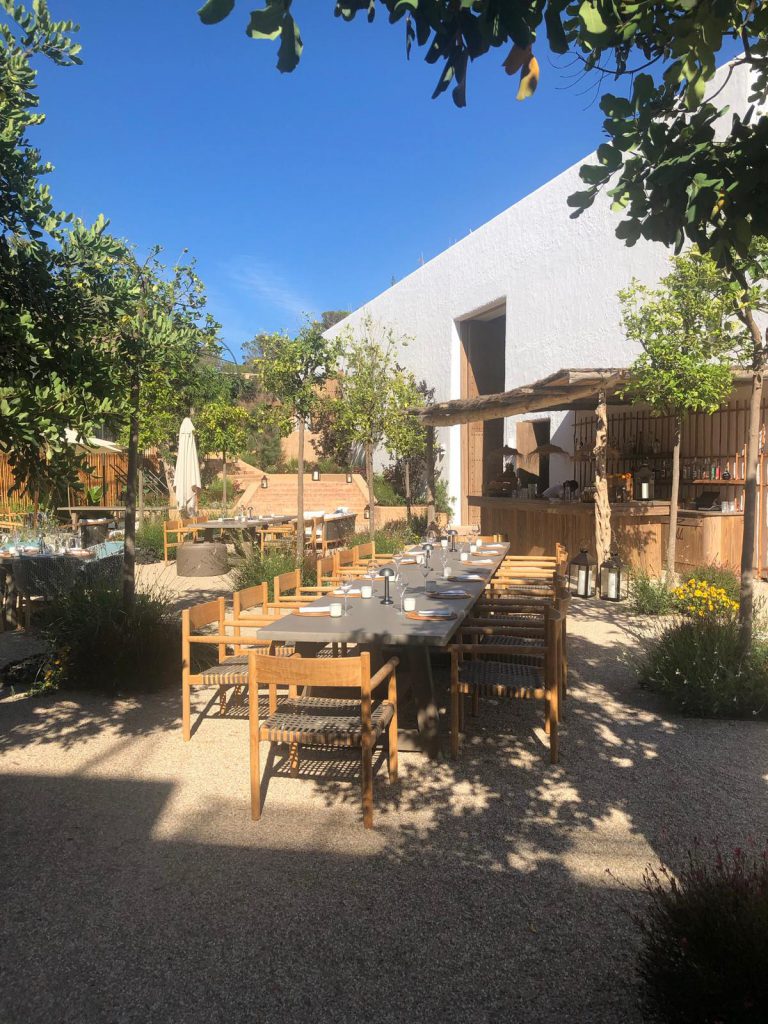 Best place for a drink?
Live Cave. It's set in the Beach Caves, where live music shows will be hosted.
Grab yourself one of the comfy loungers and take in the sunset views over Xarraca Bay. The wine and spirit menu is fabulous, with everything made using organic ingredients. The cocktails even feature tinctures, tonics and bitters all made on-site with botanicals from the Six Senses Garden.
You can dine here, too, if you like. Plant-based dishes are available, so there's something for everyone.
Who do you think would love this hotel?
Spa lovers will love it here. If you're in need of serious relaxation or want to recharge, the tailored treatments, retreats and programs will get you back on track. Every wellness aspect can be included, with mind body, diet, sleep and fitness all addressed in guided activities and therapies. You'll come back feeling like a new person!
Couples would love it here – it would even make a lovely honeymoon spot. The sunsets are so romantic, the food is excellent and there are plenty of activities to enjoy together, both at the hotel and in the area.
Families are very welcome too. The Grow with Six Senses Club is wonderful, offering activities that help children connect with the environment, along with cooking, dancing and kids' yoga. Ask your Travel Specialist if you can take a room on the ground floor for access straight onto the pool.
---
Six Senses Spas
Six Senses are known for their exquisite spa and wellness offerings. This one is no different. Yogi masters, multi-day retreats, massage catacombs and an Alchemy Bar, where spa ingredients are blended, sit alongside a hammam, yoga deck, steam room and more.
---
What might we not know about Six Senses Ibiza?
Like every Six Senses property, there is a big focus on sustainability. It's the first BREEAM certified hotel in the Balearics, meaning it's been built in a way that helps to protect the surrounding environment. The hotel even supports a local hedgehog sanctuary!
There's a boutique stocked with brands that support sustainability, too. They also do a fabulous 'rent-a-dress' concept, curated by fashion editors, where you rent a new outfit for the evening – ideal if you didn't manage to fit enough in your suitcase!
If you'd like to know more about the new Six Senses Ibiza, contact us to speak to our Travel Specialists.
For more luxury travel inspiration, offers and news, sign up to our newsleter below.