Antigua might conjure up images of exquisite white sand beaches, swaying palms and magical sunsets. But, did you know it's also renowed for its food?
Antigua is brimming with tasty local dishes, delicious cuisine and irresistable beverages – perfect for savouring by the beach, pool or as you explore the island.
With a heritage of sugar plantations, rum distilleries and fishing, combined with a laid-back attitude and international influences, Antinguan food is literally a recipe for gastronomic success.
Want to know which food you should make a bee-line for in Antigua? Our experts have picked their favourite dishes…
---
Is the food good in Antigua?
Full of rich, fruity and spicy flavours, the food of Antigua is sure to delight your taste buds. Combined with their delicious sauces and classic drinks, you'll find a vibrant and exciting way of eating and drinking when you visit Antigua.
---
Our Top 6 Foods & Drinks to Eat in Antigua
1. Ducana
Traditionally from Antigua, the Ducana has made its way across to the Caribbean islands of St Kitts, St Vincent and the Grenadines and further afield too. They're made of sweet potato, coconut, sugar, flour and coconut milk mixed with a selection of spices and essences. These sweet potato dumplings are often served as a side to fish and feature in many of the classic Antiguan dishes that you may have heard of.
To the western tastebuds, the Ducana can be compared to a tamale or dumplings, albeit with a lot more flavour. These sweet and textured delights complement a variety of fish dishes and are considered a classic side plate in Antigua.
They are often cooked by wrapping them in banana leaves or foil and boiling in salted water for around half an hour. On a menu, you'll often find Ducana paired with salt cod or bacala, as it's also known with a side of 'chop up' which is a mix of veggies like spinach, eggplant and okra.
Ducana can be boiled, fried or eaten cold and is a very versatile dish that can be eaten as a side plate or a dessert. You can find Ducana all across the island at many of the high-end eateries as well as at some food stalls.
Related: Top Restaurants in Antigua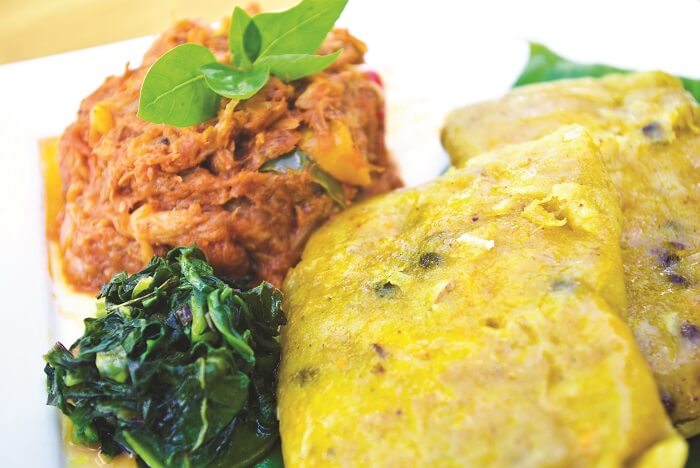 2. Conch
Conch is one for seafood lovers who want to try something a little different whilst in Antigua. It tastes similar to calamari and is a chewy white meat that's full of seafood flavour. Delicious steamed, deep-fried or raw, this delicacy will delight the taste buds.
Like many of the Caribbean islands, Antigua is famed for its seafood delicacies and conch definitely falls into that category.
Don't be fooled by the spelling of its name – the word conch is actually pronounced konk or conk and can refer to a number of medium to large shelled shellfish.
The spiral shells that house the conch are found on the beaches of the Caribbean and have been eaten for years by indigenous people all the way up to the tourists who enjoy the relaxed beaches today.
In Antigua, you'll likely find conch on most menus as it's considered a classic Antiguan food. You might see it in fritter form, in curries and chowders or even raw.
We recommend that you try them as fritters first and then, if you like the texture, move on to more sophisticated ways of cooking them. When deep-fried, the conch meat can be compared to deep-fried calamari and will be sure to taste deliciously fresh in Antigua.
On Fridays, the Copper and Lumber Store restaurant does a special seafood buffet where you can try Conch. It's also located near Nelson's Dockyard, a UNESCO World Heritage Site, one of the top things to do in Antigua.
3. Antiguan Rum
Nothing beats this Caribbean speciality, and when in Antigua you're sure to be offered it by the bucketload! The variety and flavours of rum in Antigua are an exciting mixture, but generally are fruity and spiced.
Antigua has its own distillery which offers tours, with rum to accompany them. They're considered a great way to learn more about the rum culture of Antigua and try a few of the local delicacies.
Once you explore the rum on offer in the Caribbean, and especially in Antigua, you won't be surprised that the Royal Navy has had such a deep association with this drink. Cheap, spicy and truly delicious, the rum on offer in Antigua is unlike any in the world.
You'll find lots of Cavalier, English Harbour and Mount Gay on offer in the local bars. Although not all of these are Antiguan rum, we recommend trying them to get a feel for the different flavours that are on offer.
Cavalier is the most commonly known Antiguan rum and is relatively inexpensive compared to its price in other areas of the world. It's similar to Mount Gay, but has a slightly lighter taste and is made clearer. Unlike some of the darker Caribbean rums, Cavalier is amber or clear in colour and has a lighter, more delicately spiced texture. Perfect for those who are new to rum.
You can try and range of excellent rums as well as some excellent seafood dishes at Papazouk Restaurant. Though you can enjoy rum-based drinks and cocktails at most restaurants around the island, or from the comfort of your sun lounger at your hotel.
4. Wadadli Beer
This classic Antiguan beer is brewed on the island and is known as the national beer of Antigua.
One to try for beer lovers who want to get amongst the local food and drink scene. Interestingly, Wadadli is an alternative name for beer on the island as the drink has become so synonymous with being the classic beer that everyone reaches for.
It's a light and refreshing lager, that goes exceptionally well with sunshine. You'll taste a touch of appealing bitterness that will give you a fuller flavour.
5. Saltfish and fungi
You'll see this on a lot of menus in Antigua as it is considered to be the country's national dish. It combines a delicious saltfish cod with a sweet and salty sauce, combined with a 'mushroom' side that actually doesn't contain mushroom. The word used in this context actually refers to a local porridge.
The cod can be served as a whole fillet or broken into flakes and served with Fungi – one of Antigua's main dishes made of cornmeal, okras, salt and water stirred on low heat until it reaches a kind of porridge consistency.
A great place to try saltfish is Hemingways, a friendly relaxed restaurant and cafe.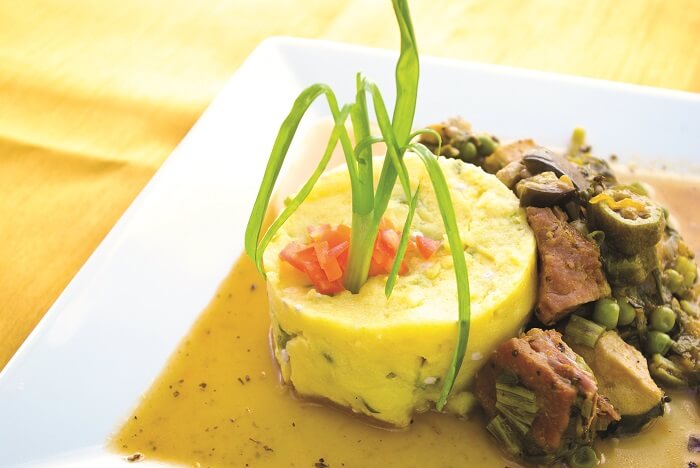 6. Susie's Hot Sauce
For those who like it hot, Susie's hot sauce is a must!
Susie's Original Hot Sauce is a classic mustard-based hot sauce. This Caribbean taste is made in Antigua and hasn't ventured much further from its home island, so it's a uniquely Antiguan food to enjoy whilst you're there.
Perfect with rice and chicken dishes, Susie's sauce claims to have stayed the same since the 1960s. It's a medium-hot heat that will tantalize your taste buds without setting them on fire. A great one for those who are new to the world of Caribbean spice!
So if you're passionate about food and like to choose holiday destinations based on their culinary credentials, you need to book a trip to Antigua.
Check out our selection of Antigua holidays and treat yourself to a foodie holiday filled with all these treats. Or, contact us to hear what our experts have to say.