We'll admit it, we're already starting to daydream about our favourite winter sun destinations.
While winter might be dark and dreary in the UK, there's still shining sun and welcoming temperatures to be found in a variety of luxurious destinations including Barbados, Antigua, Tenerife, Dubai, and Mauritius.
So, if you haven't had a holiday yet this year, the coming winter could be the perfect time to get away. To help you decide where to go, our Travel Specialists have picked their top green or amber list destinations to visit for some winter sun…
Our Top Winter Sun Destinations for 2022/23
1. Maldives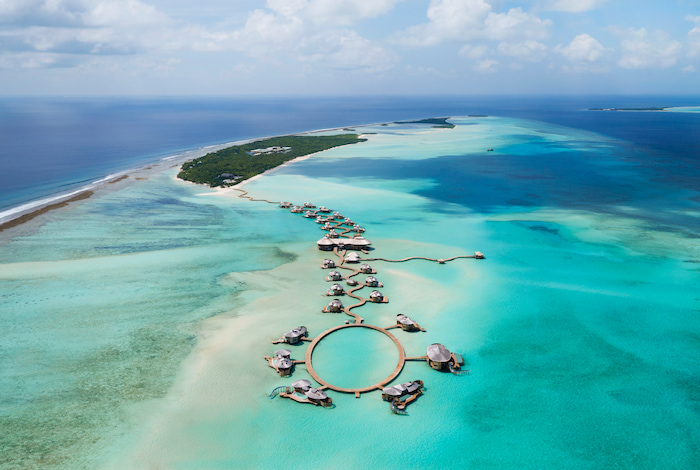 Average Winter Temperature: 27°C
Flight Time: 10 hours 30 minutes
With stunning weather completing the postcard-perfect picture of island paradise, spending the winter is the Maldives is guaranteed to put you in a sunny state of mind.
The 200 islands that make up the Maldives are home to otherworldly natural beauty, effortless luxury living and a range of activities that offer something for everyone. What's more, many resorts in the Maldives also pull out all of the stops when it comes to winter festivities.
Expect incredible indulgent dining with your toes in the sand, and don't be surprised to see Santa jet-skiing towards the beach on Christmas day!
We Recommend – Soneva Jani
There are huge variety of stunning luxury resorts in the Maldives. But if you're looking for a truly indulgent winter sun holiday, look no further than Soneva Jani.
The resort itself is made of five islands in a 5.6-kilometre private lagoon, so expect an incredible range of watersports. There are also plenty of extras that you wouldn't get anywhere else in the Maldives including Mr or Ms Friday (Butler) service, the incredible outdoor cinema "Cinema Paradiso", a dedicated chocolate room, and the Maldives' first overwater observatory.
Find out more: Where to Stay in the Maldives: Which Island is Best for You?
---
2. Barbados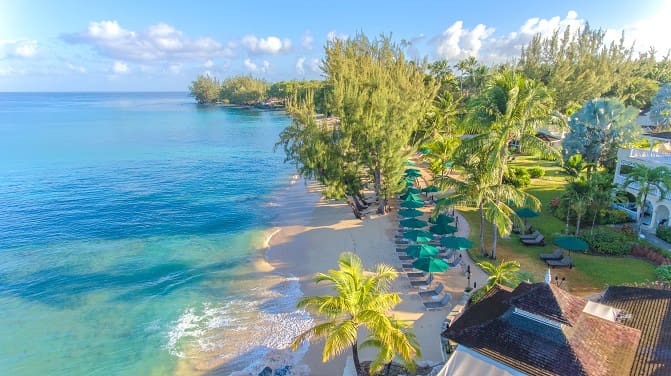 Average Winter Temperature: 26°C
Flight Time: 8 hours 30 minutes
Barbados is one of the world's most famous destinations for winter sun. Many travellers find themselves returning to the platinum shores for a winter celebration year after year. This is unsurprising when you consider the endless sandy beaches, pristine tropical waters and array of luxury hotels.
So, where could be better to see in the New Year with a cocktail in hand? The winter temperatures are as welcoming as the locals, meaning that all the watersports and incredible nature experiences that Barbados offers are ready to be thoroughly enjoyed.
We Recommend – Coral Reef Club
If you decide to chase the sun to Barbados this coming winter, then we recommend staying at the stunning Coral Reef Club.
Tucked away on the West Coast, this exquisite colonial-style hotel is surrounded by lush frangipani trees and set on an immaculate white sand beach. Immerse yourself in the beauty of Barbados; take a dip in the sparkling blue sea before relaxing with a treatment at the hotel's award-winning spa.
Stay in a plush, airy suite overlooking the Caribbean sea and sample the distinctive flavours of the Caribbean at the hotel's restaurant, which serves up the catch of the day in a stunning à la carte setting.
---
3. Antigua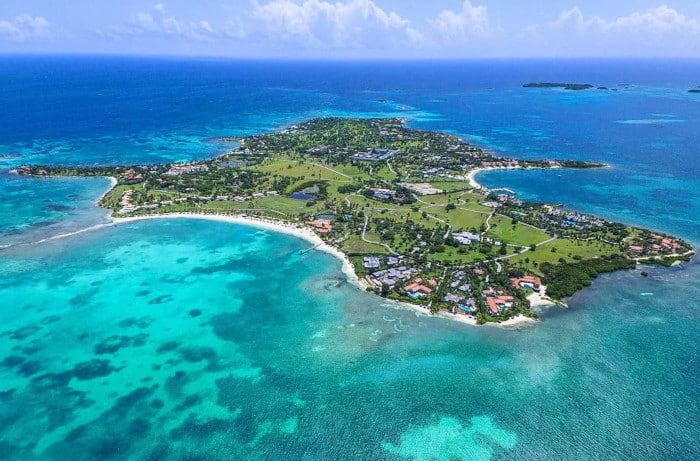 Average Winter Temperature: 24°C
Flight Time: 8 hours 30 minutes
With just over 100 square miles of paradise, a holiday to Antigua offers a diverse array of landscapes that're sure to encapsulate every Caribbean dream.
With a winter temperature that will please even the most discerning of sun-seekers, ending the year in Antigua is total bliss. There're so many ways to enjoy this wonderful island, so whether you want ultimate relaxation or exhilarating adventure you'll be well taken care of.
With crystal waters surrounding the island, our favourite way to explore Antigua is by boat. You might find yourself venturing into hidden coves and bays, jumping overboard into refreshing waters or taking to the seas on the yachting adventure of a lifetime.
We Recommend – Jumby Bay Island
Jumby Bay Island is the peak of secluded island luxury and a dream location for winter sun. All-inclusive and set on its own 300-acre private island, this is one of the most tranquil places to stay in the Caribbean.
Enjoy guided snorkelling, kayak tours and round-the-island boat trips, as well as some of the freshest sea food and all-inclusive à la carte menus, including fine dining, beach barbecues and 'farm to table' experiences.
Find out more: What's it Like to Travel to Antigua Now?
---
4. Australia
Escape the cold climes and grey skies of winter by heading to the land down under. At the complete opposite time to countries in the northern hemisphere, Australia's summer runs from December through to February, making Christmas BBQs a real thing!
For the shortest flight time, South Western Australia is your best option and is home to the major city of Perth, where glistening skyscrapers lookout over the winding Swan River. Head further down to Margaret River to sample some of the region's world-class Shiraz or travel in-land to explore the deep and dusty gold mines of Kalgoorlie.
If it's immaculate white sand beaches you're looking for though, follow the stunning natural coastline from Albany to Esperance, stopping off at several beaches along the way to take a dip in the sapphire surf.
We Recommend – COMO The Treasury
For a truly unique visit to Australia this winter, stay at COMO The Treasury in Perth; originally a 19th-century State Building, this luxury boutique hotel has been restored to accommodate guests in a variety of contemporary suites with elegant Victorian features.
Take in views of the Swan River and Sterling Gardens from the hotel's Wildflower Restaurant, which serves classic Italian dishes in the historic setting of the original General Post Office. Spend your days exploring Perth or hop on the ferry across to Rottnest Island for a beach day, before retreating to COMO Shambhala Urban Escape for a holistic body treatment.
---
5. Tenerife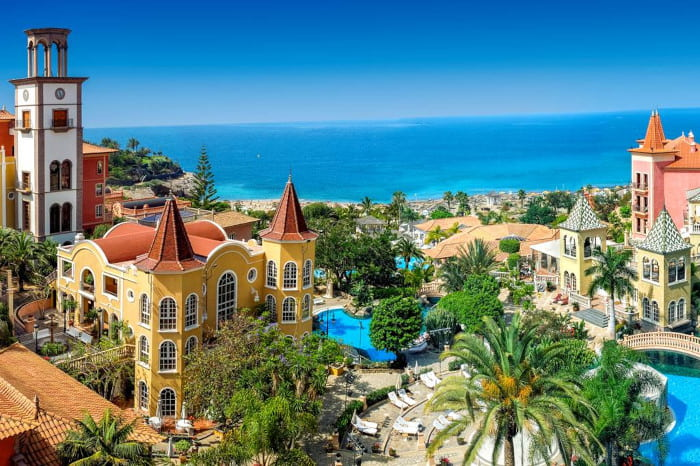 Average Winter Temperature: 22°C
Flight Time: 3 hours 30 minutes
A holiday to Tenerife is the perfect way to find winter sun for those who don't like to wait around. Being just a short flight from the UK, you can find yourself on your ultimate winter getaway in no time at all.
This also makes Tenerife the perfect place for families to follow the sun together. With slightly lower temperatures than some of the destinations on our list, you won't have to worry about seeking the comfort of shade and can enjoy all that the island has to offer to the absolute fullest.
Santa Cruz, Tenerife's capital, is one of Spain's busiest ports, and here you'll find enough shopping, dining, and entertainment to keep the entire family smiling. On top of that, the variety of natural beauty here is quite simply stunning.
We Recommend – Bahia Del Duque
Bahia Del Duque is one of our favourite hidden gem hotels in Europe. This luxury hotel effortlessly blends elegant 19th century architecture with breathtaking contemporary touches, including everything from glistening infinity pools to indulgent dining options.
There is plenty for all ages to do – you could find yourself enjoying the two tennis courts, two paddle tennis courts, squash court or pitch and putt course. After a day of activities, there's no better way to unwind than by visiting the hotel's impressive spa. Nestled among aromatic gardens and flanked by natural volcanic stone, this is the peak of 'zen'.
---
6. Dubai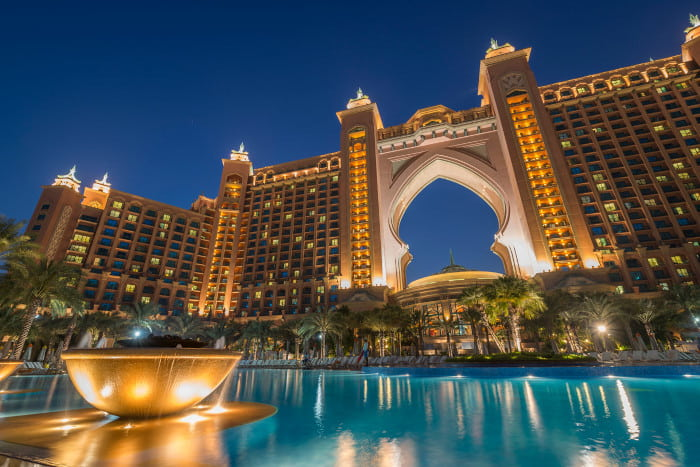 Average Winter Temperature: 26°C
Flight Time: 7 hours
Dubai is considered by many to be the ultimate winter sun destination. The temperatures are soaring year-round, but during the winter months they fall slightly, making the climate all the more comfortable.
The moment you arrive at this shimmering metropolis you're surrounded by luxury. You'll find an incredible range of 5-star hotels, world-class shopping and restaurants, thrilling entertainment, invigorating activities, and some of the most famous beaches in the world.
Head to the white sands of Jumeirah Beach for awe-inspiring views of the sea and the staggering cityscape behind. Or, you might find yourself on an adventure across the desert dunes, or just as kicking back on a rooftop spa with views over the city.
We Recommend – Atlantis the Palm
Atlantis the Palm is a hotel renowned all over the world for its unparalleled offering. As if the wave machine, bowling alley and arcade weren't enough to keep you busy, you'll also receive complimentary access to Aquaventure and Lost Chambers.
This is also a haven for foodies, as well as winter sun-seekers. Atlantis the Palm has 23 restaurants, bars and lounges featuring delicacies crafted by world-renowned chefs, accompanied by the finest wines, expertly crafted cocktails, and impeccable service.
---
7. Mauritius
Average Winter Temperature: 28°C
Flight Time: 12 hours
Last, but certainly not least, on our list of top winter sun destinations is Mauritius. The temperatures are soaring during the winter and the pristine beaches, spectacular forests and colourful underwater worlds are at their most majestic.
With a choice of incredible luxury resorts and boutique hotels right on the water's edge, you're guaranteed to find your idea of paradise. The island boasts a diverse cultural tapestry that blends Indian, African, French, and Chinese heritage, resulting in a colourful personality and a culinary scene full of mouth-watering fusion delights.
Mauritius is perfect for diving and snorkelling, too. With scores of exotic fish and a coral reef that rivals any in the world, the opportunities are not to be missed.
We Recommend – Shangri La Le Touessrok Mauritius
This secluded hideaway is set among six pristine, white sandy beaches. Not only is it the ultimate picture of paradise, but Shangri-La Le Touessrok goes the extra mile by offering private luxury beach cabanas, including a dedicated butler service.
If that wasn't relaxing enough, at CHI, The Spa, you'll find eight spacious treatment rooms and a range of incredible rejuvenating treatments. This hotel is also perfect for families with the T-Club catering to children with a range of organised activities, games and arts and crafts. Teenagers, meanwhile, will be kept busy with thier own activties at the Teens' Club.
Find out more: Where to Go: Mauritius, Seychelles or Maldives?
---
Can you hear the winter sun calling your name?
Our Travel Specialists can tailor-make your dream holiday to any of these destinations and many more. Contact us for the latest offers and savings and to start booking your next journey to find the winter sun.
For more luxury travel inspiration, offers and news, sign up to our newsletter below.