It may be known for it's sumptuous sands, but there are so many more things to do in Antigua than just relaxing.
Full of colourful character, you'll find an array of activties, from exploring historical sights, witnessing beautiful wildlife and, of course, sampling some flavourful local foods.
Not sure where to start when visiting Antigua? Our experts have filled us in on their favourite things to do on the island for a luxury holiday.
(Pictured: The Inn at English Harbour)
11 Essential Things to do in Antigua
1.Visit Frigate Bird Sanctuary, Barbuda
Found on Antigua's neighbouring island of Barbuda, this beautiful avian paradise is home to one of the largest Frigate bird colonies on the planet.
The nesting birds will bring an exuberant clarity to your day on Barbuda, with their squawking and unique mating rituals. Prepare to be transported to a completely different setting and enjoy the vibrant aviary life that the island has to offer.
---
Insider Tip
Get to Barbuda from Antigua via the year-round Barbuda Express Ferry, which departs from St. John's High Street in Antigua and the River Dock in Barbuda respectively.
---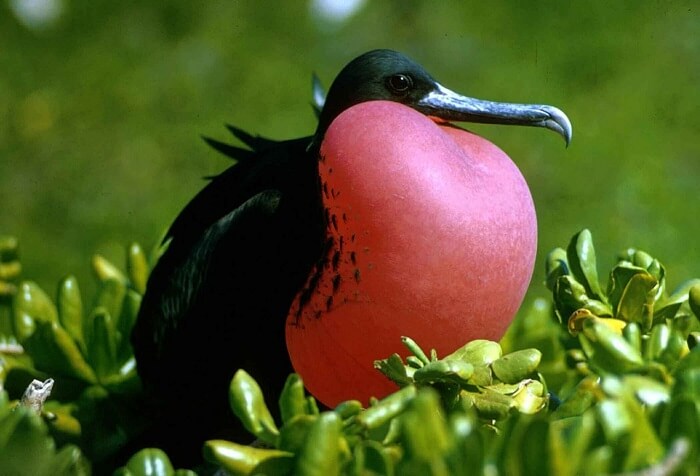 2. Strap yourself in with a jeep safari
Who doesn't love a jeep safari? In Antigua, they are one of the most popular ways to see the island, with its many hills and winding roads to traverse.
You'll get to see the historic sites of Antigua in a new light, as well as venturing into the tropical forests and discovering white sandy beaches on four wheels. Hold on tight!
3. Relax by the water at Rendezvous Bay
Private, pretty and perfectly serene – if you want some peace and quiet then Rendezvous Bay is the ideal spot for you. The beach is made up of 80 private homesites averaging over two acres each, making it an undisturbed paradise.
To access the bay, why not charter a sailing boat and take to the waters? It's the best way to reach this Caribbean paradise, where clear waters and an expansive stretch of pure white sand await.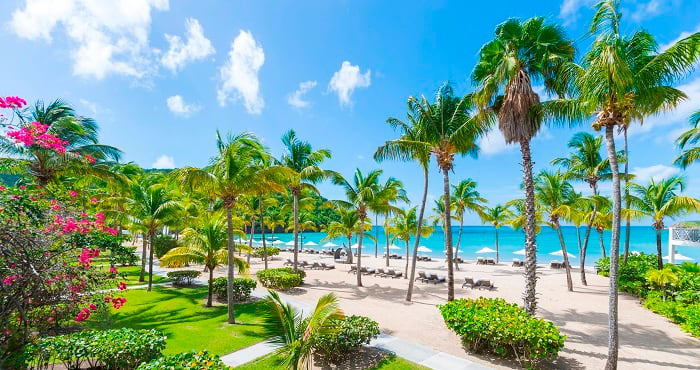 4. Sail the clear waters on a private yacht
Whilst we're on the subject, Antigua is known for its sailing, with its annual Antigua Sailing Week attracting tourists from all over the world.
The three big regattas to note are the RORC Caribbean 600 (February – March), the Antigua Classic Yacht Regatta (April), and the aforementioned Antigua Sailing Week (April – May).
If you're looking for boat charter options for your stay, then Eolia, Xtreme Circumnavigation and Excellence to Barbuda are some of the most popular and reliable on the island. All hands on deck!
5. Snorkel at Stingray City
Stingray City is one of the most iconic sites in Antigua to go snorkelling. You'll see stunning stretches of beach, lined with these magical creatures, which brush against you as you swim in the warm waters.
The shallow depth of the natural ocean pool means this is an activity perfect for all ages, and you don't actually have to be able to swim. Regardless of your age or swimming ability, this is a surreal, eye-opening experience that you and your loved ones can cherish forever.
Be warned that there is a risk attached to swimming with the stingrays, as they are beautiful but ultimately wild creatures of the ocean. Make sure you listen to your guide and follow all instructions to the letter.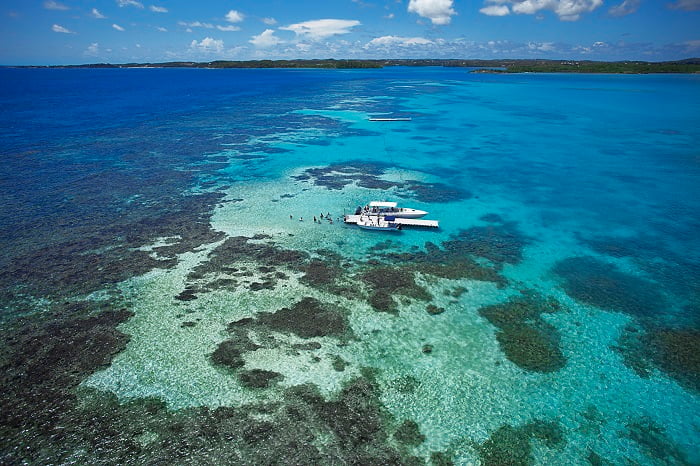 6. Zip-line through the Antigua rainforest
Feel relaxed and free as you swing through the luscious Antigua rainforests, skimming over the top of the far-reaching green canopies.
Zip-lining in Antigua is one of the most exciting and fun days out that tourists can have, as you get to see the beauty of the forest and feel the adrenaline rush that comes with being high up in the air.
This is an activity that's great for families, as well as for groups of friends or couples looking for a more adrenaline-inducing adventure. Try Antigua Rainforest Zipline Tours, the premier zip-line tour provider on the island, for more information.
7. Head up to Shirley Heights
Found at English Bay, Shirley Heights is a former military lookout and gun battery that offers a far-reaching view of the surrounding landscape and the harbour below.
Once at the top of this magnificent trail you will be able to overlook beautiful views of protected bays, rolling hills and (if you're there at the right time) stunning sunsets.
Make sure you remember your camera to take advantage of this truly stunning vista.
The Shirley Heights BBQ party is also very popular with tourists and locals alike, who come together every Sunday evening to celebrate the week on top of Shirley Heights. A true Antiguan institution, the Sunday afternoon party has taken place every week for over 30 years, and when you visit you're sure to see why.
With a steel drum band, flowing drinks and local food sizzling away on the barbecue, the Shirley Heights afternoon party guarantees an extra-special night with the fun-loving locals.
8. Explore Nelson's Dockyard National Park
Come and learn about the rich history of Antigua's dockyard, which is still in operation as a working dockyard for boats and yachts today.
Nelson's Dockyard National Park is a cultural heritage site and marina that first became famous as the British Royal Navy's safe haven for protecting ships from hurricanes and monitoring attacks.
These days it's a UNESCO-listed World Heritage site, the largest of Antigua's national parks, and a lively and buzzing area that attracts culture and history-hungry visitors. It is, of course, named after the legendary Vice-Admiral of the British Navy, who still reigns supreme as a symbol of empire and exploration.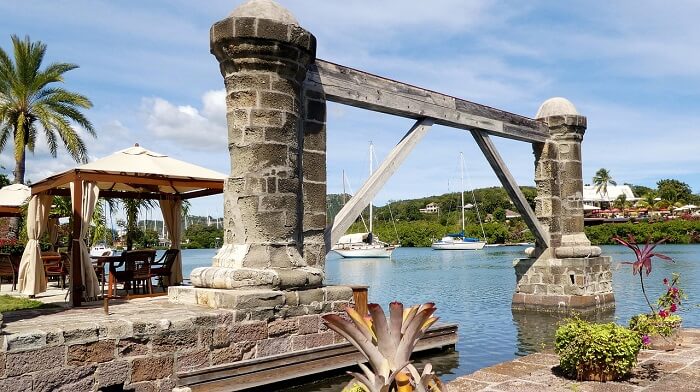 Shirley Heights is close by, as well as other historic sites including:
Fort George,
Fort Charlotte and
Dow's Hill.
Stay at the luxurious Inn at English Harbour to be just a stone's throw away.
9. Go on a beach bar crawl
With so many taxis, minivans and buses available to drive you from bar to bar, an Antigua beach bar crawl is the ideal way to end the day. Enjoy the local rum and listen to Caribbean beats as you watch the sunset on the island.
Need a recommendation, or prefer to be guided on which bars you should frequent? The experts recommend Boom, near Nelson's Dockyard National Park, and Turners Bar, on the beach at St. John's, as just two spots that you should make sure you hit.
The local tourism authority has caught on, and has launched a Beach Bar Trail: a trail of beach bars that guide you to the best spots along Antigua's coast. We'd recommend you follow it – there are nearly 400 beaches and an abundance of bars on the island, after all.
10. Devil's Bridge
This natural rock arch near Indian Town Point provides a great photo opportunity and a chance to see Antigua's natural beauty in full force.
The area around the arch features several natural blowholes that shoot up water and spray at regular intervals, and the Atlantic Ocean splash is the perfect thing to cool you down after a long day in the sun.
This is one of the main spots on the Antigua tourist trail.
11. Xtreme Circumnavigation Tour
If you're looking for a boat trip to whisk you all around the island's coast, taking in its 365 beaches and every rugged coastal cliff, then this fast-paced eco-trip is thoroughly recommended.
A 45-foot speed boat will collect you directly from Blue Waters Beach in the north of the island and show you the most beautiful and secluded spots that Antigua has to offer.
Expect sea spray in your hair, idyllic views during your lunch stop, and maybe even the chance to swim with stingrays.
Are you looking to arrange your next luxury holiday to Antigua? You can contact our Travel Specialists to get started planning your bespoke trip.
For more luxury travel guides and to hear our latest offers, sign up to our newsletter below.