Life is busy. If you have a baby or toddler, it probably seems like the weeks whizz by – even if the nights are still long! So, time spent with loved ones is precious and there's nothing more special than a family holiday.
Short-haul toddler holidays in Europe are ideal for young families or if you're travelling with a baby. You'll just need to spend a few hours on the plane before taking it easy in your resort.
To help you find the perfect spot, take a look at our experts top picks of the best resorts for a holiday in Europe with your little ones, including:
---
How to choose your baby-friendly holiday in Europe
Your holiday priorities have probably changed since becoming a parent. Chances are, you're more interested in a hotel with a kids' club than a nightclub!
To enjoy the well-earned family break you deserve, you'll need to find a holiday destination that offers quality childcare and activities to keep your children stimulated and entertained. Most of all, you'll need to choose somewhere that you and your children will feel safe, relaxed and happy.
What do you remember most about your own childhood holidays? Perhaps you can recall the joy of making new friends at the beach or the scent of enticing new foods in a restaurant?
Whether you remember that feeling of stepping off the air-conditioned plane into balmy heat or splashing around in the hotel pool, you'll want your own children to start building similar memories from an early age.
---
Greece
If you're looking for relaxed baby-friendly holidays in Europe, Greece ticks all the boxes. Whether you're into ancient history or ultimate luxury, laid-back Greece has got you covered with the best European holidays with a baby. Sparkling blue skies, sandy beaches and dramatic coastlines combine to create a postcard-perfect holiday destination that'll delight every age group.
1. Domes Zeen Chania, Crete
Beachfront hotel just a ten-minute transfer time from the airport
OFSTED-standard childcare activities
Kids' entertainment includes bubble shows, sports and treasure hunts
Spacious accommodation with baby cots and extra beds to suit all families
Crete is the biggest of the Greek islands. Here, you'll find lush greenery, scenic views, clear blue seas and activities to keep the whole family entertained. If you've got a water baby, you can spend time splashing around at one of the island's four exciting water parks.
The luxurious Domes Zeen Chania is a modern, family-friendly beachfront hotel offering a host of creative kids activities. Just ten minutes from Chania airport, the hotel boasts OFSTED-standard childcare inside a treehouse-inspired wonderland with its own yurts and tipis.
The baby nursery creche here cares for children aged from 4 months to 4 years. There's an amazing entertainment programme including bubble shows, sports, art activities and treasure hunts. Your little one can also join in with gardening, art and cooking workshops, allowing you precious time to relax and recharge. Visit the outdoor Jungle Spa or take a swim in one of the two outdoor pools. If you prefer to stay active, onsite activities include yoga, watersports, horse riding, mountain biking, tennis and golf.
The hotel offers a babysitting service where you can hire qualified childcare staff to look after your baby or toddler.
The elegant accommodation includes 106 handcrafted Mediterranean style rooms and suites. Many have private pools and gardens, ensuring total comfort and privacy. Enjoy views of the dazzling ocean, breathtaking hillsides and pebbly beach, or visit the Beach House kitchen for Mediterranean cuisine with a hint of local flavours.
At the beach, sun loungers, parasols and beach towels are provided free of charge, so you can pack light when preparing for a family day on the beach.
With so many amazing facilities on offer, you probably won't want to leave the hotel complex. But if you do decide to explore, you'll be spoilt for choice in the ancient city of Chania. It has a beautiful mosque, lighthouse and many historic monasteries.
Flight Time
The flight time from the UK to Chania is around 3 hours and 50 minutes.
When to Go
Crete is at its hottest between late May and early October, with the high season falling between July and early September. The best time to visit Crete with a young family is early May or late October. The beaches are quieter but the weather is still warm and sunny, so this time of year is a good choice for families looking for a baby-friendly Europe holiday.
---
2. Ikos Dassia, Corfu
Luxury all-inclusive family hotel with excellent dining options
Set along a private stretch of a Blue Flag-awarded beach
Just a 20-minute transfer from the airport
Creche for babies and kids' club for toddlers with OFSTED-standard childcare experts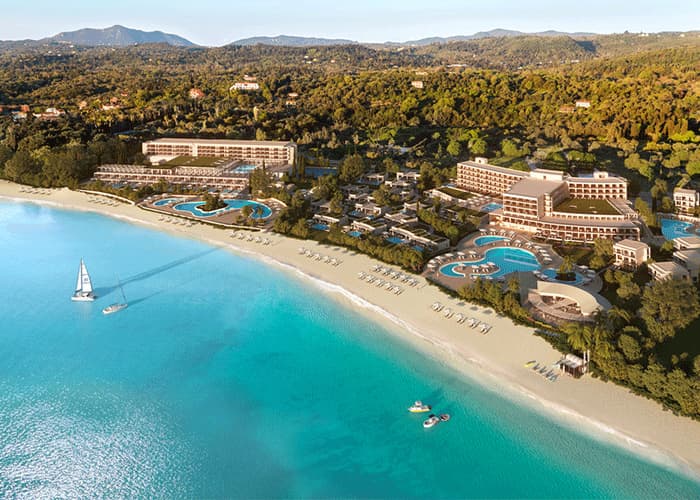 If you're looking for a classic baby-friendly beach holiday with guaranteed sunshine, make sure Corfu is at the top of your wish list. Known as the 'Emerald Isle', this charming island sits off the west coast of mainland Greece. You'll find a mix of sandy beaches and pebbly beaches, traditional fishing villages and the cosmopolitan capital, Corfu Town.
For all-inclusive, five-star family luxury, the Ikos Dassia is the place to be. Just 20 minutes from Corfu airport, this beachfront hotel is set over 25 acres and boasts a Blue Flag private beachfront with white sandy beaches and calm waters. The hotel also offers heated indoor and outdoor pools, adult-only swimming pools and a dedicated kids' pool. There are seven on-site restaurants and a dine-out programme if you're keen to sample the local cuisine.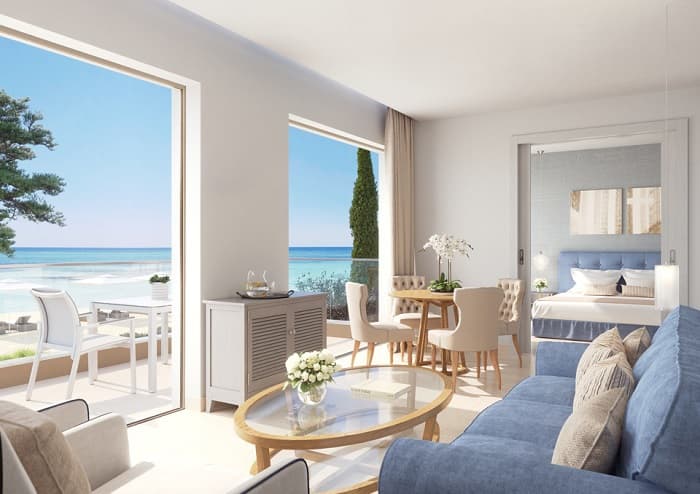 There's an on-site creche and mini club to keep the little ones entertained, allowing you time to relax. You'll also have the opportunity to use the beachside childcare service.
The manicured gardens are perfect for a stroll, whether you need to help your toddler burn off some energy or get them to sleep in the pushchair. From relaxing at the spa to keeping active, you'll find a great choice of activities here.
The well-appointed luxury accommodation offers fantastic views of the gardens or seafront. Guests can choose from a range of spacious accommodation types, including family suites and rooms with private beach access and pools.
This all-inclusive family resort is ideal for a luxury getaway. With 'Infinite Lifestyle' you'll enjoy all meals and snacks, 24-hour room service, a well-stocked mini-bar, alcoholic drinks and children's activities.
Flight Time
The flight time from the UK to Corfu is around 3 hours and 15 minutes.
When to Go
Corfu is a fantastic European destination all year round, but if you're travelling with a young baby or toddler then it's best to avoid the hotter summer months from June to August. During the autumn months from September to November, you can enjoy a relaxed, quiet holiday with temperatures still hitting the mid-twenties during the day, although you'll want to pack extra layers for cooler evenings.
---
3. Sani Club, Halkidiki
Seafront hotel set along a private stretch of a Blue Flag-awarded beach
Beach babysitting, private nannies, evening babysitters and an OFSTED-standard nursery are all available
Baby swimming lessons are on offer for ages 6 months and over
Menu created by global baby food expert, Annabel Karmel, MBE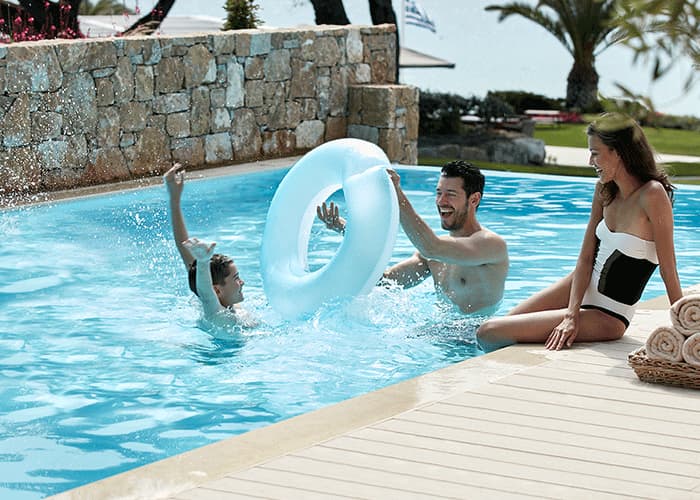 Halkidiki is the most popular destination in northern Greece. And, with its fantastic weather and sandy beaches, it's easy to see why this destination is considered one of the best baby-friendly holidays in Europe. The stunning Sani Club, in the bustling seaside town of Sani on the Kassandra Peninsula, is easily also one of the top family resorts for those travelling with young children.
Set in front of a beautiful 1km-long private Blue Flag beach with shallow waters and plenty of space for sun loungers, your family can enjoy water sports and PADI certified scuba diving. The soft white sandy shore is also a safe spot for young families to spend time together.
Children and toddlers can join the mini club, with kids' sports activities, days out, music and dancing. Parents can use the Babe Watch beach babysitting service, private nannies, evening babysitters and a professionally run OFSTED-standard day nursery. If your water baby needs swimming lessons, the hotel employs qualified and experienced swimming instructors to provide an engaging programme for children aged between 6 months and 4 years.
Baby food here is a real treat – the menu has been put together by global baby food expert, Annabel Karmel MBE. And, if you're staying here, you can pack light – this hotel provides baby equipment including sterilisers, cots and pushchairs.
Need a little help in the sleep department? At Sani Club, you'll be offered a complimentary session with Carol Mae Consulting, a sleep and behavioural expert. You'll receive a tailored guide and your suite will have all the extra features you need to make it a home away from home. The hotel can also offer advice and tips on travelling with your baby or toddler prior to your holiday.
Sani Club's traditional-style accommodation is comfortable and well-appointed. For families requiring additional space, interconnecting rooms are available. To sample local cuisine, choose from one of the hotel's 22 'Dine Around' restaurants. Whether you want to be pampered in the luxurious Spa Suite or stay active with a fitness class, Sani Club has got you covered for a memorable family holiday.
Flight Time
The flight time from the UK to Thessaloniki airport is around 3 hours and 15 minutes. The transfer time from Thessaloniki airport to Sani Club is around one hour.
When to Go
With its Mediterranean climate, Halkidiki enjoys hot, dry summers and mild winters. July is the hottest month of the year – the average daily maximum temperature is 33°C. Young families may prefer to visit during April, May and June as the temperatures are lower. April is the driest month of the year, with up to 29 perfect sunny days.
---
4. The Romanos, a Luxury Collection Resort, Peloponnese
Award-winning family-friendly luxury hotel
Parents can unwind at the Anazoe Spa or golf course while toddlers are cared for by the babysitting service
Sandcastle Club provides fun activities for toddlers
Chose a villa with 24-hour butler service for a seamless stay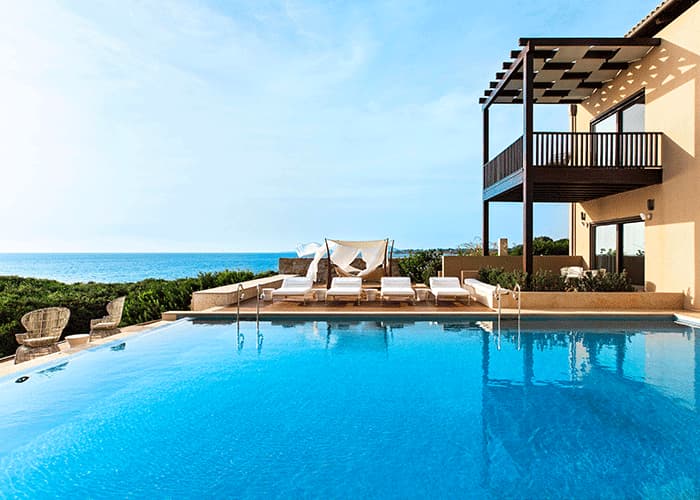 The southern peninsula of Peloponnese serves up everything you need for a great Greek holiday. With its rich cultural history and stunning natural beauty, there are ancient sites and medieval castles aplenty.
The Romanos is a Luxury Collection Resort set in Costa Navarino. Surrounded by magnificent olive groves and flora, this award-winning resort offers the ultimate in contemporary luxury for families.
The Romanos offers a high-quality babysitting service, as well as its specially designed Sandcastle Club for children aged between 4 months and 3 years. While the kids are being entertained, you can get involved with activities including PADI diving, mountain biking, golf, tennis climbing and yachting.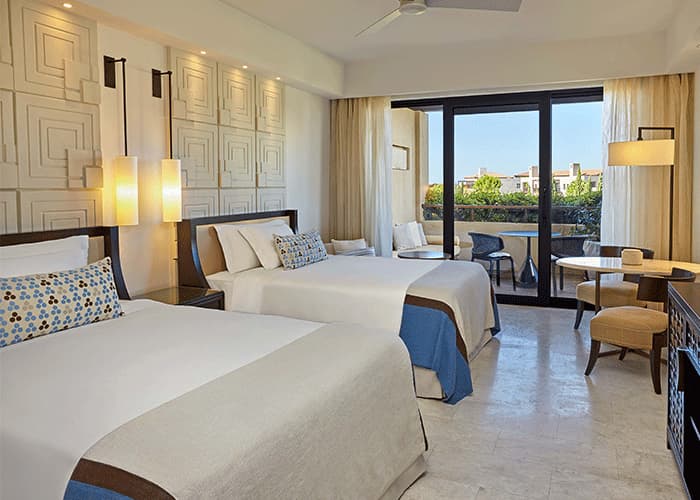 If you're looking for something more laid back, spend a few hours indulging in a luxurious treatment at the hotel spa. For the ultimate luxury experience, you can choose a villa with 24-hour butler service and a private area on the beach.
If you want to learn more about the local area, book a place on one of the resort's philosophy walks, cooking lessons or olive and wine harvesting. Fancy spending some time away from the resort? This hotel is an excellent base to visit UNESCO World Heritage sites such as the Temple of Apollo Epicurus and Mystras.
Flight Time
The flight time from the UK to Kalamata Airport is around 3 hours and 35 minutes. The transfer time from Kalamata Airport to The Romanos is around an hour.
When to Go
Peloponnese has a warm and mild Mediterranean climate with hot, dry summers and mild, rainy winters. For young families looking for baby-friendly holidays in Europe, May, June and September offer warm weather in the mid-to-late 20's and low rainfall. During July and August, temperatures can be as high as 30°C.
---
You can find more inspiration in our round-up of the best Greek islands for a family holiday.
---
Italy
Charming Italy is packed full of history, beauty and sun-kissed scenery. Whether you want to see the sights of an Italian city, discover more about ancient culture or relax with gelato on a sandy white beach, a holiday in Italy will appeal to the whole family.
If you're looking for baby-friendly Europe holidays, make Sardinia, Puglia or Sicily your destinations of choice. Italian culture means it's totally normal to see babies and toddlers in restaurants with their parents – even if it's past 7 pm!
Why not take a leaf out of the local's book and step away from your usual routine for one or two nights of the holiday. You'll often see babies and toddlers asleep at the table here – and since this is a country that loves children, you won't have to worry about what anybody else thinks.
1. Forte Village Hotel Bouganville, Sardinia
Set along a beautiful sheltered beach with plenty on offer for families
Kids can have fun with Worldwide Kids certified staff at Children's Wonderland
Lagoon-style paddling pool and Aquapark
Complimentary nursery service for children aged two-years and older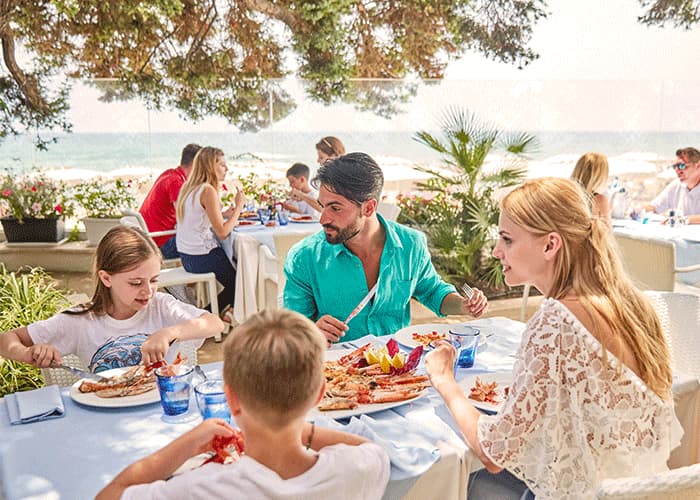 With its stunning coastline and gorgeous beaches, the island of Sardinia offers holidaymakers the perfect blend of history and beauty. Little ones will love taking a ride on The Little Green Train or exploring the island's grottoes and caves.
You'll find Forte Village Hotel Bouganville on one of the world's most beautiful beaches. This beach is part of a protected area that's sheltered from harsh winds, so it's perfect for your little one's very first seaside adventure. Best of all, the microclimate means that the sea temperature here is two degrees warmer than the rest of the island.
Back at the hotel, the kids can spend their days at Children's Wonderland, where all staff are trained and certified by Worldwide Kids. From a lagoon-style paddling pool and Aquapark to a professional nursery and theatre, there's plenty to discover. The nursery service is free for children aged 2 and over.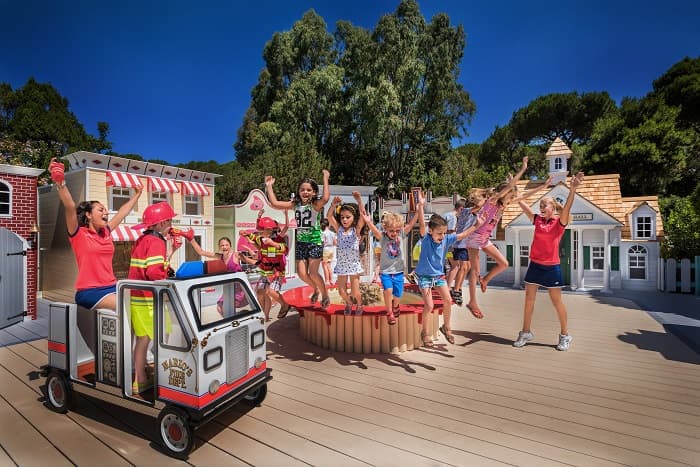 If you're staying at a hotel in this luxury resort, you'll have a choice of 21 fantastic restaurants, including Michelin-starred cuisine. The on-site Leisure Land facility offers go-karting, bowling and more. For ultimate relaxation, choose a treatment from the Acquaforte Thalasso & Spa menu.
The Bouganville bungalows are found close to the main facilities and resort piazza. All of the light and airy bungalows feature a private terrace, but for the ultimate family holiday experience, choose a Family Play Garden Bungalow. These bungalows have their own private garden filled with children's toys and they are enclosed by wooden fencing, providing peace of mind for parents.
Flight Time
The flight time from the UK to Sardinia is around 2 hours and 20 minutes. The transfer time from the airport to Hotel Bouganville is around 50 minutes.
When to Go
For young families, April to May and September to October are the best months to visit Sardinia. It's less crowded than in the height of summer, but still warm enough to take a swim in the sea.
---
2. Borgo Egnazia, Puglia
Beautiful resort with a peaceful location designed in the style of an Apulian vilage
Hop on the hotel's shuttle bus for stress-free beach trips
Three kids' clubs, an adventure playground and a shallow kids' paddling pool
Parents will love the spa, golf course and excellent restaurant options
Loved by locals, Puglia is a picturesque coastal holiday spot in a fantastic location. Think dramatic coastline, turquoise waters and scenery for days. If your little one loves animals, the ZooSafari Fasanolandia is one of the biggest zoos in Europe and well worth a visit.
Borgo Egnazia has a modern luxury feel coupled with old Puglian village vibes. During peak season, the main resort building, La Corte, is open to adults-only, but there's still a fantastic range of kids' facilities on offer. You'll also enjoy direct access to the sparkling Adriatic Sea from the hotel's sunbathing deck or you can hop onto the hotel's dedicated shuttle bus for trips to the beach.
Accommodation wise, you can choose between Il Borgo for traditional suites or Le Ville for larger private villas. The hotel offers a dedicated shallow children's swimming pool alongside three fantastic kids' clubs and Da Pucetta, a kids' restaurant with its own menu and no adult diners.
The Trullalleri Kids' Club is geared towards children aged between 3 and 7 years. The club is staffed by qualified professionals and offers a range of recreational activities for indoor and outdoor play. The hotel offers a professional nursery, playroom, relaxation area, adventure playground and babysitting service.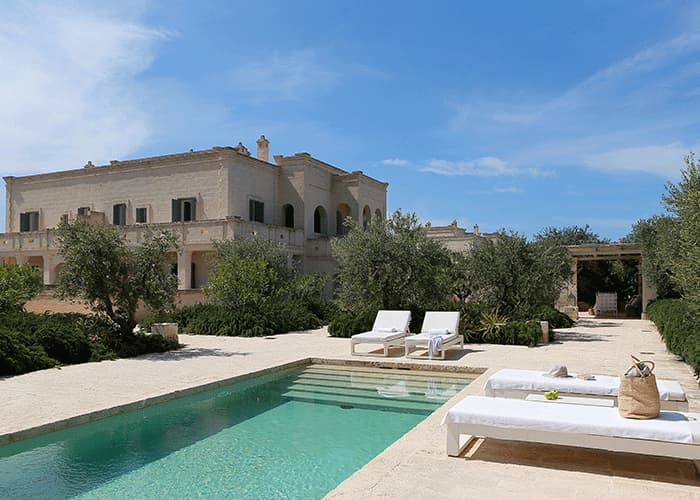 For the adults, there are five excellent restaurants. For traditional Italian pizzas, try Trattoria Mia Cucina. If you're looking to indulge in some fine dining, Due Camini is one of the hotel's a la carte restaurants, however, it also offers tasting menus. You can even take lessons at the dedicated on-resort Italian cookery school.
While the children are being kept busy at the kids' club, you can spend a little time in Vair Spa. This is a modern equivalent of a Roman bathhouse offering indulgent treatments. If you're seeking more active pursuits, you can enjoy horse riding, tennis or a round of golf at the 18-hole championship golf club.
Flight Time
Holidaymakers can fly into either Brindisi Airport or Bari Airport. Both have a flight time from the UK of approximately 3 hours. The transfer time to the hotel is around 1 hour from either airport.
When to Go
The hottest month of the year in Puglia is July, when the average daily maximum temperature is 30°C. Families with babies or toddlers may prefer to visit in May, June or September, when temperatures are lower and rainfall remains low.
---
3. Verdura Resort, Sicily
Contemporary hotel with a beautiful beachfront location
Kids can enjoy treasure hunts, pottery making and cooking activities
Outdoor playground and a kids' swimming pool offers more fun in the sun
Expansive spa and wellness facilities, three golf courses and four restaurants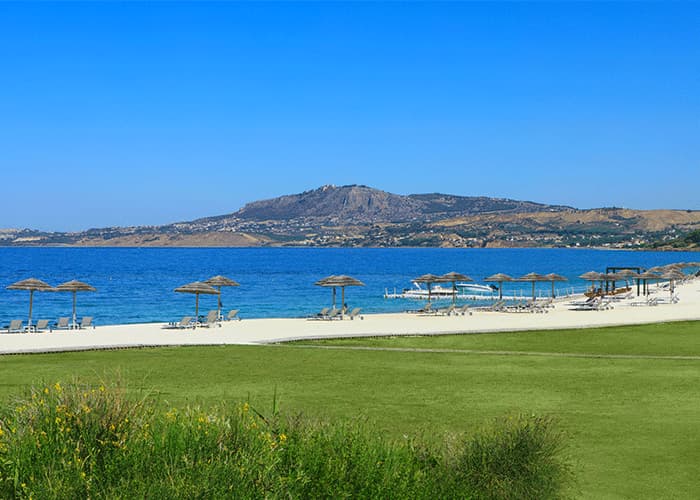 Enchanting Sicily is home to Mount Etna. All age groups will be delighted to go on a scenic cable car journey to see Europe's famous volcano. And, there's plenty more on offer, from delicious cuisine and breathtaking landscapes to rich culture and scenic coastline.
The Verdura Resort is a fantastic base for exploring its beautiful location with toddlers or babies, particularly if you want to visit the local vineyards or the Valley of Temples. With so much to see and do, this is a great choice for a two or three-week family getaway.
The on-site kids' club is run by qualified staff. Children can enjoy a variety of activities including treasure hunts, pottery lessons, cooking classes and drama. Inside, they can watch movies and cartoons, while outside they have access to a well-equipped playground and dedicated children's outdoor pool.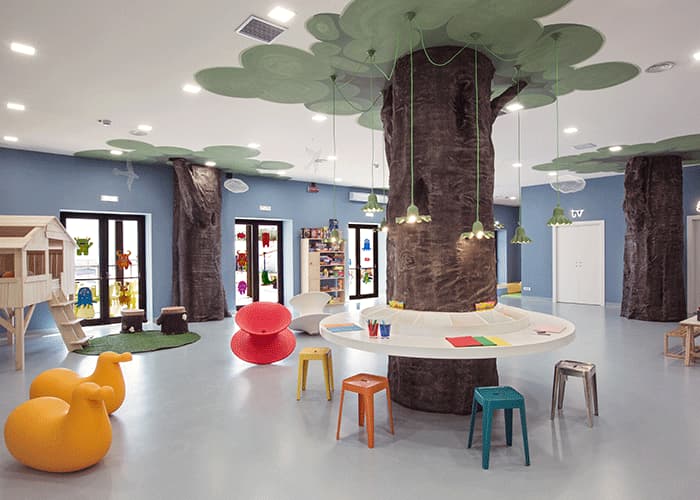 Whether you want to explore the resort on foot or by bike, this is the perfect place for a peaceful stroll. And when you've worked up an appetite, you'll have a choice of four restaurants and five bars offering a diverse culinary experience.
You'll find three golf courses, each with wonderful sea and countryside views. The sports facilities include floodlit tennis courts, water sports, jogging routes and a state of the art gym. For ultimate relaxation, visit the Verdura Spa to enjoy a bespoke treatment, sauna or one of the four thalassotherapy pools.
Flight Time
The flight time from the UK to Palermo airport is around 3 hours. The transfer time from Palermo airport to The Verdura Resort is approximately 1 hour and 20 minutes.
When to Go
Young families may prefer to visit Sicily during the late spring months or early autumn. It's not as busy and the temperature remains warm, usually in the low to mid-20s. If you want to swim in the sea, it's usually warm enough to do so during May, September or even October.
---
Spain
For a reliable family holiday, Spain is a lively, cosmopolitan destination. And whichever Spanish destination you choose, you'll find a host of family-friendly activities and days out to enjoy.
1. Ritz-Carlton, Abama, Tenerife
Renowned luxury family-friendly beachfront hotel
Home to the largest 'Ritz Kids' club in Europe
Kids can enjoy music, sports, art and fitness at The Zone while parents relax
Facilities for babies such as bottle warmers, car seats, sterilisers and baby bouncy chair can be provided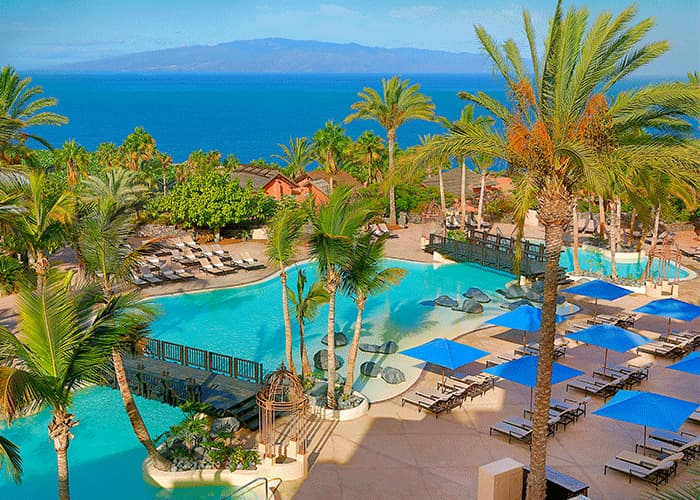 If great weather is important to you, Tenerife is a fantastic holiday destination for your toddler or baby. With warm weather all year round and a time difference of only one hour, this island is perfect for a family holiday with young children.
The Ritz-Carlton, Abama has a dedicated funicular train that can take you to the resort's private sandy cove and beach club. And if you'd rather spend time by the pool than on the beach, you can choose from one of seven heated swimming pools.
The dining scene here is excellent, with a choice of ten restaurants including Michelin-starred dining options. Younger guests can enjoy sports, music, art and fitness activities in The Zone. The Ritz Kids' club is open to children aged between 4 and 12 years.
Whether you want a holiday that's relaxing or action-packed, you can make your own rules here. The on-site spa has 11 treatment rooms and an exhilarating cold cabin. If you're a keen golfer, you'll be in paradise – there's a driving range, golf academy and an 18-hole course.
Flight Time
The flight time from the UK to Tenerife South Airport is around 4 hours and 10 minutes. The transfer time between Tenerife South Airport and the Ritz-Carlton, Abama is around 25 minutes.
When to Go
The weather in Tenerife is great all year round, so this is a fantastic choice if you're looking for a winter sun holiday. The climate in Tenerife makes this destination one of the best baby-friendly holidays in Europe.
---
2. Ikos Andalusia, Costa del Sol
Luxury all-inclusive family hotel with excellent dining options
Beachside location close to Marbella and Estepona
Separate beach zones for adults and kids
Creche for babies and kids' club for toddlers with OFSTED-standard childcare experts
Close to popular Marbella and Estepona, the Ikos Andalusia is the perfect base to explore the beautiful Costa del Sol.
As a guest at the Ikos Andalusia ,you can enjoy the Ikos Infinite Lifestyle all-inclusive resort concept. This means gourmet cuisine and luxury spa products are included as part of your holiday.
Sitting on the beachfront within 17 acres of landscaped gardens, this hotel has a selection of rooms and suites to suit your needs. The beach is split into zones including adult-only sections and family areas, so it's always easy to find the best place for you and your toddlers or baby to enjoy. The hotel also provides a creche and mini kids' club to entertain younger guests.
Adults can enjoy relaxing treatments in the Ikos Spa by Anne Semonin Paris. The facilities on offer include a fitness studio, beauty salon and heated pools with a Jacuzzi. You'll also find entertainment including live music, cocktail bars and cinema parties.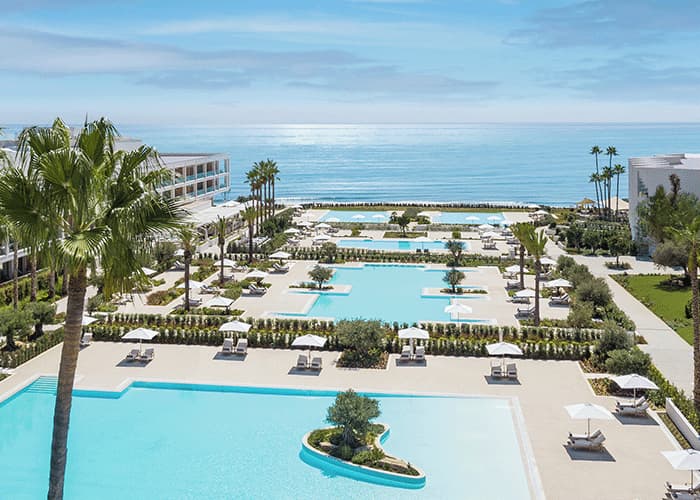 For the ultimate experience, choose a Deluxe Collection holiday. This provides access to your own pool area, reserved private beach area and a dedicated children's pool.
Visit nearby Marbella for fantastic dining, world-class golf courses and a family-friendly vibe. Whether you want to spend a lazy day on the beach or browse the shopping centres and boutiques, you'll find plenty to do.
Flight Time
The flight time from the UK to Malaga airport is around 3 hours. The transfer time between Malaga airport and the Ikos Andalusia is around 45 minutes.
When to Go
The Costa del Sol enjoys a warm Mediterranean climate so expect dry, hot summers and mild winters. For the best of the sunshine, visit during July or August when the average daily maximum temperature is in the high 20s.
---
You can find more inspiration with our top family holiday destinations in Spain.
---
For more ideas for your next holiday with a baby or toddler, contact us to speak to our Travel Specialists. They've travelled far and wide to some of the most amazing beach destinations and will help you find your perfect spot.
For more of our travel guides and to hear about our latest luxury travel offers, sign up to our newsletter.
You might also find these posts useful:
Our Top 10 Family Holiday Destinations
The Best Family Holidays for 2022